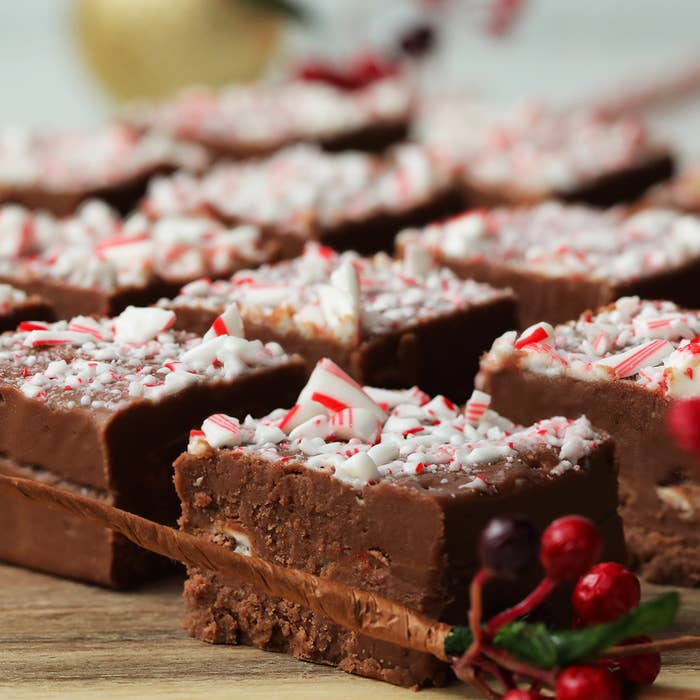 Ingredients:
2 1⁄2 cups sugar
3⁄4 cup butter
2⁄3 cup evaporated milk
12 ounces semi-sweet chocolate chips
1 teaspoon kosher salt
7-ounce jar Kraft Jet-Puffed Marshmallow Creme
1⁄2 cup crushed candy canes
Preparation:
1. Prepare an 8x8" baking dish with nonstick spray and parchment lining.
2. Place sugar, butter, and evaporated milk in a pot over medium heat. Melt everything together, stirring with a wooden spoon. Bring to a boil and continue to stir constantly for a full 5 minutes.
3. Remove from heat and immediately stir in chocolate chips and kosher salt until melted. Stir in Kraft Jet-Puffed Marshmallow Creme until fully combined. (If it's not combining easily, let marshmallow creme melt for a minute before continuing to stir.)
4. Pour half of the fudge into the prepared pan, using a spatula to spread it out. Sprinkle with an even layer of crushed candy canes, reserving half for the top layer. Pour the rest of the fudge on top and spread evenly. Sprinkle with the rest of the candy canes.
5. Refrigerate overnight. Slice and serve!