At this year's Comic Con, I was excited to join an esteemed Dove & Cartoon Network panel that included series creator Rebecca Sugar, Estelle, Phillippa Diedrichs, PhD, Sophie Galvani and Erica Baker. We were all there to talk about how two powerhouse brands like Dove & Cartoon Network can come together to create a joint message about body positivity and self-confidence.
As the Global Ambassador for Dove for over 14 years, I still find myself overwhelmed at how important this conversation is for adults and kids alike. Focusing on the content that young people absorb at an early age and creating a way to immerse a fan-favorite series like Steven Universe into this education unlocked an incredible opportunity to creatively take on the topic of confidence.
My top three takeaways from this powerful partnership:
1) Artists have real superpowers.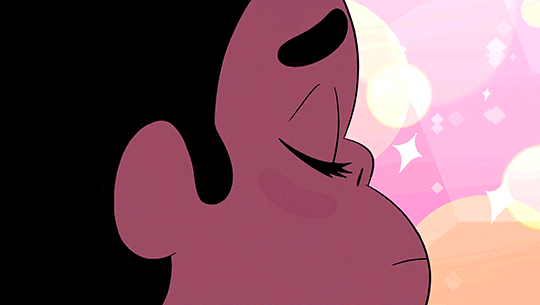 Rebecca Sugar is a great example of someone who is talented and authentic. Rebecca, who identifies as a non-binary woman, has created a series for Cartoon Network that has wildly pushed boundaries of authentic representation in animation with the creation of Steven Universe. The show included the first lesbian proposal ever in an animation.
As an artist and creator, Rebecca's voice is a strong guiding force (and a secret weapon in making a partnership like this work). She wholeheartedly believes in the vision of a world that could look different if everyone had space to be themselves and if everyone had a friend that supported them regardless of their differences.
At the core, this is also what we focus on in our curriculum work with Dove: What is the role of the people in our lives (educators, parents, friends) and how can we begin to have more meaningful and insightful conversations about beauty, body image, and identity? The answers ultimately help us create a world where people see themselves reflected. Looking out at the audience at the Comic-Con panel- this concept was alive in real-time.
2. When brands unite they can double their impact.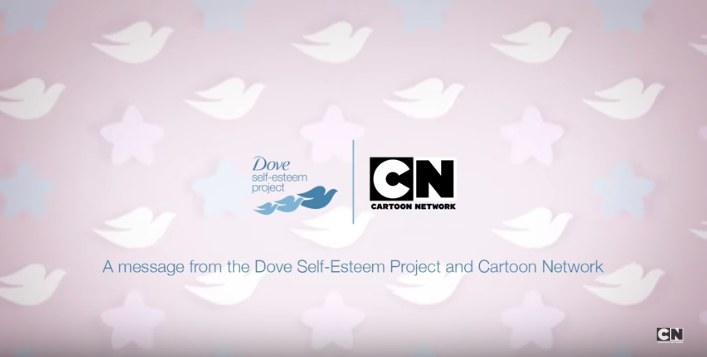 I have worked in the Business of Empowerment for over 25 years. Nowadays, brands for all sorts of products want to get in on impactful conversations with their communities.
But if you follow my work you know that I warn brands against SFSN (Sounds Fabulous, Signifies Nothing) meaning, we may throw out a bunch of empowering messaging but unless it's backed with tangible action steps, it won't elevate a person's experience.
Enter the Dove and Cartoon Network partnership. With this mash up of both content and curriculum, we have a chance of reaching over 20 million young people. Tack that on to Dove's already impressive goal of reaching 20 million more by 2020... this partnership just isn't aligned - it's epic.
And it's embedded in research - not a marketing angle. We worked with renowned expert Phillippa Diedrichs, Professor of Psychology at the University of the West of England, who engaged directly with Rebecca on the story and themes.
This shared mission between two brands was the key ingredient to making this collaboration work.
3. Art impacts and influences our children on their own journey to self-discovery.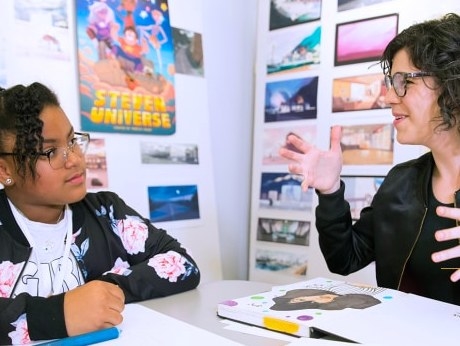 Prior to the Comic-Con panel, I had the opportunity to sit in a mentorship session (#HourWithHer) with Rebecca Sugar and Giada Rainey, a young girl who has faced horrible bullying at school.
One thing I noticed right away in meeting Giada was that she is so open about how her circle of friends are often the recipients of their own bullying. She described how her friends were very fluid in their gender identity, were racially and religiously diverse, and how this kind of diverse friendship is often her inspiration behind her interest in becoming an animator. She wants to use her art skills to help tell a lot of inclusive stories.
I can only imagine how inspiring it was for Giada to see a career pathway for creative self-expression and social impact lead by her art-idol. (These are my favorite kind of work moments -- ones where I can almost predict a life changing course ahead for this young woman!)
Lest we think that cartoons or animation aren't a serious form of entertainment impact for young people, I would refer you to the work by my friend Dr. Stacy L. Smith who studies the negative effect media has on young girls, especially with repeated watching. And think about how many times we watch and re-watch animated programming as a kid. Her latest study proves that, with time and repeated viewing, girls may become dissatisfied with how they look or who they are. So even more important that we intersect young minds before these impressions really set hold.
This partnership is just the beginning of a series of ways that Dove is reaching beyond its commercial borders to engage like-minded partners who are also aligned with creating imagery and messaging that positively impacts young girls. We saw it in our work with Shonda Rhimes and Real Beauty Productions and there is more to come!
If you want to help continue this conversation about body confidence with a young person in your life -- these tools are free and accessible to all parents, teachers, and mentors. It will take a village (both real life and animated) to help us achieve our goals.
For more information on building self-esteem and confidence in young people, visit Dove.com/selfesteem where you can access free, accredited resources and research.