1.
A container of The Pink Stuff because this slightly abrasive paste is literally amazing and can clean all the dirt and grime off any surface that you couldn't get rid of with any other products (without extra elbow grease)! 

Promising review: "Finally got around to trying this stuff. Lived up to the hype, really a 'miracle' paste as it is effective at cleaning many things. So far, I've used it to clean my stove, stainless kitchen sink, and shower (doors and all), and it worked. Also got rid of a deep stain on my kitchen counter that Clorox wipes couldn't get out. Picked up so much dirt the microfiber towels I used got thrown away; I couldn't see them being cleaned well enough to reuse. Seriously thinking about ditching all my other kitchen/bathroom cleaners and just using this because so far, it seems to do it all. And it's not super expensive either. They've got another fan in me!" —sunsean
Get one from Amazon for $5.97.

2.
A shower door cleaner that will make your glass so shiny that you will have to take caution to stop your pet (or maybe your partner) from running into it face first.

Promising review: "This product completely removes soap and hard water stains from clear glass shower doors. I spread it on with a soft scrubbing pad — a little goes a long way — rubbed in circles, and rinsed with clear water (I used a pitcher and poured it across the glass) — twice. No streaking, no smearing, absolutely clear. I will be buying again." —Sallie Cwik
Get it from Amazon for $10.64.

3.
A bottle of Dawn Powerwash with so many uses — tires, cupboards, obviously dishes, and more — you may get carried away trying to find the next thing in your house that needs a deep cleaning. For really stuck-on messes, simply spray a layer and leave it for a few minutes. When you come back, you'll be able to wipe away all the grime.

Promising review: "My daughter told me about this, but I thought it was just like the regular Dawn dish soap. When she finally showed me how it worked, I couldn't believe I was washing dishes without it for so long. It's amazing for all the caked-on baking dishes, and it cuts through grease like magic. And it even worked when cleaning my stove, cabinets, and cupboards. It makes all the caked-on grease and grime disappear. I 100% recommend this product." —Maria Kerr
Get a four-pack bundle from Amazon for $16.88.

4.
A bleach-free weekly shower spray that doesn't require scrubbing. 😩🙌🏼 Just spray it on and leave it while you go relax in your backyard. When you wipe it away (8–12 hours later), you will be *shocked* by the results.
Promising review: "Holy cow! The only thing I'm mad about is that I didn't know about it sooner! I have three teenage daughters. My shower sees body oils, creams, hair dye, etc DAILY. Scrubbing once a week wasn't enough. The girls didn't always remember to use the daily shower spray. This stuff WORKS! I can see the difference after two uses two days in a row. Could see a change on day one. I think one more use will have my tub looking like I scrubbed with bleach for an hour!" —Jon W.
Get it from Amazon for $20.52+ (available in two sizes, two scents, and multi-packs).
5.
An EasyWring microfiber spin mop to help you achieve those shiny and ✨sparkly floors✨ you've always dreamed of. The microfiber mop head is ~machine washable~ and incredibly effective at picking up the dirt and grime.
The bucket this mop comes with has a built-in wringer and splash guard so you don't have to worry about flopping a sopping wet mop onto the floor, creating a bigger mess than you originally started with. Also, the mop head uses millions of strands of advanced microfiber to effectively capture dirt and grime with just plain water, aka there is no need for harsh chemicals.
Promising review: "I had had it with my broken basic mop and bucket. I tried to just get a dollar store Swiffer to get us by, but that wasn't cutting it at all. With three boys and a dog that makes his rounds on all the furniture and every exposed corner, I had to do something. After seeing a TikTok where a woman demonstrated this mop to clean her walls, and hearing my boss raving about it, I decided to click the Amazon button. Let me tell you, I HATE cleaning, I HATE mopping, but I LOVE for things to be clean. I was able to mop the entire house TWICE (Because it was that dirty. Please don't judge.) within an hour. A few days later I mopped the entire house again within 10 minutes because they weren't quite as dirty. On another positive note, my boys love the spinner and think it's a toy! So, every time I get the bucket out my 10-year-old and 4-year-old ask to mop the house because they think it's fun. MAJOR BONUS!" —Molly
Get it from Amazon for $34.98. 
6.
A pumice cleaning stone reviewers repeatedly call magic, and once you see the results, you will understand why. Those rings you've had around the toilet in your basement for years will finally disappear. 

Promising review: "I'm doing a happy dance right now! My toilets have had mineral rings in the bowls from well water since we bought our house five years ago. During those five years, I have purchased NUMEROUS products to try to remove the rings. Every single one failed. I had come to terms with the idea that if I wanted pristine looking crappers, I was going to need to replace them. Three of them. Ugh! I ordered the pumice cleaning stone as a last ditch attempt. Received it today, and immediately went to town. My extreme enthusiasm for scrubbing johns was actually a bit odd, but I was feeling optimistic. Turns out I had reason to. THIS PRODUCT IS AMAZING!!! SO amazing, it actually inspired me to take a picture of my TOILET!!!! My hoppers are saved!!!!! Seriously, the rings are COMPLETELY GONE. If I could give 10 stars, I would." —Sassyscribbler
Get it from Amazon for $9.59 (also available in a two- or four-pack).
7.
A pack of dishwasher cleaning tablets that clean the nasty you can see, but also the *nasty* you can't see. Just place one where you would put a normal dishwashing pod and marvel at the results.
Promising review: "This stuff is the real deal. We have had multiple service calls to the house for this dishwasher — no help at all. Cleaned the filter, tried running the water to heat it first… nothing worked. Dishes were still coming out dirty and smelly. We were prepared to give up and replace our dishwasher. As a last ditch effort, I ordered the Affresh pods, and used two of 'em. Hallelujah!!! Finally, dishes are coming out clean again. These pods saved me THOUSANDS! So simple and easy to use, I could not be happier." —M
Get a pack of six tablets from Amazon for $8.99 (also available in a 12-pack).
8.
A ChomChom roller to remove all the pet hair that is still on your couch even after you've vacuumed — it's shedding season, you're about to find hair embedded everywhere. This little tool works on pretty much any surface — furniture, upholstery, blankets, clothes — and you don't have to worry about constantly ripping off *another* sticky sheet.

Promising review: "I opted to buy the ChomChom in the hopes of at last having something practical that will help us remove black cat hair from upholstered and carpeted areas of our home. I've used several things over the years, but nothing really worked 'as advertised.' The ChomChom made short, easy work of cat hair removal! No electricity, no big complicated two- or three-part device...just a well-designed, efficient roller that gathers up hair as one rolls it back and forth and deposits it in a closed compartment that's easy to clear out for dumping into the trash. Now, if someone could explain to me how one small cat can continually produce and shed so much hair, I'm all ears." —Marilee

Get it from Amazon for $29.99.
9.
Or, a pet hair removing carpet rake with a magnet-like rubber head to attract the massive amount of hair lodged into your carpet. This thing will pull up piles of pet hair (and probably your hair, too) that you thought you got rid of vacuuming. BONUS, this is reusable and washable, so no worry about creating excessive waste when you inevitably become obsessed with cleaning your carpets. 

The handle is incredibly versatile and can extend from 36–60 inches to prevent people of all heights from straining their backs while de-furring their home.
Promising review: "Just get this, now. We added a kitty to our family a year ago, and I was starting to feel overwhelmed with the nonstop hair. We have beautiful hardwood floors, and sweeping or vacuuming just seemed to provide a temporary fix. When this amazement came, I did a test run on a hall runner that I vacuum often. The amount of hair that came off terrified me!!!!! For days, I walked around from room to room just sweeping everything. It's almost a miracle. Love, love, love it!" —Pcelica063
Get it from Amazon for $16.99+ (available in seven variations).
10.
A carpet freshener that you sprinkle, let sit for 10–15 minutes, and vacuum. Anyone who comes to your house will think you spent all weekend cleaning, when in reality you only spent like 30 minutes between your trip to the pool and your cookout.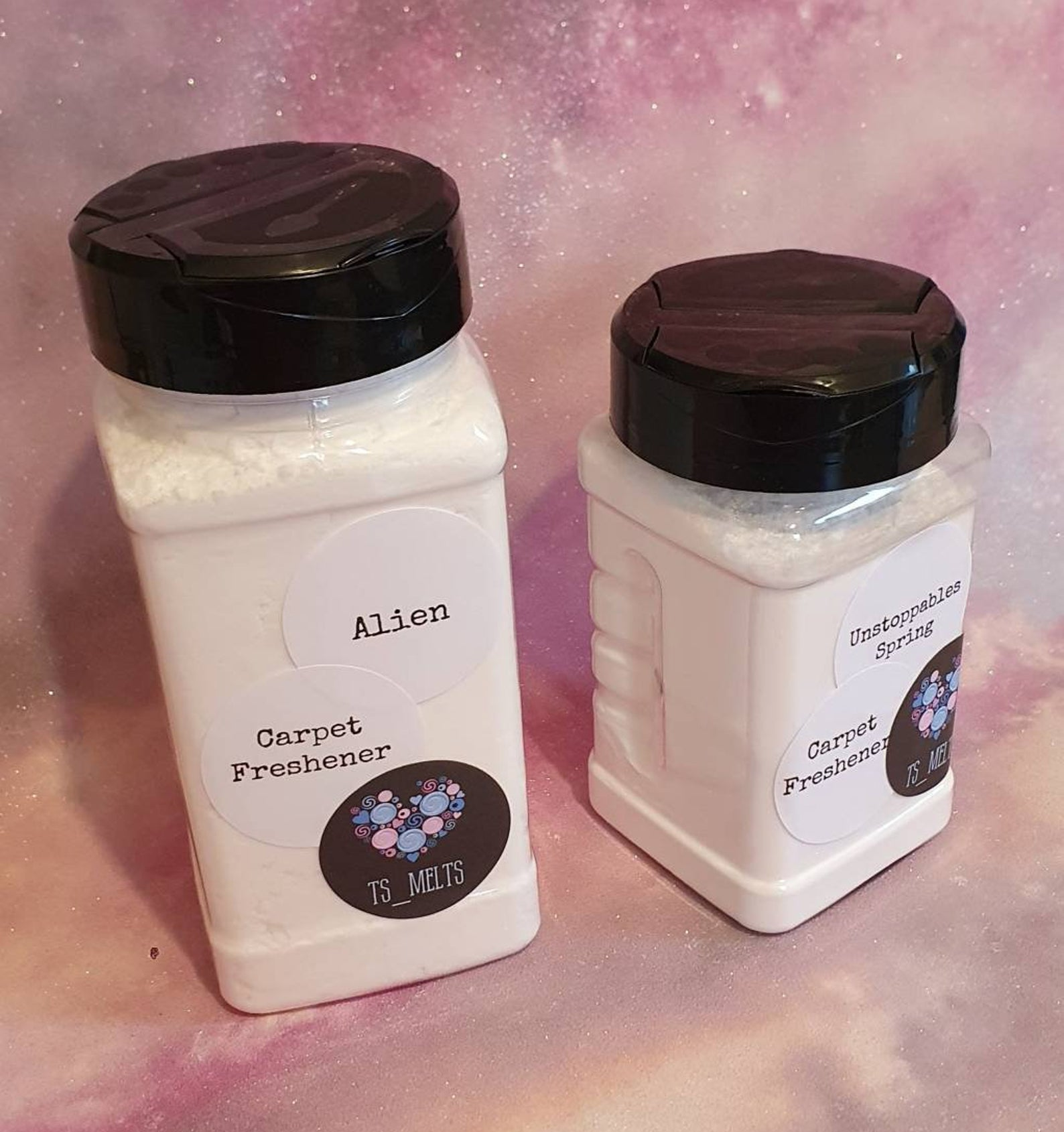 TS_Melts is a small business based in Bolton, United Kingdom that creates all sorts of lovely products to make your home smell nice like wax melts, home diffusers, bath bomb rocks, and more. 
Promising review: "GO AND BUY! I absolutely adore these carpet fresheners! They have made my bedroom and living room smell gorgeous. Even sprinkled some on my mattress and I can safely say I'm in love. I'll be back next month to order more for myself and family!" —Jessica Higginson
Get it from TS_Melts on Etsy for $3.51+ (available in four sizes and 60 scents).
11.
A set of three power scrubber brushes to attach to your drill so you can stop spending hours using your old toothbrush to scrub the grime away. It's time to work smarter, not harder, folks!

This brush kit is compatible with most drills. If you don't already have one, you can get a drill here.

The company that created this brush is a small business founded in 2007 by a former electrician who suffers from carpal tunnel syndrome and needed a way to clean without causing himself harm.
Promising review: "Of all things to clean in the house, the bathroom has to be my least favorite!! I would scrub and scrub and scrub to try and remove calcium deposit stains and soap buildup. It was like my workout for the day! Well after using my new Power Scrubber Drill Brush Attachment, OH MY GOSH!! I am obsessed!! I had so much fun using it. I seriously did not wanna stop cleaning. I did not work up a sweat this time and it was amazing to see the calcium deposit stain wash away along with the soap buildup. Seriously though, the different attachments came in very handy depending on where I was operating the drill. The angled corners of the tile walls were cleaned perfectly with the circular brush. Also, the circular brush was awesome for the drain too. The big scrub brush was spectacular on the bathtub itself while the little scrub brush worked well with the grout lines in the tile. The attachments were easy to put on and take off the drill. They were also easy to clean, dry and put away for the next time. The price was WELL worth the product. There truly is no reason not to make this purchase to make cleaning fun again!!" —Soul-ga Girl Michelle
Get it from Amazon for $18.95 (available in soft, medium, stiff, and ultra stiff bristles and in six colors).
12.
An Angry Mama microwave cleaner that truly encompasses all your feelings after your partner let their sauce explode in the microwave...AGAIN. Just add water and vinegar, microwave mama, and watch the crud come melting off your microwave.

Promising reviews: "I moved into this house over a year ago and haven't been able to get the gunk out of the top of the microwave no matter what I've tried. Used this ONCE, and it's more than halfway gone!! SOOOOOO HAPPY!! Didn't have to scrub very hard or anything; it just came right off. It'll need another time or two of use before it's all the way gone, but I can't tell you how impressed I am. It smells like vinegar when you're done, but not for very long. Super easy to use and definitely worth the money." —Briona
"Did I need Angry Mama to clean my microwave? No. But did I want it? Heck yes! Did it clean my microwave? Heck yes, it did! Am I banned from ever using is while my sister is around? Also, heck yes! If you want something fun to clean your microwave AND annoy your sister at the same time, I highly recommend Angry Mama!" —Melissa
Get it from Amazon for $6.99 (available in four colors).