Unless otherwise specified, all sizes in this post are listed in women's.
1.
An A-line skater dress adorned with amazing fluttering sleeves that will swoosh around you while you dance the night away. 
PS — if you have Prime Try Before You Buy you can try this piece out before you buy it! 

Promising review: "This is the best little cocktail dress ever! I attended an outdoor summer wedding in New York state and I was so comfortable in this dress. It fits perfectly and swings when you dance. So many compliments on this $35 dress. I will be ordering different color dresses moving forward!" —Amazon Customer
Get it from Amazon for $34.99+ (available in sizes XS–XXL and 18 colors).
2.
A square neck ruffle dress perfect for keeping you comfy all night long with a stretchy bodice that won't restrict even your most ~elaborate~ moves.

Promising review: "Dress is very versatile. I purchased the yellow color and was able to dress it up with heels for a wedding – my cousin owns it in black and paired it with a jean jacket and sandals. I'll likely purchase in more colors. You could also wear it strapless I would think." —HEEP

Get it from Amazon for $42.99 (available in sizes S–XXL and 31 colors/patterns). 
3.
A puff-sleeve mini dress with all over pearl detailing that will absolutely win you the award for the second best dress of the wedding (behind the wedding dress, of course).

Get it from Asos for $135 (available in sizes 0–14).

4.
An off-the-shoulder dress designed with an impressively detailed scalloped hem that takes a seemingly simple dress to a whole new level. 
Promising review: "I always get nervous when purchasing clothing on Amazon, but was very happy with this purchase. The material is a decent weight and the cutouts at the bottom of the dress are done nicely. I'm 5'5" and the dress hits just above my knees. I don't like my clothes tight, so purchased a 3X. It's loose and flowy and hangs just right. Overall, I'm very happy with the dress. I would go a size up depending on your shape and how you like your clothes to hang." —Kathryn Mathewson
Get it from Amazon for $33.99+ (available in sizes XL–4X and 21 colors).
6.
A floral wrap V-neck dress that comes in so many colors and patterns you may just fill your entire closet with different versions. Just imagine yourself movin' and groovin' in this colorful, flowy fit.

Promising reviews: "Love this dress! So comfortable to wear. Can be worn with or without a bra. LOVE the adjustable straps, and the v-neck. Can be worn to any casual social event. Even a party/outdoor casual wedding... Best purchase. Most dresses from Amazon, are too big. This is the perfect fit, especially if you prefer knee length over floor length dresses. Can be worn with flip flops, sandals, or casual strappy heels." —Carrie

"There seemed to be enough room in it to be comfortable walking, sitting, dancing, etc…. Very soft material. Did not need to iron it after I shook it from the dryer. Really liked the look and feel. Just ordered a second color in it." —LMcCassie
Get it from Amazon for $32.99 (available in sizes S–XXL and 45 colors/patterns).
7.
A floral vintage-inspired dress perfect for any wedding no matter the season. The long sleeves will keep you covered for those chilly nights but the midi length will keep the air flowing while you work up a sweat on the dance floor.
Promising review: "I purchased this as a last-minute dress for a wedding. It was snug above the waist, but not snug enough where I was uncomfortable or have no movement. It fit perfectly!! The material is not cheap, it's a nice, soft material, and you can have confidence it won't fall apart in the washer or anything! Love it. I'll probably buy another one in a different pattern." —Liz Garcia
Get it from Amazon for $32.99+ (available in sizes S–XXL and 26 patterns). 
8.
A tiered, airy baby doll dress that can be dressed up or down and accessorized any way you want. You may never find yourself reaching for any other dress again.
Promising review: "I wanted a cute little black sun dress to wear for a birthday celebration weekend. Perfect, it was comfortable, and it's versatile. You can wear it with cute sandals (wedges), Birkenstocks, Chuck Taylors, etc." —K. Foy 
Get it from Amazon for $37.99 (available in sizes S–XXL and in 44 colors). 
9.
A ruffle-trim swing dress designed with spectacular cap sleeves for a nice detailed hint, but a simple enough silhouette that lets you decide what vibe you want it to have for this wedding.
Promising review: "This dress is sooo completely adorable!! I got so many compliments on the dress and I felt totally comfortable." —Nakia E. Cook
Get it from Amazon for $21.99+ (available in sizes S–4XL and four colors).
10.
A cold-shoulder dress with the off-the-shoulder look perfect for any summer wedding and the sneaky leg slit for an added flair.
Promising review: "This dress is SPECTACULAR! It's so light and airy and comfortable. The waistband is elastic so it's stretchy, but the fabric itself is not. There's a nice, breezy split on the leg. I immediately felt like a goddess as soon as I put this on! If you're considering this — BUY IT!! It can be dressed down or up! Perfect for summer parties, cruises, weddings, vacations whatever! I am definitely going to order more!" —Angela Tims
Get it from Amazon for $41.99+ (available in sizes L–3XL and nine patterns). 
11.
A colorful midi dress worthy of being something Jess from New Girl would wear to a wedding…so if that's a vibe you've dreamt of since you started watching the show, I'm gonna recommend you add this bad boy to your cart, immediately.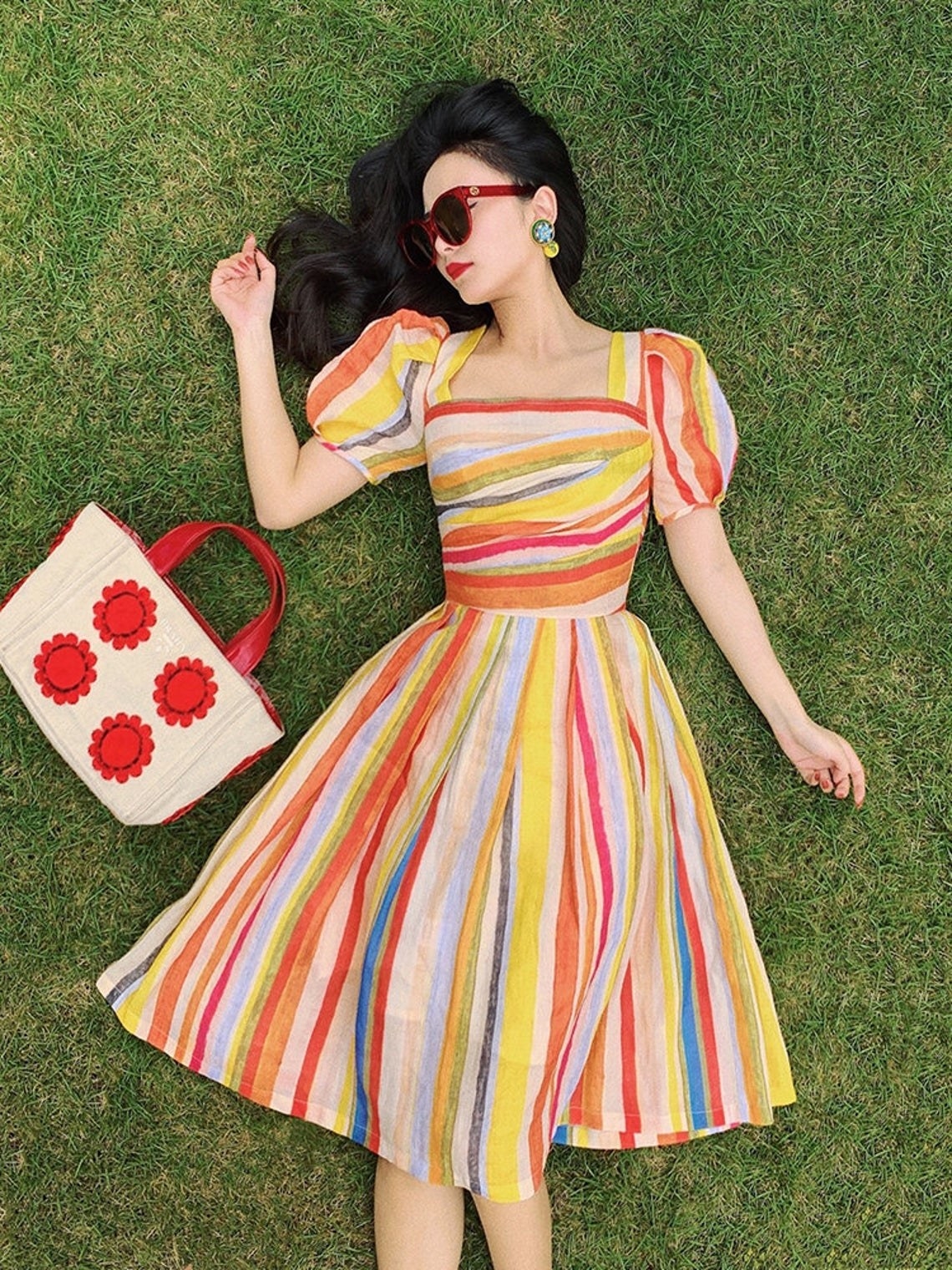 Mr Water New York on Etsy
Mr. Water New York is a New York–based, Asian American woman–owned independent fashion brand established in 2017 filled with unique pieces. 
Promising review: "I absolutely love this dress!! I get so many compliments when I wear it and it's truly one of a kind." —Victoria Kennedy
Get it from Mr. Water New York on Etsy for $89 (available in sizes XS–XXL).
12.
A soft, stretchy off-the-shoulder bodycon dress with multiple ways to wear it — off the shoulder, one shoulder, or fully strapless — you can wear it to three weddings in a row and no one will eveerrrr know you were repeating outfits.
Promising review: "BUY THIS DRESS! This dress is AWESOME! I thought some people had to be exaggerating, lol, but I was proven wrong. It is light and cool. It is comfortable, doesn't ride up, and you can easily dress it up or down. It fits perfectly! I absolutely recommend this dress to anyone!" —Destiny
Get it from Amazon for $27.99 (available in sizes L–3XL and eight colors).