Here's How To Make BuzzFeed's Best Chocolate Chip Cookies
Meet your new go-to cookie recipe. #BFChocolateChipCookie
Welcome to BuzzFeed's Best Chocolate Chip Cookie Guide. Over the past few weeks we've baked over 400 cookies — testing every possible variable from dough temperature to sugar variety in an attempt to find the best possible formula. You can get an overview of the entire experiment here.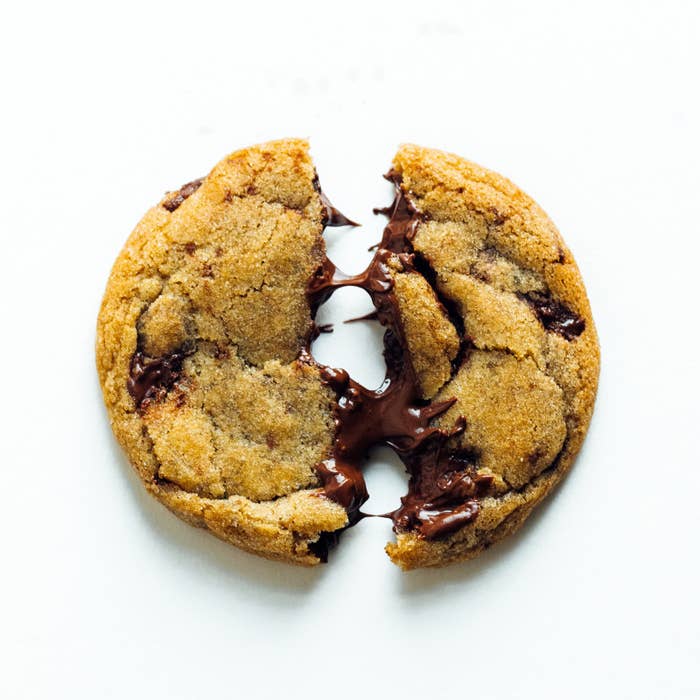 If you've been following along on our exhaustive baking journey, you know just how seriously we take our cookies. Over the past few weeks we've put every single ingredient through the wringer — testing countless tweaks, upgrades, and ingredient swaps in search of the perfect chocolate chip cookie formula. And finally, after a plethora of cookie tests, we've landed on what we consider our perfect chocolate chip cookie recipe. It's chewy, loaded with chocolate, and has a robust caramel flavor that takes the humble baked good to a whole new level.

How did we land on this formula? We crammed everything we learned through trial and error into a singe recipe that reengineers the classic Nestlé Toll House formula and turns it into something entirely new. What we ended up with was a chocolate chip cookie that is chewy yet crisp, full of deep chocolate flavor, and surprisingly easy to make. There's no need to cream your butter and sugar together, no overnight resting of the dough, and it only takes two bowls to make.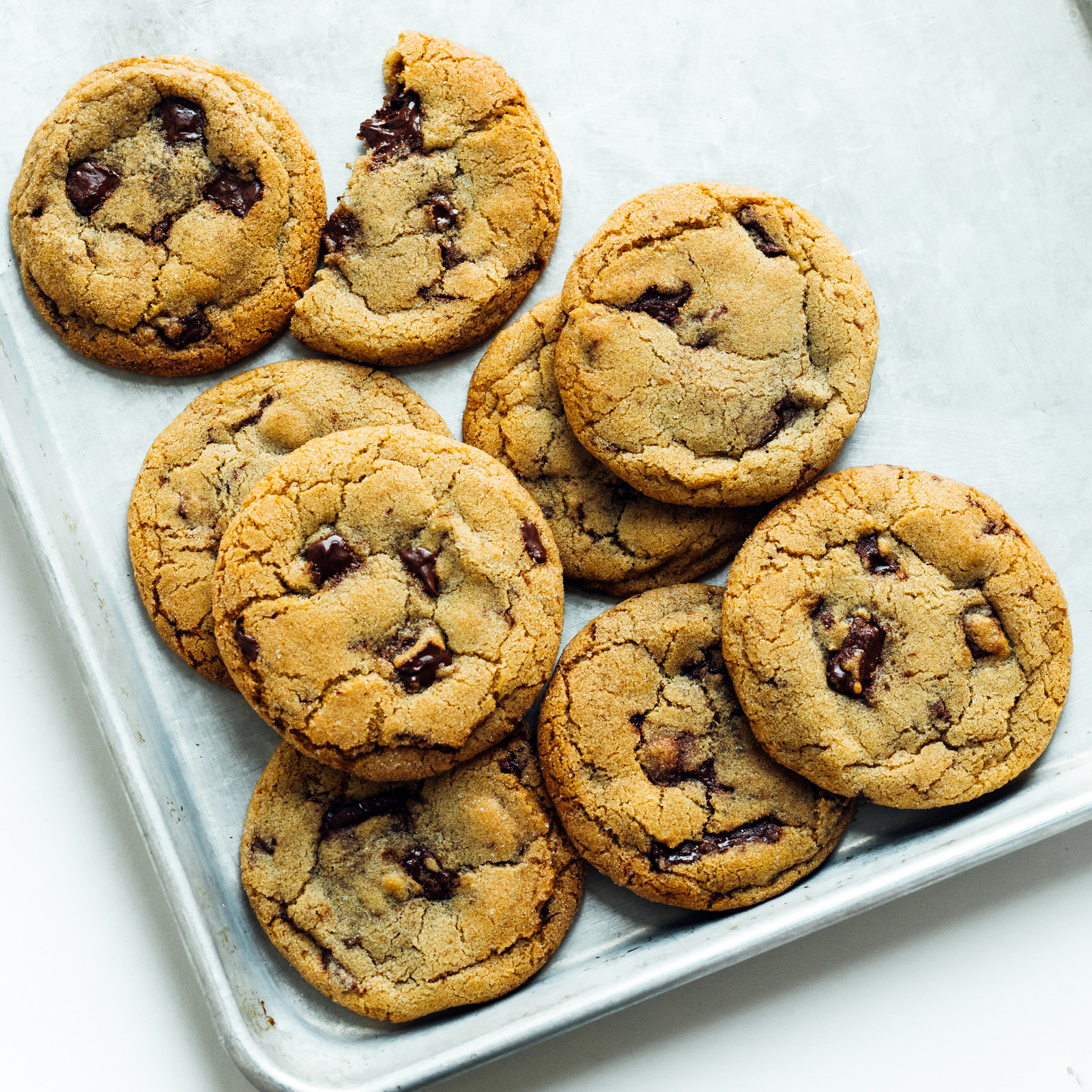 Here are the major tweaks we made to the original recipe:
• Using half bread flour and half all-purpose flour makes the cookies super chewy — similar to bakery-style cookies.

• A combination of melted butter and canola oil gives the cookies a beautiful cracked texture and prevents them from getting cakey. (A slight reduction in the amount of baking soda also prevents them from getting too cakey.)

• Swapping out the chocolate chips for chopped chocolate helps the chocolate and dough meld together and gives the cookies a fudge-like center.
• A generous increase in both kosher salt and vanilla extract lends the cookies additional flavor and helps balance the sweetness of the dough. An entire tablespoon of vanilla extract may sound like a lot, but it helps the chocolate flavor shine.
• Rolling the dough in granulated sugar helps the cookies brown evenly and gives them a crispy exterior. You can skip this step if you want, but we think it adds a great texture.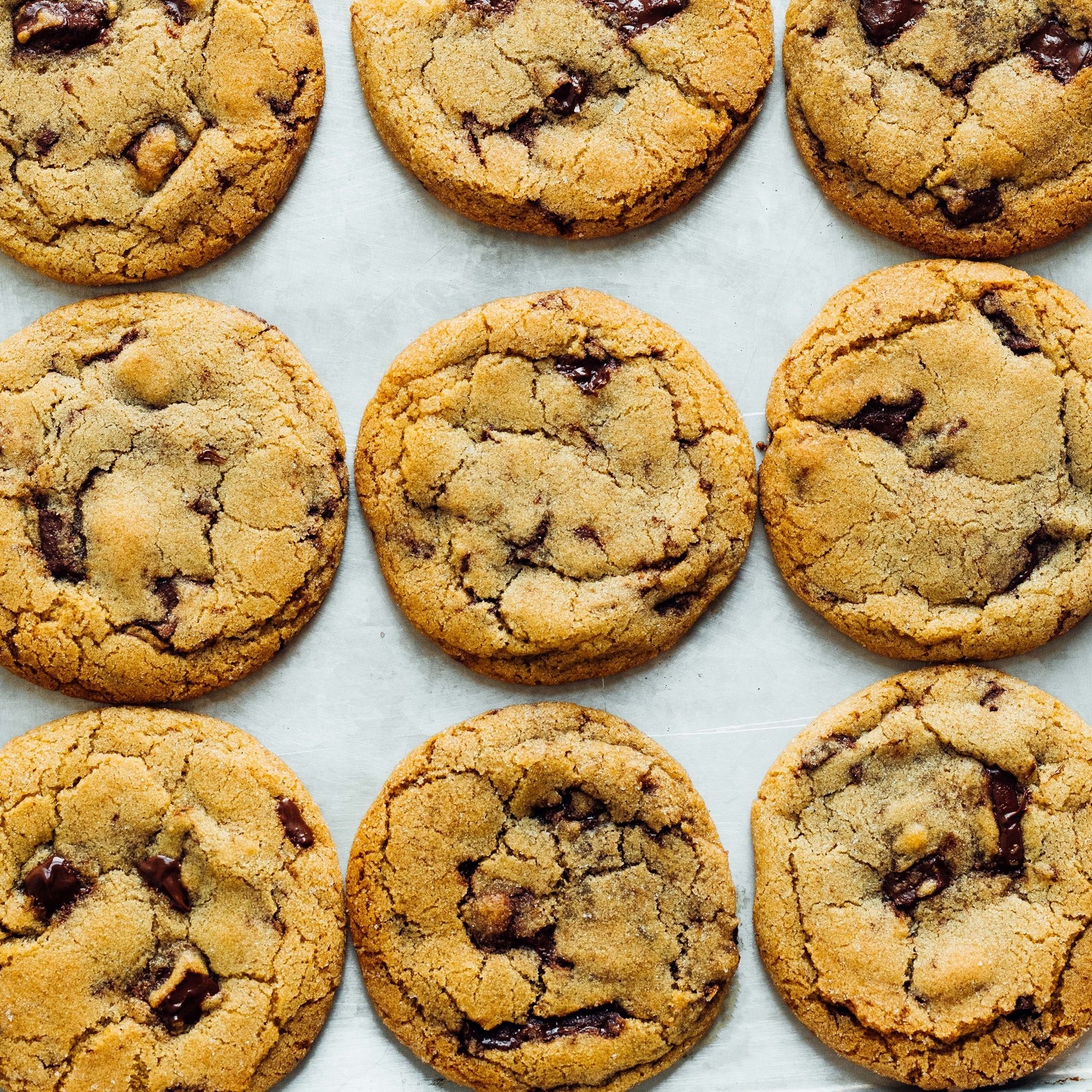 And that's it! Simple tweaks to an already delicious recipe to make it new again. Oh, and if you bake these cookies, make sure to tag your photos #BFChocolateChipCookie so we can share them with the world.

BuzzFeed Food's Best Chocolate Chip Cookie

Makes about 3 dozen cookies
Ingredients:

1 cup all-purpose flour, scooped and leveled
1 cup unbleached bread flour, scooped and leveled
1¾ teaspoons kosher salt
¾ teaspoon baking soda
½ cup (1 stick) unsalted butter, melted and cooled at room temperature for 20 minutes
½ cup vegetable oil
1¼ cups dark brown sugar, packed (see Note)
1 cup granulated sugar, divided
1 tablespoon vanilla extract
2 large eggs
8 ounces semisweet chocolate, roughly chopped by hand (see Note)
Preparation:
In a medium bowl, whisk together the all-purpose and bread flours, salt, and baking soda. Set aside.

In a large bowl, whisk together the melted butter, vegetable oil, brown sugar, ½ cup of granulated sugar, and the vanilla. Add the eggs and whisk vigorously until the mixture is smooth, about 30 seconds.

Add the dry ingredients to the wet ingredients and stir with a spatula or wooden spoon until smooth. Gently fold in the chopped chocolate (including any chocolate dust leftover from chopping). Cover with plastic wrap and let the dough rest at room temperature for 1 hour.

Preheat the oven to 375°F (190°C). Line 2 baking sheets with parchment paper or nonstick baking mats.

Using a medium (#40) cookie scoop (or your hands), scoop the rested dough into rounded 1½-tablespoon-sized balls. Roll each ball in remaining ½ cup granulated sugar and place on the prepared baking sheets, spacing 3 inches apart. (You may need to bake the cookies in batches depending on the size of your baking sheets.)

Bake for 7-8 minutes, until the cookies are lightly browned and cracked. Remove from the oven and gently tap the baking sheets on the countertop several times to deflate the cookies slightly and accentuate their cracks. Let the cookies cool completely on the baking sheets.
Note: Stick to conventional brands of dark brown sugar, such as Domino or C&H. Organic varieties are grittier, which will give your cookies an undesirable texture.
To make chopping the chocolate easier, use a serrated knife and chop starting from the edges of the bar, working your way toward the center. This will result in shards of chocolate that are the perfect size for these cookies. You can watch a quick tutorial on how to do this here. We recommend using Ghirardelli baking bars.
Tips and tricks for making BuzzFeed Food's Best Chocolate Chip Cookie:
• Don't skip the resting step. It may seem excessive, but it gives the flour time to rehydrate before baking. It also gives the melted butter just enough time to firm up a bit.

• Use the microshards of chopped chocolate in the dough. We're talking about the chocolate dust that accumulates on your cutting board after chopping the chocolate. Although you may feel inclined to throw it out, the tiny shards melt into the dough and help make the cookies super fudgy.

• If you have a cookie scoop, use it. The dough is a bit softer than your typical chocolate chip cookie dough, so it'll make your life easier and help you produce consistent portions.

• Make sure you're not using whole wheat bread flour. The flavor will be too strong and it'll give your cookies a gritty texture. Stick to regular unbleached bread flour and you'll be golden.

• Bang your pans! This is a trick we learned from the Vanilla Bean Blog, and it makes the cookies slightly denser and accentuates their beautiful cracks.