1.
A set of two cooling pillows if sleeping on the "cool side" is something you like to do. No more flipping your pillow over constantly — reviewers say these keep you cool all night long, and they're filled with a plush gel fiber that provides just the right amount of support. If you've ever wish you could bring those fancy hotel pillows home with you...now you can.

Promising reviews: "I decided to trust a TikTok that I saw featuring these pillows and checked out the reviews here and saw the hype. They are SERIOUSLY THE BEST PILLOWS EVER! Trust the reviews. Took two minutes to fluff up to use and both my fiancé and I are having the best sleeps now." —Ellen
"These had great reviews but I was still a bit skeptical. I'm a bit of a pillow snob. These pillows — these amazing, heavenly pillows — are now my favorite part of going to bed. Soft but firm. How does that work? It gives support for me to sleep slightly propped up but I sink into this comfortable personal cloud. Soft, but firm. My head isn't sinking through the pillow to rest on my mattress, but I feel comfortably enveloped. Buy them. Add to cart. Buy now with one click. Stop the research. You've found the pillows you were looking for." —Marissa Urey
Get a set of two from Amazon for $61.37+ (available in queen and king sizes).
2.
A portable no-install door lock to give you a little extra peace of mind that no one will be able to break through your locked front door, especially if you live alone. The durable steel body is inserted into the jamb of the door to add an extra layer of security so *no one* can just barge into your home during the day or night.
These can also come in handy if you travel often and stay in hotels alone! Just note that if you're flying with it, you'll want to keep it in an easy-to-reach spot in your bag, as one of our BuzzFeed Shopping editors said TSA flagged hers at two separate airports.

Promising reviews: "Saw this item on TikTok. Installed it on my front door and keeping it there. 10/10 recommend. Will be purchasing more in the future." —Allison F
"I purchased two of these, one for my apartment door and one for travel. Home: This fits perfectly on my front door. It was tested when the maintenance man at my building showed up earlier than expected. He knocked, and before I could get to the door, he was already trying to open the door AND COULD NOT. This held, and he was really pushing. I know someone can get in if they really are determined, but the level of noise they'd cause would alert neighbors and give me time to react. Exactly what I bought it for. Hotel: I've stayed in one hotel and this did fit. It was loose in the door jamb, but once the door was closed, it didn't budge when I tested it. Nothing is 100% secure. But this device definitely makes my door more secure then the lock and chain do! I highly recommend for anyone in an apartment and travelers. I practiced taking the lock off to be sure I could do it in a fire. It takes less than three seconds to set up and remove. Very happy with purchase." —nancy w.
Get it from Amazon for $17.95.
3.
A ChomChom pet hair remover with both TikTok hype and over 107,000 5-star ratings because pet hair is simply no match for it. You know what, forget all those people — take it from me, as someone with two cats and a VELVET couch: This thing works. No more ripping off lint roller sheets that fill up with hair instantly — just roll this thing across your furniture, blankets, or other hair-filled things, and the fur and lint will get pulled up into it for easy dumping afterward.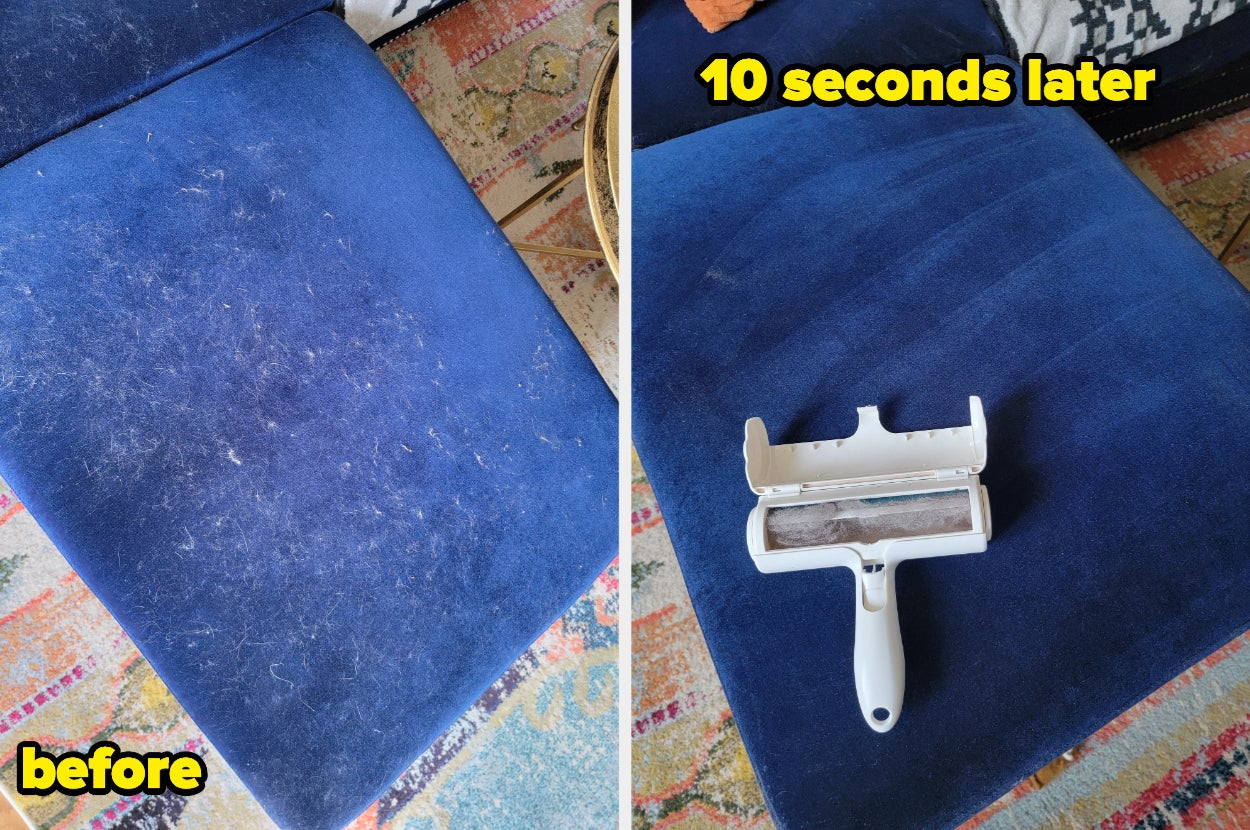 See it in action on TikTok! 
I've been using the ChomChom for quite a while now, but I took the photos above literally just now to show just how quick, easy, and effective this roller is. It took 10 seconds to rid my velvet couch ottoman (yes, velvet...a terrible cat owner choice, I know) of the hair my two gray kitties are constantly leaving everywhere. It takes a bit of practice to get the hang of using this roller — at first, I thought you only brushed down in one direction, and was confused why it wasn't picking up hair. It's important to do a push-and-pull brushing in *both* directions so it actually pulls the hair inside, which does require you to apply a bit of pressure. Afterward, you'll just dump out the hair that's been trapped inside. The ChomChom is best for large flat surfaces like couches and beds. 
Get it from Amazon for $20.45 when you clip the coupon for $5 off.

4.
Or a simple yet *highly* effective lint remover for quickly removing all the lint, hair, fuzz, and pills from your blankets, curtains, carpets, and heavier clothing. No bulk, no sticky residue, no cords or batteries needed — this is a straightforward tool that's also small enough to keep in your bag for on-the-go touch-ups.
Warning: Only use this for your sturdier stuff because it's a strong little device and might put holes in your more delicate clothing.
See its effectiveness in this TikTok.

Promising review: "This lint remover wasn't confusing or bulky like some others. You just run it down your clothes to remove lint, hair, and fuzz, and it does its job! I was worried it would be sharp to the touch but it's not, which is great if you have little kids. It's easy to clean — you just pick it out with your fingers; it doesn't get stuck." —JLemons
Get it from Amazon for $7.88.
5.
A sunset lamp so popular, it even spawned a TikTok filter designed to give you a similar glowy, sun-kissed effect. This one drenches your room in rosy warm light, perfect for selfies and ~ambiance~. 
The distance determines how wide and intense the light is — position it farther away for a softer diffused light, or closer up to focus the colorful beam on a specific spot.

See one in action in this TikTok!
Promising review: "This lamp really exceeded my expectations. I bought it on a whim and honestly wasn't expecting that much, but I'm really happy with it. Feels like it's made of durable, quality material and emits a strong light, but it's not too bright — I use it in the evenings when I'm trying to wind down before bed and it's bright enough to light up my room without feeling like it's going to mess up my sleep cycle. Highly recommend — really does feel like you're watching a lovely sunset :)" —amazon customer
Get it from Amazon for $8.45+ (available in three styles).
6.
A super bubbly Glisten drain and pipe cleaner if the thought of what's lurking inside your garbage disposal haunts you at night. It's made to deodorize while also removing the nasty grunge and buildup lurking within — no more gnarly smells or dirty water that just won't drain.
See this garbage disposal cleaner in action on TikTok.
Promising review: "So, not gonna lie, I found out about these through a BuzzFeed article on Facebook talking about 'the best things to buy from Amazon for under 10 bucks' or something along those lines. Well, I'm glad I did it! I figured since they are so cheap, it was worth the risk and if it didn't work, no harm no foul. Super easy to use, very convenient and quick. They got rid of all those nasty smells in my disposal; PLUS, like others have said, it left the inside of our disposal sparkling! I don't think the disposal in our apartment has ever been cleaned and with just one of these packets, it was like brand new. I was seriously impressed. Of course, I tried all the other methods: vinegar, lemons, baking soda, etc. And they worked! But they didn't really scrub down in there very well. These? They do the trick! Save yourself the heartache and splurge! I promise you won't be sorry. :)" —Kat K.
Get a bag of four from Amazon for $3.78. 
7.
A cute colander that expands to fit the side of your sink so you can easily wash and rinse produce without it taking up much space. People also use this as a dish rack!

This colander can expand from 14.5 to 19.5 inches. It's top-rack dishwasher safe as well! You can get a closer look at it on TikTok.
I have this colander in the pink color and absolutely love it! I don't leave it out on my sink permanently, but I've hung it right next to my sink using small Command hooks so I can quickly grab it and place it on my sink whenever I need to clean produce or drain pasta. I love being able to leave ingredients on it to drain while I work on other steps of a recipe, and it also leaves enough room in the sink for me to place dirty dishes or wash a pan without the dirty water going onto my clean ingredients. Highly recommend, especially for small kitchens!
Promising review: "I'm obsessed with this. I leave it in my sink always. It makes washing fruits or draining pasta so much easier and has such a simple cleanup. It also adds a nice pop of color to my kitchen. I highly recommend it." —Alyssa
Get it from Amazon for $17.99 (available in six colors and in two-packs).
8.
A compact cutlery organizer cleverly designed to maximize your drawer space with stacked, angled compartments that take up waaay less space than the typical wide, flat organizers. Considering how many times a day you open this drawer, you'll be able to appreciate this space-efficient organization on the reg.
See this "life-changing" drawer organizer on TikTok! BTW, there's a version of this product for safely and compactly storing knives in a drawer too! Many reviewers ended up pairing both of these together.
BuzzFeed Shopping editor Chelsea Stuart has used the cutlery organizer to make her kitchen feel more organized: "Just got this, and it has freed up SO much space in our cutlery drawer that we can now store teas, small Tupperware, etc. vs. before it was just a mess of utensils."
Promising review: "I had never seen this before I bought it, and holy crap it changed my life. So. Much. Room. There is so much room left in my drawer now that I moved stuff from another drawer and I have an entirely empty drawer in my kitchen now. Now only HALF the drawer is silverware and the other half is spatulas and cooking utensils. It is great. It also seems very sturdy. Highly recommend." —van31050
Get it from Amazon for $11.99+ (available in three colors).
9.
A chic transparent book vase, appropriately titled The Mystery of Growth, that can slide between books *or* sit out on its own and hold that bouquet you treated yourself to (*cue "Flowers" by Miley Cyrus* 💐). This bb is ALL over TikTok and for good reason — it's simply stunning and will dress up your desk or table instantly. 
Peep this gorgeous book vase on TikTok! I also highly recommend looking through the Amazon review images because every single one looks like it belongs in a magazine.

Promising review: "I love all things books — so when this popped up in my feed, I had to have it. I ordered it ASAP. It arrived ASAP. I bought tulips ASAP. And it's PERFECT! This is the latest addition to my home office and I love staring at it! 😄 Save time — buy at least two!" —ED
Get it from Amazon for $15.49+ (available in five transparent styles).
10.
A cloud-shaped magnetic key holder you'll get to admire every time you enter and exit your home. It's absurdly cute while also a surprisingly efficient storage solution for keys — its powerful magnets hold up to three key rings securely in place without need for hooks.
See it in this TikTok!
Promising review: "This is the cutest way to hold keys ever! And it was mad easy to install: peel and stick. I don't know how I ever survived just using a hook instead of this cute magnet cloud. Excellent housewarming gift too. I now take it with wine as a gift for any friends/family moving." —Clemmie C.
Get it from Amazon for $6.48.