1.
A seasonally appropriate doormat that'll be the first thing your guests see before entering your home. It'll set the tone (especially if you have seasonal activities planned, like baking or spooky movies) and make them feel welcome right away!
2.
And while you're at it, a gorgeous wreath to give your door a fresh, cheery look for fall and welcome visitors inside — its vibrant red berries and yellow leaves are just perfect for the season. 
Plus, it comes with a white storage box so you can easily put it away and pull it back out next year without any damage. Reviewers praise the quality of this wreath compared to others available on Amazon! You can snag an over-the-door hanger for it too if needed.
Promising reviews: "I love this wreath, which is on my front door to welcome visitors. There have been positive comments from my neighbors." —Barbara Block
"Rich, vibrant fall colors — a wreath that is beautiful and highly visible close up or at a distance. I considered a number of wreaths on Amazon and other sites before selecting this one. As several other reviewers have noted, this wreath is lovelier than I had imagined, the prettiest fall wreath I've ever seen. It was packed in a nice box for storage, and requires shaping before hanging. I've hung it under a covered porch and plan to store it in a climate-controlled area to preserve its longevity. So pleased to have found this wonderful wreath and to learn about the Wreath Depot, indeed a quality company!" —DW
Get it from Amazon for $74.13.
3.
A coat rack and storage shelf — if you don't already have a coat closet with room for guests' coats, jackets, bags, and shoes, this will prevent them from ending up piled in your entryway with colder weather approaching. Your visitors will appreciate having a dedicated spot for their stuff as they come and go, not to mention a place to sit and pull on their boots.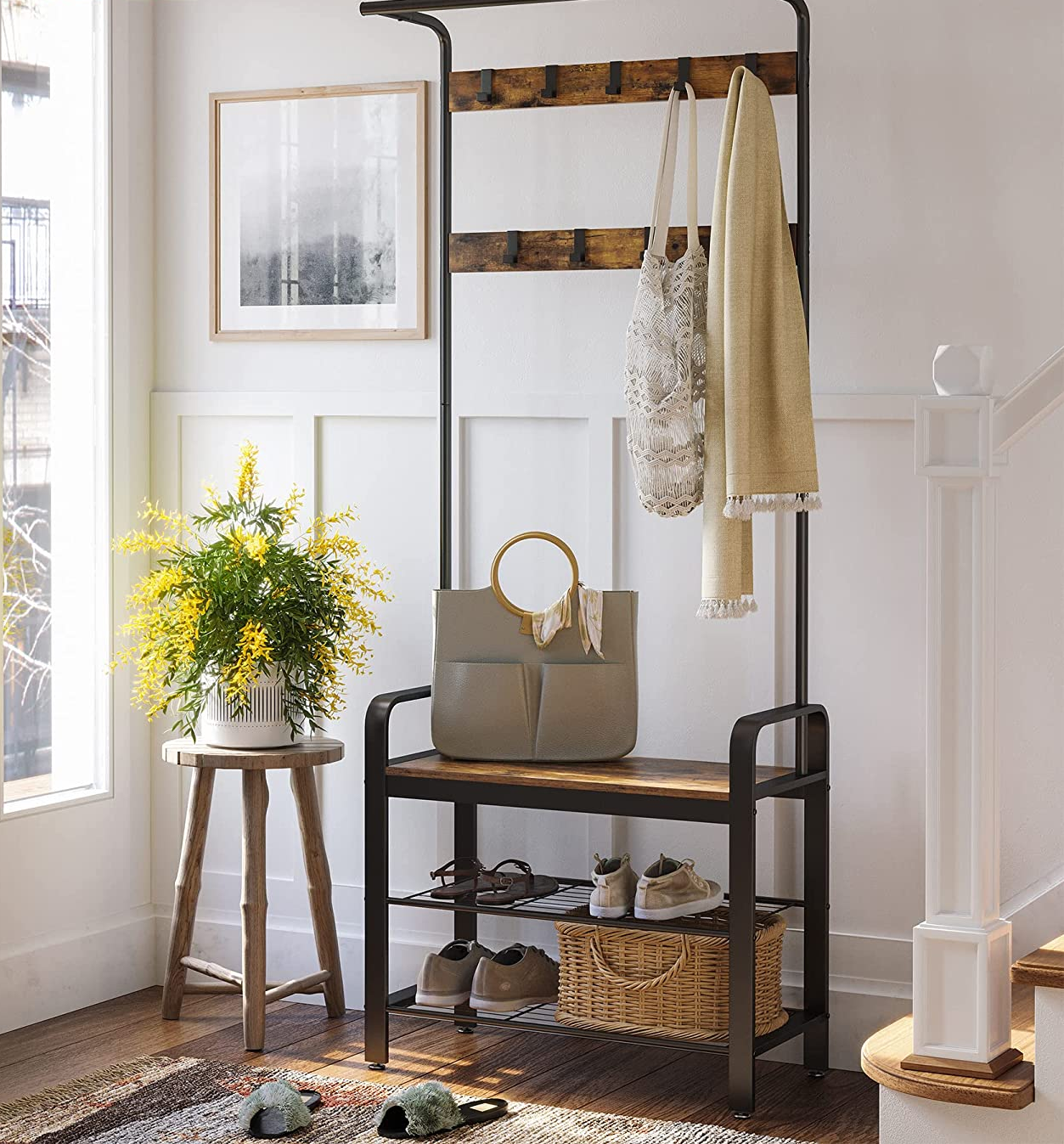 Promising review: "We desperately needed something to organize our shoes, bags, and coats as everything always ended up either on the dining room table or in a heap on the floor. I am very happy with this purchase. It was very easy to assemble, is very sturdy and seems well made, and looks great! It doesn't take up a lot of room but has a lot of storage space available on it. I like that the hooks are removable, so you can place them where you want. Overall very pleased and would recommend." —Sam B.
Get it from Amazon for $72.99+ (available in five colors and two sizes).
4.
Or a simple boot tray to place by the front door where they can kick off their wet rain boots and muddy high-tops so they're not tracking all the grime from their journey inside. 
Promising review: "OK. I know you might be saying 'it's just a boot tray'... and yeah you're kind of right. But let me tell you that I am in LOVE with this mat. I want them all over my house. The rubber is PERFECT. Thick, durable, holds its shape but still super flexible. Way better than the plastic ones IMO. Size is awesome — holds three pairs of adult boots with room to spare. The ridges are deep, so wet shoes will actually be able to drip and get airflow to dry on the bottom, unlike others where the bumps or ridges aren't high enough and they just sit in a puddle. So easy to clean — I usually just vacuum it, but I anticipate the salty winter and muddy spring may require an occasional soak in the tub or hose off outside. I have complete faith this thing will wash up quick and easy. Honestly, the feel of it is just such good quality and it looks so nice that I bought a second one." —Candace
Get it from Amazon for $11.73.
5.
A set of ultra-soft corduroy pillow covers for your couch or guest bed. It's a great opportunity to channel some warm fall shades into your decor, *and* it'll make the area more comfortable for lounging when you and your pals are catching up over some wine or coffee.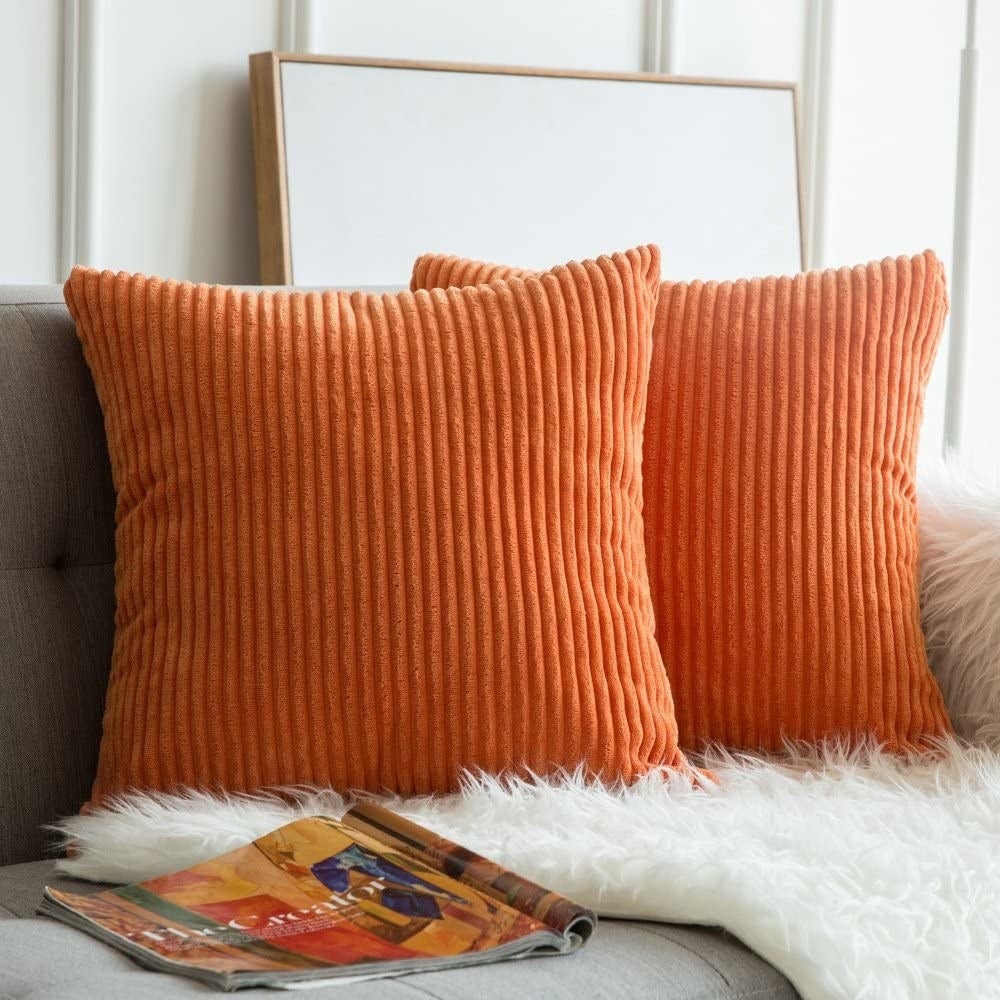 I own these in the orange shade and can vouch that they're *so* soft and not just for looks (but they look cute too!). I was so tired of getting decorative throw pillow covers that were cute but scratchy and not at all pleasant to lay your head on, and these fit the bill perfectly. They're a permanent fixture on my couch now and I've taken many a nap on them, and they'd be great on a bed too.
Promising review: "I bought the orange rectangular ones to go with some fall printed pillow covers. They were really just for decoration, but they are super soft and cozy! They fit very snug on the pillows I had. I really like them; in fact, I bought a square set in green to go with my Christmas decor! Would definitely recommend." —gb
Get a set of two 18x18 covers from Amazon for $14.99 (available in 23 colors and nine sizes).
If you're looking for affordable pillow inserts to match the covers, you can buy a set of two hypoallergenic pillow inserts on Amazon for $7.99+. For the fluffiest pillow, opt for an insert that's 2 inches bigger than your cover (so if you get an 18x18-inch cover, you'll want a 20x20-inch insert for optimal fluffiness).
6.
A faux sheepskin rug to lay on the floor beside your guest bed or across a chair — anywhere you want to inject with some serious hygge. It'll ramp up the room's cozy factor to make their stay a little more comfortable, especially on chilly mornings when they first get out of bed.
If you've never heard of "hygge," it's a Danish word referring to a mood of coziness and contentment — which is exactly how you want your guests to feel, I'm betting.
Promising review: "Hygge! Need I say more? I purchased it to go on top of my ottoman just to add a bit of 'cozy' to the living room. It transformed the room. It's soft and pretty but mostly it just gives the room a comfy boho meets modern meets scandi in winter look. Yep, it's a keeper." —Happy

Get a 2x3 rug from Amazon for $19.99 (available in 22 colors and 12 sizes).
7.
Some fairy string lights for your guest room or living room, because there's just something magical about what these do to a room at night. It'll give your space the coziest ambience that'll make your loved ones feel at home.
Many reviewers say the cord is short, so you may want to add an extension cord to your cart if you don't already have one.
Promising review: "I love these lights! The settings are so much fun and add excitement to a room when you have guests. The light is so warm and makes it feel so cozy inside! I love to turn off all of the other lights in my apartment and just have these lights going when I am watching a movie. It creates a great warm glow but isn't too bright to wash out the movie. They are also a fun background for pictures!" —J_Thill
Get the string lights in warm white from Amazon for $14.99 (available in five styles).
8.
A spare throw blanket you can keep on your couch or at the end of a guest bed to add a soft touch to the room. It'll be there at close reach if your visitor starts to feel a bit chilly (or just wants to wrap up like a burrito during movie night), and it doubles as cozy decor.
Promising review: "This blanket...this blanket is AMAZING. I cannot stress how wonderful and superb this blanket is. SO SOFT. Running your fingers through the fur is relaxing and instantly releases stress you didn't know you had! I own a soft cat...this is softer than my cat. You climb into bed, and you can choose the less soft side, which is warmer, or the super-soft side, the fur side. So far, with it being winter, we've done the warm side in, with the fur on the outside...but I cannot wait til we switch it around and luxuriate in the pure cozy nature of it! It is machine washable too!" —Eileen Ulick

Get it from Amazon for $17.99 (available in 11 colors and three sizes).
9.
And a leaning ladder for extra blankets and quilts so they can quickly throw on some extra layers for warmth if they need. It's also such a cozy-chic way to store and display them.
Promising review: "Looks similar to an extremely expensive one from Hobby Lobby. It's lightweight and easy to put together and install. Comes with screws and anchors to attach to wall. The ends of the ladder on the floor have rubber stoppers to keep it from moving around. I have four thick fleece and fur blankets on it and it holds them just fine. Looks cute." —Sizemore Family
Get it from Amazon for $20.99 (available in black or white). 
10.
Or a cute cotton basket you can stash extra throw blankets in that'll be like a big pile of cozy next to your couch — that way there's always plenty to go around when the whole crew is over for the annual rewatch of Hocus Pocus. You can toss extra throw pillows or towels in this too! 
I have a similar one in my living room and love having a spot to store all my extra blankets while still keeping them close at hand. Just a heads up that if you have any cats, they might make this their new snooze spot!
Promising review: "This basket is perfect for blankets. It came smooshed up in a bag, but shaped up easily when I put the blankets in it. It adds a perfect touch of coziness to my living room." —Laura Ragsdale

Get it from Amazon for $19.24+ (available in five colors).
11.
A calming essential oil blend of lavender and chamomile to spray on your guest bed, couch, and pillows when you're prepping for a house guest — this light, clean mist will set the mood for relaxation and potentially even help them sleep better if they're staying over. 
Asutra is a woman-owned brand with Venus Williams as a part owner — they create natural, affordable products from organic ingredients and believe in active self care. 
Promising review: "I just received this wonderful product a couple of days ago and will never be without it again!!! It came just in time as I am freshening up my home to prepare for a house guest. I have sprayed this mist in every room and in the closets and after an outing yesterday I was greeted by a wonderful fresh smelling house. Not some overwhelming chemical smell left by the usual advertised unhealthy room spray. Just a healthy clean lavender freshness. Plus moths and other pests hate the smell of lavender; just another plus. Smells wonderful on your pillows and bedding and helps you sleep. You can't lose." —myfavorites

Get it from Amazon for $14.99 (available in five other scents and in packs).
12.
And an essential oil diffuser that's also a humidifier, because fall weather tends to bring drier air that's not pleasant for you *or* your house guests. It'll help moisten the air to a comfortable level and bring so much zen to your space, they might never want to leave. The gentle mist, glowing lights, and soothing fragrance will make your whole home feel extra cozy.
It would make a nice night-light for a guest room too! Be sure to snag some calming essential oils to use with the diffuser if you don't already have any.
Promising review: "Purchased for the humidifying capability, but have ended up using it as a diffuser as well. Note that 300ml lasts through the evening/night, so it goes for about eight hours before having to refill (the auto shutoff feature is very helpful). It comes with a handy 150ml measuring cup for easier refilling. Really powerful as a diffuser – my whole apartment smells like whatever oil I use for days after. Blends in with my decor nicely and runs quietly. The colors are a nice feature for anyone who wants to use it as a night light as well. Unlike other humidifiers I've seen, the plumes of mist are readily visible and pretty cool to watch. Overall, I'm happy with this purchase." —Wheatknee
Get it from Amazon for $28.99 (available in two colors).
13.
Prismatic window film to add privacy if there are windows in your bathroom or if the guest room faces a neighbor's house — not only will it make your guests feel at ease; it'll also make the entire space look more beautiful. When the sun hits this film just right, it casts gorgeous rainbows across the room, and at night, it gives the coziest stained glass effect. 
Promising review: "We have a spare bedroom for overnight guests. Unfortunately, the one window in this room faces our carport, which isn't exactly a scenic view. So we ordered this decorative film to tone down the eyesore view of the carport and still allow light into the bedroom. We were very pleased with the outcome. I will order another one if we ever need it in the future." —Steve Denny-1978, The Norseman

Get it from Amazon for $9.98+ (available in eight sizes).
14.
A whimsical sheer bed canopy that'll make your guest bedroom feel like a cozy hideaway and add a lil' extra privacy too. Bonus: It can even help dull outside noise and hold in some warmth while they sleep, perfect for those chilly fall evenings.
Hang some vines, fall leaf garland, or fairy lights to really add to that fairytale vibe! 
Promising review: "I first have to say, the best thing about this tent is the coziness and the feeling that I'm in a closed space in my bed. Works as intended and it's even renters friendly! I thought I was going to have to drill some holes in my ceiling but pushpins worked great." —Amazon Customer
Get it from Amazon for $19.99+ (available in three colors).
15.
A set of thick, soft, 100% cotton flannel sheets to keep your loved ones warm when the guest bedroom starts to feel a bit chilly on fall nights. The breathable cotton has a velvety texture that'll feel like the softest hug on their skin.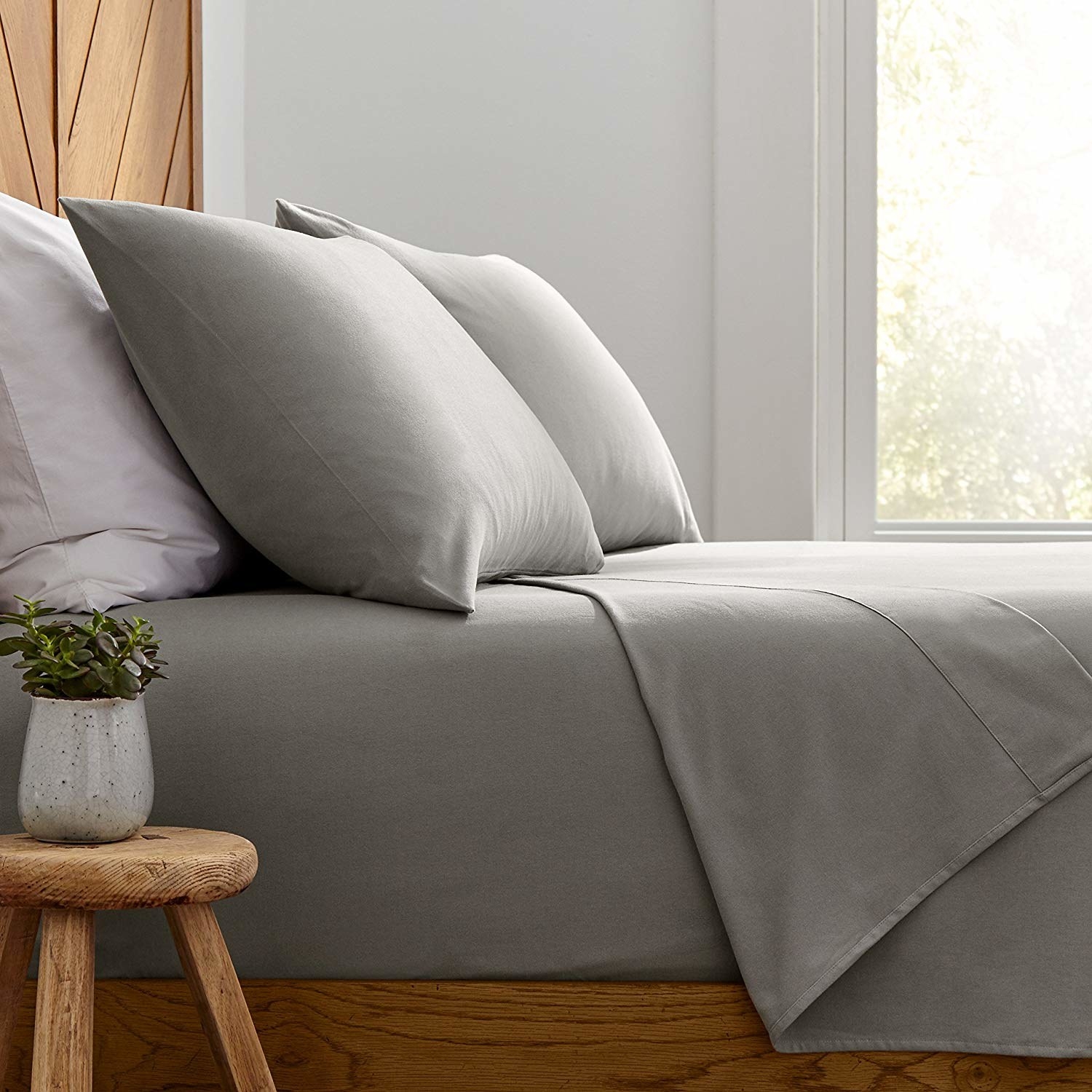 Promising reviews: "Absolutely LOVE these sheets! So soft and comfy! Great to snuggle in during these chilly fall nights!" —Tami
"We live in New England and put flannel sheets on our bed every fall/winter. Our current sheets finally wore out, so we purchased these. Honestly, I wished we had purchased them sooner. These sheets are much warmer and softer than what we had been sleeping in. These are an excellent product and we are looking forward to many more comfortable nights of sleep." —Jared Bryant
Get them from Amazon for $22.78+ (available in sizes twin–California king and four colors).