1.
A Lego flower bouquet that's startlingly realistic and won't wilt on you after a week. Assembling it takes just a couple of hours, and once it's done, you'll get to enjoy it as a unique piece of botanical decor — and a fun surprise for any visitors once they realize the flowers aren't real.

Check out this viral Lego flower bouquet in this TikTok from @shaelorend. The bouquet includes 15 stems with a mix of flower and leaf varieties, including roses, snapdragons, and poppies, and it uses elements made from plant-based plastic. 
Promising review: "When I saw the picture of this product on the box, I underestimated how beautiful they'd be in actuality. Great present for my wife! Best of all: No watering, wilting or replacing. They brighten up the room!" —D. M. Thompson
Get it from Amazon for $55.18.
2.
A cloud-shaped magnetic key holder you'll get to admire every time you enter and exit your home. It's absurdly cute while also a surprisingly efficient storage solution for keys — its powerful magnets hold up to three key rings securely in place without need for hooks.
See it in this TikTok from @favonlinefinds!
Promising review: "This is the cutest way to hold keys ever! And it was mad easy to install: peel and stick. I don't know how I ever survived just using a hook instead of this cute magnet cloud. Excellent housewarming gift too. I now take it with wine as a gift for any friends/family moving." —Clemmie C.
Get it from Amazon for $7.98.
3.
A cute Bluetooth speaker with a retro computer design, including real, RGB-backlit buttons and a screen you can program to display the time, pixel art, and all sorts of animations. Sure, it can also play music and podcasts — all the usual Bluetooth speaker capabilities — but it's also just so dang cute, and a lot of people just use it as desk decor.
Check out an unboxing TikTok from @thatkawaiigrl! I've also seen this in the background of literally *dozens* of videos, like this one from @mochiiimarie — which is why I ended up picking one up myself. If you're curious, you can read more on why I love mine here.
Promising reviews: "I actually impulsively purchased this because I saw it on Tiktok. I have had it for a little over a month now, and it is actually the best item I have purchased in a while. I admit, there is a slight learning curve when setting it up because there is not a clear-cut instructions guide for all of the features, but once you figure it out, it's so worth it. It is really multifunctional and you can customize it to your liking. I really love the mini games feature on here, like Tetris and Snake, because they all bring back childhood memories for me. My favorite part is the fact that it works as a speaker and when I play music, I can have little videos sync to the music. Who knew a tiny little speaker could bring me so much joy. It is a bit pricy though, but it is just so cute. If you're looking for a sign to buy this, here's your sign." —Khuyen Nguyen

Get it from Amazon for $99.90 (available in six colors).
4.
An ultra-cute set of flower hair clips that'll have you channeling ~flower power~ every time you step outside your door. Reviewers say they're capable of holding up long, thick hair. 

Check out seven ways to wear the clips from @rio.makino on TikTok!
Promising review: "These clips are adorable. They are very study as well. You have to use the direct middle petal for them to open, but they hold a surprising amount of hair. I wasn't expecting much due to the fact that I have very long very thick hair, but they can handle it. Good price and wonderful earthy colors as well." —Madison Austin
Get a set of six from Amazon for $14.98+ (available in five color combinations). 
5.
A cherry-shaped toilet bowl brush holder with a matching red brush because who said bathroom supplies always had to be plain white and boring? It's *almost* cute enough to distract you from the cleaning task at hand. 

I never thought I'd call a toilet brush cute, but here we are. Check it out in this TikTok from @valerie_sanders. 
Promising review: "I just redid my main bathroom and everything is black and white; walls are gray. Let's face it: A toilet brush can be a complete eyesore. I did not want to spend a ton of money just so it looked nice in the corner. I literally stumbled on this while scrolling and I immediately giggled and put it in my shopping cart. People that do see it do not even know it is a toilet brush LOL. I love the whimsy of it!" —Heather C.

Get it from Amazon for $17.59 (also available in a green apple style).
6.
An LED pearl in shell light so you can fall asleep dreaming of your next beach trip. The "pearl" (a round LED bulb) is housed inside an iridescent ceramic shell that reviewers say is super shiny and gorgeous.

Get a closer look at it in this TikTok from @chloestreett!

Promising review: "The picture doesn't do justice to the iridescent paint. I ordered the pink lamp, and it glimmers with hues of purple and green. Very pretty and mermaid-esque. I was worried about the size because of other reviews, but the size is perfect and matches the product description. Any bigger would be too gaudy for a dresser or nightstand, in my opinion. It gives off as much light as your standard hallway nightlight, so maybe too dim for kids who are scared of the dark, but perfect for teens or adults who can't fall asleep with bright lights left on. I love that it's cordless so I can place it anywhere for decoration, though I haven't tested the battery longevity yet. My lamp arrived packaged in styrofoam and had zero damage. I'm very pleased. It reminds me of Urban Outfitters' aesthetic and is perfect for a modern cabana decor theme." —Natalia C.

Get it from Amazon for $41.19+ (available in pink or white). 
7.
A lovely book sleeve embroidered with daisies — it's even padded inside, so it'd be great for storing a tablet or e-reader too!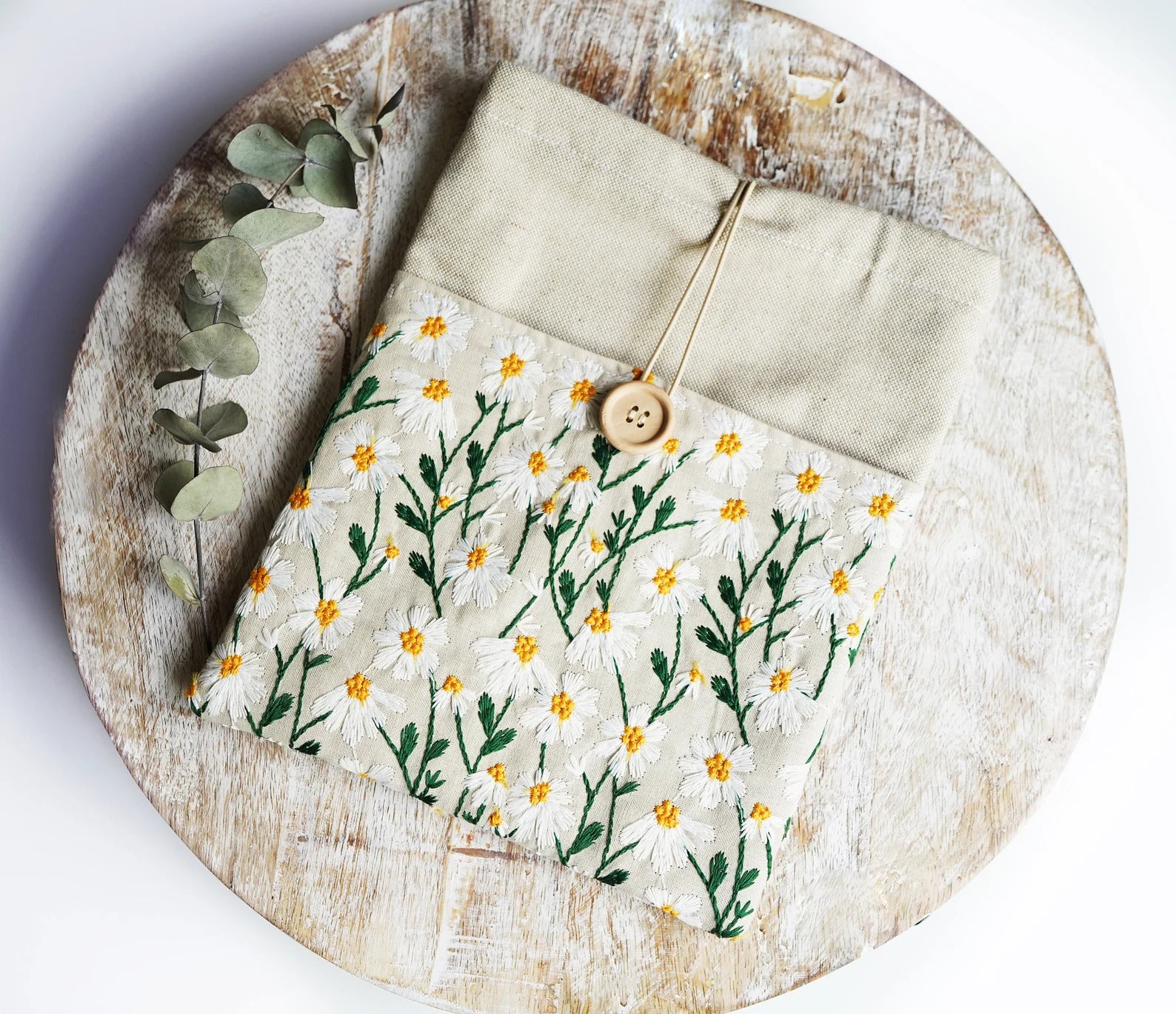 Check it out in the beginning of this TikTok from @sleepily_gaming.

Stassiecraft is a UK-based small business that specializes in candles and zero-waste home essentials. There are lots of other cute book sleeve patterns on their store page!
Promising review: "My book sleeve exceeded all of my expectations and more! I got a custom size, and it fits everything that I was hoping it would. Incredible quality and it was delivered to the US in record timing." —emnem1
Get it from Stassiecraft on Etsy for $12.41+ (available in six sizes; custom sizing available).
8.
A wavy cloud-shaped mirror that's frameless — just imagine how cute this little bb would look sitting on your dresser or vanity. It seamlessly blends in and fits with pretty much any aesthetic, which is probably why it's so popular.

You'll catch a glimpse of it in this TikTok from @ariannabaq! This mirror is everywhere; it's also featured in this TikTok from @anyaplant, for instance.

Promising review: "LOVE!!! it arrived safely in one piece without breaking or cracks, took seconds to put together, and isn't wobbly at all. would recommend! So so cute!" —Aubree Sklar
Get it from Amazon for $10.95.
9.
A strawberry-themed duvet set — there's just something about strawberries that seems to be deeply appealing aesthetically, because strawberry-themed items are constantly blowing up on TikTok and elsewhere. Looks aside, though, reviewers say this duvet is actually soft and good quality, with nice features like a hidden zip closure and corner ties to hold your comforter in place.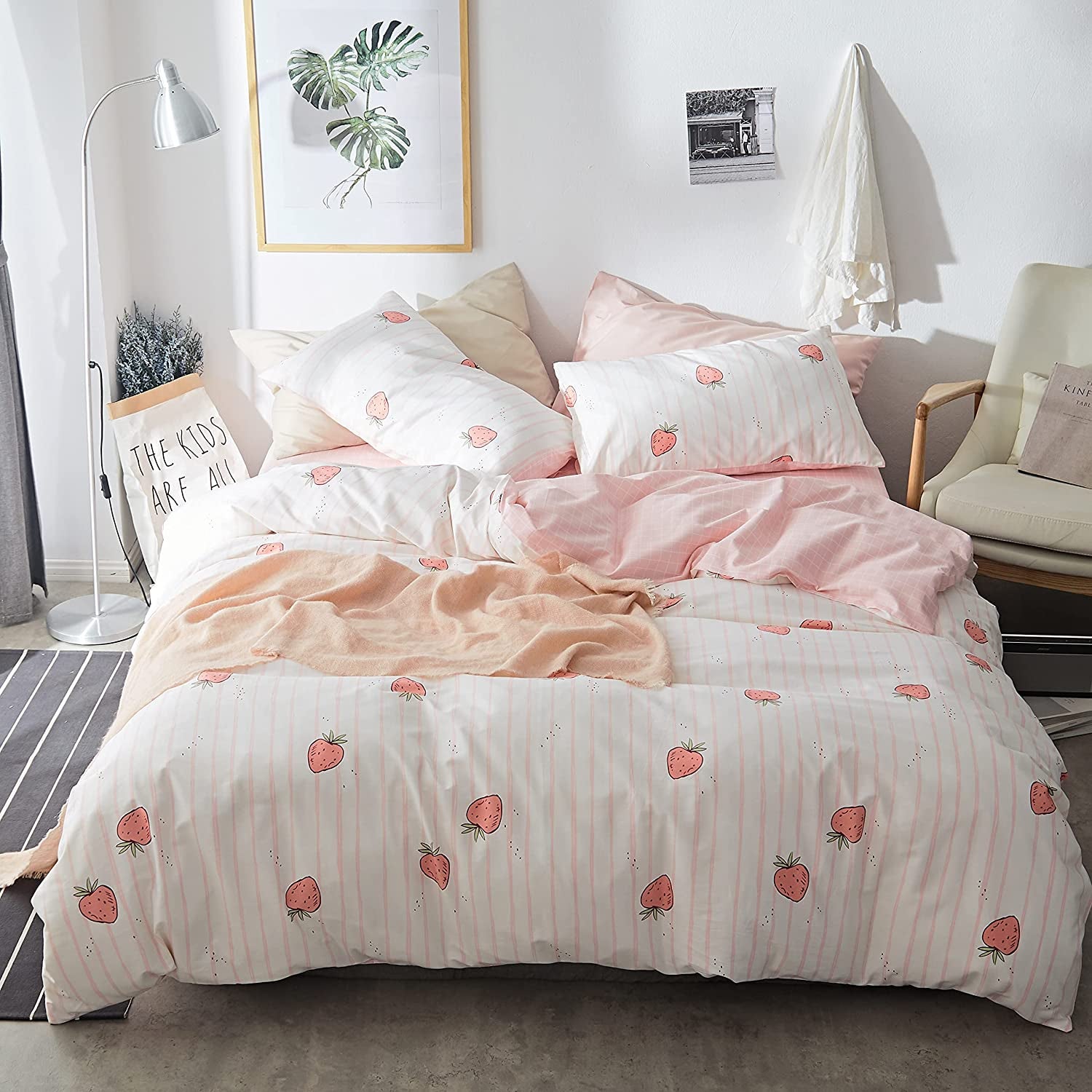 See how it looks IRL in this TikTok from @alexa_nicole_x!

It comes with a duvet cover and two pillowcases — make sure to get a duvet insert if you don't already have one!
Promising review: "I wanted something cute but not super girly and this duvet cover was perfect!! It's white with pink stripes and soft pink strawberries splashed all around. It gives the comfort of having girly and cute bedding without it being too pink (saves my husband from the overly girly bed). The quality of the fabric and print is amazing — totally worth the buy! It came out of the dryer on low heat perfectly fine. It also has corner ties for your comforter to keep it in place. The underside is a soft pink with white grid detail, which is so nice to see when going to bed or folding the comforter over for that extra touch of pink. I also bought the matching bedding for a queen size bed and it's the first time a fitted sheet actually fit over our thicker mattress. So happy about this purchase!!" —NumiOmi
Get it from Amazon for $48+ (available in twin and full/queen sizes). You can also pick up the matching fitted sheet for $23.99+.
10.
A wireless keyboard and mouse set to brighten up an otherwise drab desk area so you can type away in style. These fun peripherals are bound to make you just a *little* happier every time you sit down to work. 
The set includes a wireless keyboard and mouse with a USB receiver for a 2.4GHz connection. Pick up some AA batteries; both will need them! I've seen this keyboard in a ton of different desk setups — you can check out how the clicking sounds in this TikTok from @wisteriem. 
Promising review: "Absolutely amazing keyboard. Colors are eye-catching and make a drab office pop with color! I am currently the envy of the office. Ladies in the other departments are waiting on their own to come in now after seeing mine. Easy plug/play. It travels between home and office with me. Love the keys on this as well. Sleep mode seems to pop on kinda quick, but it's nothing bad. Just push a button or click the mouse and it's on again. I have had mine for about a month now and will not be going back to any other style!" —Nikki Bell
Get it from Amazon for $39.99 (available in 12 styles).
11.
Or! The Razer Huntsman Mini keyboard, but with white phantom keycaps that make each key look like a delicious little marshmallow. When it lights up, you can see the letters underneath each key, and the RGB effects look *so* cool with the phantom keycaps.
12.
AND as seen in the TikTok above, a coiled keyboard cable with an adorable pastel rainbow color scheme, because who says cables have to be an eyesore on your desk? With this, you turn a functional component into part of your ~aesthetic~.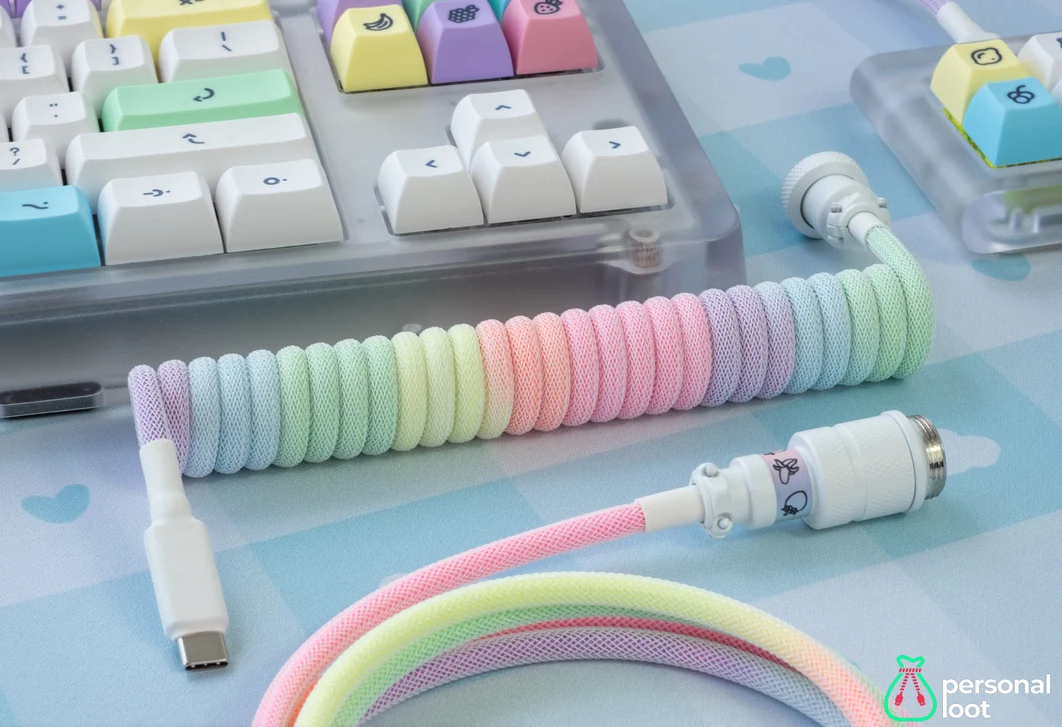 I'm not sure why it never occurred to me that people buy their own cute, custom keyboard cables, but I'm so glad to know about it now. I love how a rainbow cable like this looks paired with the Huntsman Mini and phantom keycaps above, but it'd be super cute with pretty much any neutral- or pastel-colored keyboard setup.
Personal Loot is a London-based small business that creates bespoke accessories for gaming setups. They have a bunch of different colors and designs, so be sure to check out their shop — you can even customize your own cable!

Promising review: "Absolutely love my custom cable! The colors are stunning and quality of product is excellent. Even came in matching color packaging, which I loved!" —Alex Andrews
Get it from Personal Loot on Etsy for $56.51+ (available with five connector types and five cable orientations).
13.
Custom keycaps to incorporate literal art into your keyboard and give it the cutest pop of color that'll make you a little happier when you're on that WFH grind.

Check them out in this TikTok from @hirosart_. This Vietnam-based small biz went viral for its Pokemon keycaps, but they have a ton of other designs too!

Promising review: "Holy smokes, amazing work! The level of detail in this keycap is incredible, and knowing that it's fully custom makes it even better. I had to place a second order for more keycaps as soon as this one arrived!" —Kyle Dilger
Get custom keycaps from Hirosart on Etsy for $29.99+ (available in multiple quantities and for multiple buttons; character customization available).