1.
A high-voltage insect zapper you can hang near wherever people will be hanging out the most in your backyard, whether it's by the pool, patio, or fire pit. It eliminates mosquitoes, gnats, flies, and other bugs with wings that are undeniably the worst part of lounging around outside. 

It has a range of up to 1,500 square feet!
Promising review: "My husband and I love to sit in our backyard with the fire pit going. The bugs are getting really bad and it was very hard for us to stay outside with all the bugs. However, when I set this up I immediately noticed a huge difference. The bug zapper was zapping all the mosquitos and other flying bugs. So glad I purchased this. It's going to be a real life-saver this summer. I may have to purchase another one for the front of our house." —Ronnie Perez
Get it from Amazon for $36.95. 
2.
A standing weeder, which has three steel claws that yank weeds out by the root without you having to bend over for hours pulling them out by hand. Because no one wants to kick off summer with new back problems.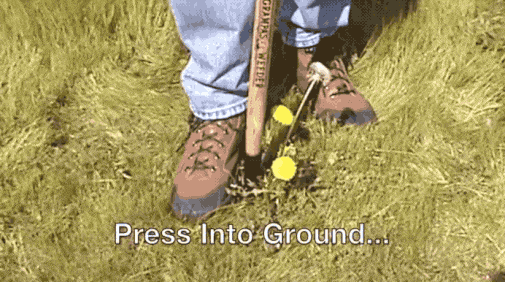 Made with a bamboo handle and powder-coated steel, it uses a simple lever system to made weeding easy. Grampa's Gardenware Co. is a small, family-owned business based in Oregon making tools for gardening. They've been making this tool since 1913! 
Promising review: "Oh my god, I friggin' love this tool. I bought this on a whim given we bought our first house and know nothing about caring for a yard. Boy has it come in handy. Our new house had a ton of weeds in the front yard and this tool helped me get most of them out in no time. In fact, the process of yanking out the weeds was strangely satisfying! I don't think anyone can say that weeding is fun but this tool made it as close to fun as you can get, especially when you see a long root along with the weed you pulled." —JG

Get it from Amazon for $39.99.
3.
A pressure washer to blast away all the built-up dirt, ashes, and grime on your fire pit, patio, outdoor furniture, and pathways so you can get your backyard in tip-top shape for entertaining.

Promising reviews: "Used to clean composite deck, patio, and PVC fence, none of which had been cleaned for over two years. Patio was the worst due to drainage issues. Our seven-year-old 12x12 deck looked new in less than 3 hours. Patio took longer but looked like fresh cement when done. The right amount of power to freshen up our good-looking backyard. Very efficient and I highly recommend this power washer." —CK1256
Get it from Amazon for $169. 
4.
Or a bleach-free outdoor cleaner that's especially effective on concrete and stone, but can be used on any part of your yard where you need to wash away layers of dust, dirt, and grime. It hooks directly to your garden hose to deliver a deep foaming clean. 
Promising review: "I first used this product about two years ago on the awning on my RV. That awning was so bad, that I thought I was going to have to replace it. After using this Scott's product as directed, the mold and mildew completely disappeared. This product definitely works and it works GREAT! What more can I say — it saved me nearly $500." —R. Latreille
Get it from Amazon for $10.98.
5.
A dog spot repair solution so you can address the dirt patches in your backyard caused by pet damage. It's made from a combo of mulch, seeds, and soil designed to help healthy grass regrow in no time.
Promising review: "I have lacrosse players and dogs and this stuff is amazing. My yard looked like an abandoned lot before this and it literally 'grew anywhere' just like it said. The bag I planted last year actually came back strong this year so I put more down and it is working like a dream!" —chchmom

Get it from Amazon for $16.97+ (available in five sizes and in packs).
6.
A garbage guard to rid yourself of the cloud of flies that takes up residence around your trash cans when the weather starts to get warmer. Just stick it inside the can, and it'll released an odorless vapor that kills insects for up to four months!
Promising review: "I ordered this product because every spring and summer we have problems with flies and maggots in the garbage can. The first time I used Terro, it didn't stick very well. I can say it was user error because the adhesive tape stuck to my fingers. I had a hard time getting the tape off my fingers, but did manage to stick the device on the garbage lid. The next day I noticed that the device had fallen in the garbage can, so I ordered another one. I was very careful not to get the tape on my fingers this time. The device has been on my garbage can lid for a few days now. It survived the weekly trash pickup. As for whether or not this device works: Let me tell you, NO FLIES, NO MAGGOTS!!! This product works well. Just be careful when applying the adhesive strip." —Ms. Patricia A. Nelson

Get it from Amazon for $7.98.
7.
A bottle of Yard Odor Eliminator if your lawn and patio furniture are stinky because your outdoor puppy or cat has had accidents...everywhere. This concentrated formula gets rid of poop and pee smells on grass, plants, patios, furniture, kennels, and pretty much everywhere else that your pet has left their mark on.
Promising review: "We have two male dogs. Need I say more? The dog run always had an odor even after watering down after spreading liquid, a cleaning product known to many people. Enter YARD ODOR! After using it just once, the odor was cut by 90% and after two applications, the odor is gone. So glad we tried it." —Roxy
Get it from Amazon for $22.99.
8.
A mildew remover to rescue your patio furniture and other outdoor surfaces from a build-up of mold and mildew (especially after sitting outside all winter). This formula cleans away stains without any heavy scrubbing needed — just spray down whatever you're trying to clean, let it sit, then rinse it off with a hose to finish the job.
If it's a particularly tough stain, you might need a second application and light scrubbing!
Promising review: "I don't often write a review of a product. But this was so impressive, I thought I should let others know. We have a set of vinyl outdoor chairs that were constantly covered with mildew. When we were feeling ambitious, we'd take the time to power wash the chairs, which worked pretty well but was a lot of work. The problem was that a couple of days later, the mildew was back almost as bad a before. With this mildew stain remover, we sprayed the chairs, let them sit a few minutes, and hosed off with a regular garden hose. Easy. And they were cleaner than they ever got using the power washer. When we put the chairs away two months later, they were still clean." —Christine A. Simonson

Get it from Amazon for $24.29+ (available in two sizes).
9.
A nontoxic disposable hanging fly trap with a smelly bait buzzing pests simply can't resist. After the bag fills out, all you have to do is dispose of it! Now you can have that outdoor barbecue without constantly swatting around your face.
It's suggested to position this at least 20 feet away from anywhere you'll be hanging out, as the smell is *not* pleasant for humans.
Promising review: "My neighbor has three dogs and they don't clean up their mess from the backyard. This summer the flies have hatched in force, and I can't clean up after my dog fast enough to keep them away. I've had this trap hanging on my back fence for 10 days now, and it has already started making an impact. I've no way of estimating the numbers caught, but it must be in the thousands. Imagine how many flies you can pack into a plastic sandwich bag, and that is about what I have after 10 days. I can now open my back door without 2-3 flies entering the house. Make sure you hang it away from doors and any windows you like to open. It does stink, and it does attract flies to it. I've seen the hanging strips and those are great for catching a dozen or so flies at a time. But if you want to eliminate them by the hundreds and thousands, this is the way to go." —John C.
Get it from Amazon for $7.
10.
A pack of citronella candles to deter those pesky mosquitoes from being a *major* damper on backyard hangouts. Each one lasts up to 30 hours!
They have a citrusy smell that's a blend of rosemary, peppermint, and lemongrass oils. It'll smell great to you (and is non-toxic!), but mosquitos can't stand it.
Promising review: "I am extremely satisfied with this product. I purchased these for our trip to Guatemala in the rainy season where there are tons of mosquitoes, so bad that I always smell like Off and it's so annoying to smell like bug spray. Plus I'm so sticky. So I wanted something that I can put out when we're having dinner or hanging out with the family in the patio. These worked perfectly. They really smell good and they WORK; as long as the candle was on I was not bit by any bugs! I wanted to carry it with me everywhere we went, but not possible. Short story, we purchased two and were there for 10 days. They lasted the 10 days with very little to spare and I used them as much as possible and at night for at least five or six hours each night. I purchased another four for our next trip coming up because I don't have to use as much bug spray on my body as these work to keep the bugs from biting!" —World Travler
Get it from Amazon for $23.99 (also available in a pack of six).
11.
Or a box of mosquito-repellent incense sticks from the same brand so you have a moment of zen in your backyard without all the skeeters making you their next snack. They're made from a blend of five plant-based repellent oils: rosemary, peppermint, citronella, lemongrass, and cedarwood.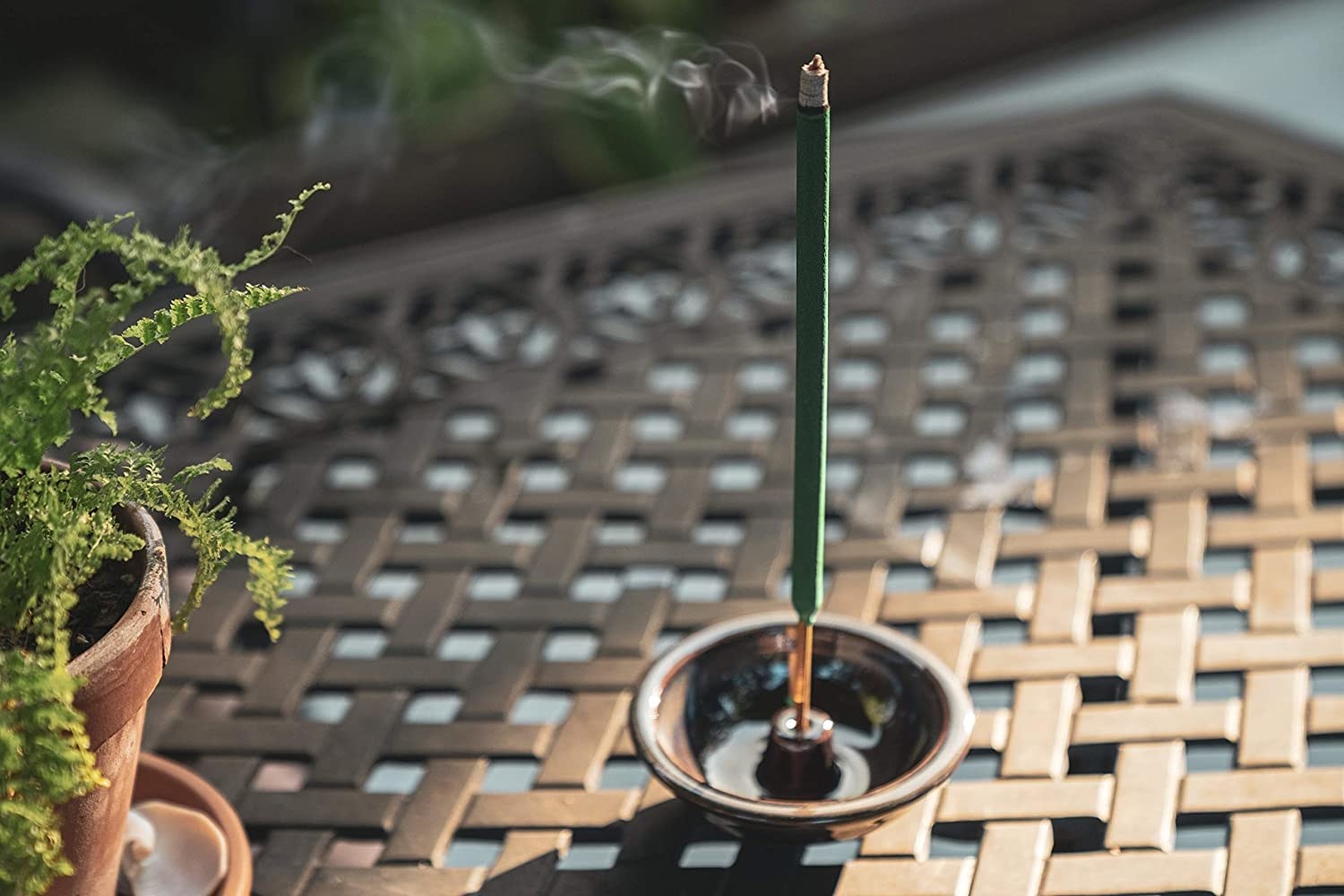 Promising review: "I am so happy to have this mosquito repellent. I wanted something for my back patio in the evenings. This is so pleasant! Everyone comments about the scent; it's not offensive like other nasty repellent sprays or candles." —Namaste
Get it from Amazon for $9.99+ (also available in a two-pack and with reduced footprint packaging).
12.
An outdoor fan because keeping the air circulating will help cut down on the bugs that linger while you're outside trying to enjoy some fresh air.

Promising review: "Great fan at a good price! I bought this fan for my backyard to help circulate the air in hot days and to help deter mosquitoes at night around the fire pit. This fan worked perfectly. It has three speeds, the highest of which is super strong. The fan at high speed is a bit noisy, but nothing unexpected of a powerful fan. It is also 100% waterproof, which is a must. My only minor issues would be 1) it would be nice if the fan came with a cover for when it's not used (I bought 20-inch tire storage covers to do the job), and 2) the fan is only adjustable up and down not side to side — if they could make it oscillate that would be great. Having said that, I would recommend this fan for sure and would not hesitate to buy it again" —Bigdad
Get it from Amazon for $99.65+ (available in three sizes).
13.
Some plant covers to protect your precious garden beds from bugs, cold weather, or strong sun with a lightweight barrier that still allows air and moisture to reach your plants.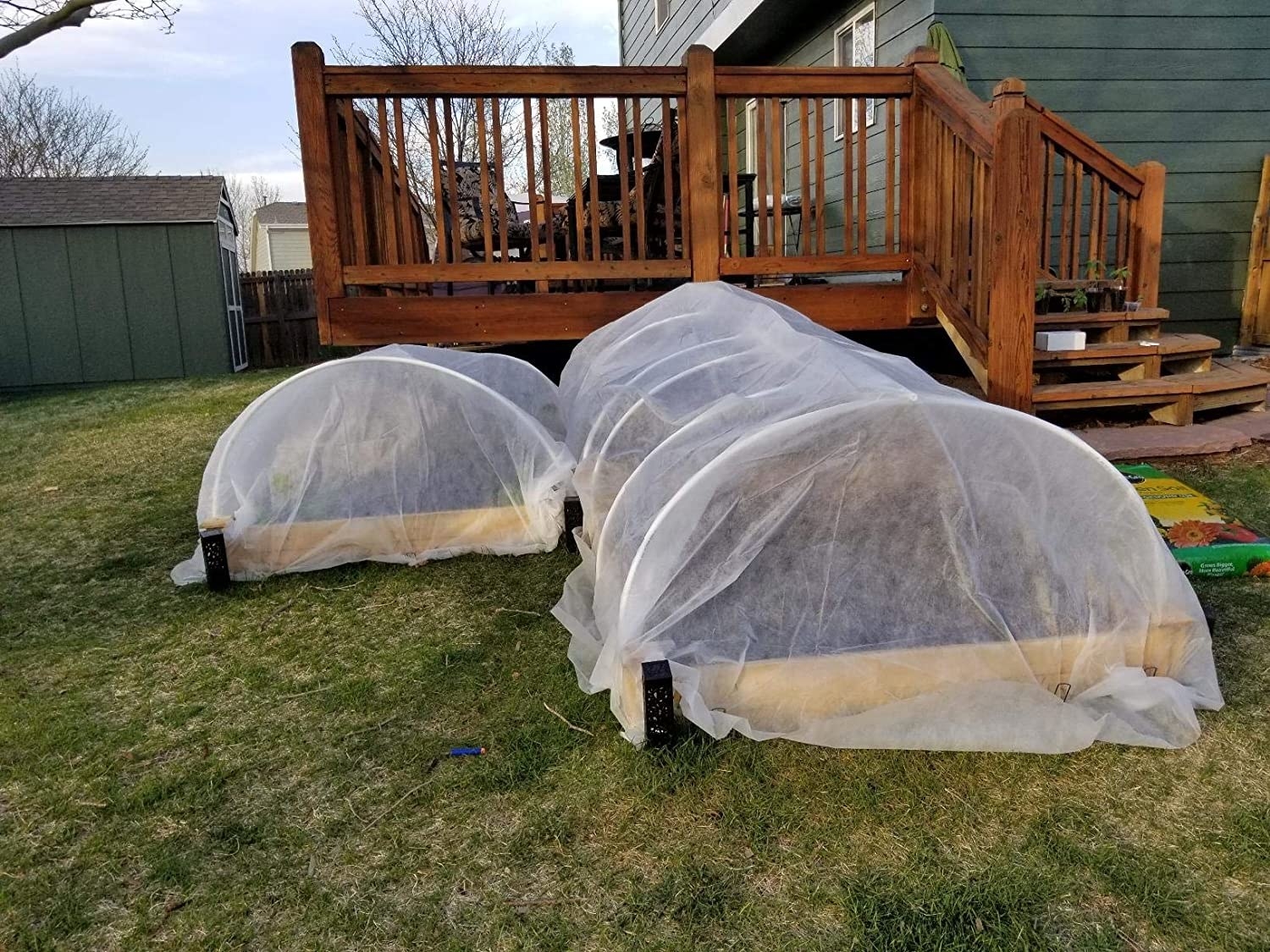 Promising review: "This plant cover is thicker than others that I have purchased and lasts a lot longer. I have it covering my Brussels sprouts right now. The temps are getting hotter so I use it to shade my plants. It is also great to cover my squash plants to keep out the squash vine moths and borers." —C. Dryman

Get it from Amazon for $14.99.
14.
Or smaller mesh plant covers for protecting single plants like tomatoes, blueberries, and strawberries from insects and other pests that will try to nibble away at your poor plants. These have a drawstring design that lets you secure them at the base. 
These help protect them against bad weather as well!
Promising review: "Love the size of these nets. I'm trying my hand at growing tomatoes in pots this year. My friends have told me about their issues with birds, critters and insects, and these nets seem perfect. They fit perfectly over the cages, and I particularly like the drawstring on the bottom to safeguard any invaders. There's no problem watering the plants through the net and plenty of sun and air get through." —Debbie Cetin
Get them from Amazon for $16.99 (available in multiple sizes and in multi-packs).