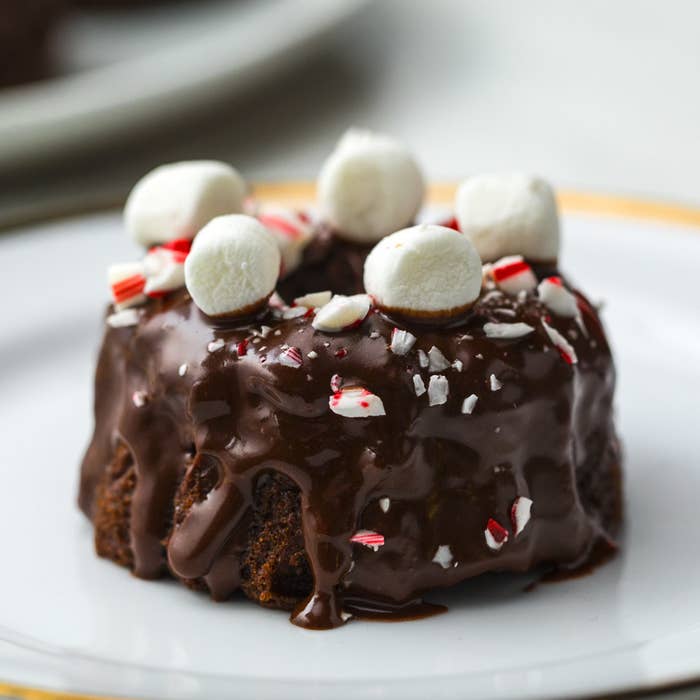 Ingredients:
1 box chocolate cake mix
1 box (3.9 ounces) JELL-O Instant Chocolate Pudding
16 ounces sour cream
3 eggs
⅓ cup vegetable oil
½ cup water
1½ teaspoons kosher salt
2 cups (12 ounces) semi-sweet chocolate chips
2¼ cups powdered sugar
6 tablespoons cocoa powder
4–5 tablespoons milk
2 teaspoons vanilla extract
Mini marshmallows, for garnish
Crushed candy canes, for garnish
Preparation:
1. Preheat oven to 350ºF (325ºF for convection).
2. Combine chocolate cake mix, JELL-O Instant Chocolate Pudding, sour cream, eggs, vegetable oil, water, and kosher salt in a large bowl. Beat with a hand mixer until smooth. Fold in chocolate chips.
3. Fill greased mini bundt pan molds halfway full with batter.
4. Bake for 15–18 minutes or until a toothpick inserted into the center comes out clean.
5. Let cool for 10–15 minutes, then remove from molds.
6. Sift powdered sugar and cocoa powder into a bowl. Whisk in milk and vanilla extract to form a smooth, pourable glaze. Add a bit more milk if glaze is not pourable.
7. Pour glaze over bundt cakes. Decorate with mini marshmallows and crushed candy canes.