1.
This thoughtful mum who made this for her dog.
2.
And this dog owner who made the most of a free room.
3.
This woman who got her bird a contrasting companion.
4.
This guy who went all out for his new puppy.
5.
And this woman who wanted her dog to feel like he was contributing to the household.
6.
The person who organised what looks like the greatest party ever.
7.
This guy who wanted every single fish to feel appreciated.
8.
This dog owner who knew just how to soothe their lil' pal.
9.
And this dog owner who threw one hell of a baby shower.
10.
This girl who left some very detailed instructions about her fish.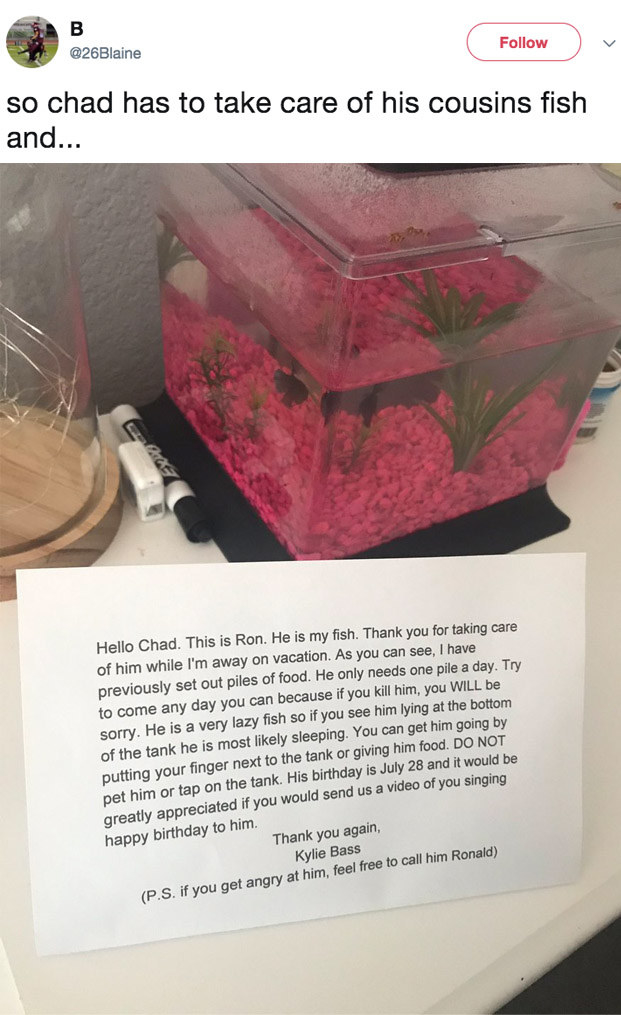 11.
And this extra AF dog owner who did the same.

12.
This creative cat owner who found an excellent solution.
13.
And this one, who should also definitely go into the business of making cat clothes.
14.
This guy who made a room really feel like home.
15.
This cat owner who knows her cat's very particular tastes.

16.
This pet owner who understands the influence of role models.
17.
And this woman who gave the sweetest Valentine's Day gift.
18.
This woman who prioritised her dog.
19.
This person who made sure to celebrate their gecko's special day.
20.
This family who celebrated their cat's 15th birthday in the best way.
21.
And finally, this bird owner who is so wholesome it'll make you tear up a bit.