This Children's Book Wants To Teach That Princesses Don't Need Saving
The Princess Who Saved Herself is about an awesome, multiracial princess who lives with a pet snake and plays rock 'n' roll.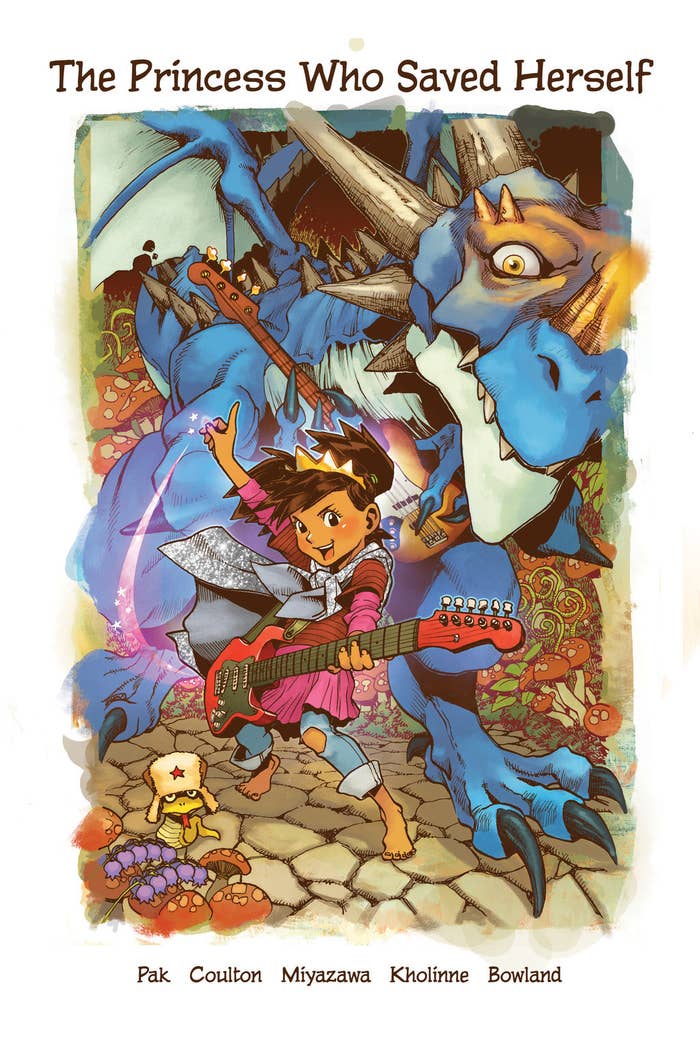 Singer-songwriter Jonathan Coulton and comics writer Greg Pak teamed up to create The Princess Who Saved Herself, a children's book that redefines what it means to be a princess.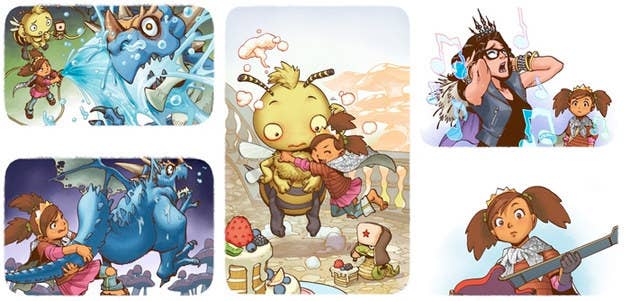 Based on a song by Coulton and illustrated by artist Takeshi Miyazawa, the book features a protagonist named Gloria Cheng Epstein Takahara de la Garza Champion, a badass, multiracial princess who doesn't need anyone to save her.

The Princess Who Saved Herself reinvents the princess myth for a new generation of proactive girls, telling the story of an awesome kid who lives with her pet snake and plays rock 'n' roll all day to the huge annoyance of the classical guitarist witch who lives down the road. Hijinks, conflicts, and a fun reconciliation ensue, all showcasing determination, bravery, and understanding.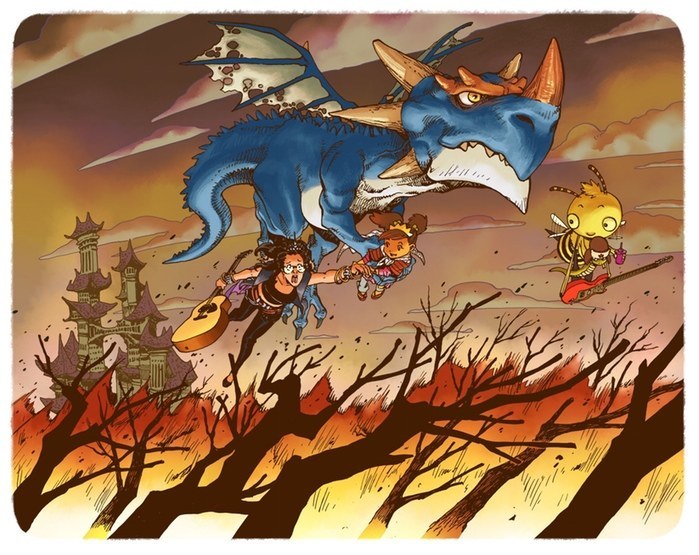 Coulton and Pak told BuzzFeed about their inspiration for the book:
Jonathan Coulton: When I wrote the song my daughter was very into princesses and pink things, a phase that caught me a little by surprise. I certainly wasn't pushing the princess agenda on her, she just found it and latched on. It's always a little weird when you see the evidence of the messages in popular culture having hacked their way into your kid's brain. So I wanted to tell a story about a little girl who was a princess, but who didn't need any help — my daughter was also probably in a phase of insisting she could do everything by herself. And young kids are like that, they have this great energy, it's like they can't even really see obstacles, and they just roll over them. So the character came from that, and sort of wanting that mindset to last forever.
Greg Pak: I just loved Jonathan's "Princess Who Saved Herself" song and could see it becoming a children's book pretty much from the first time I heard it. Jonathan created this tremendous hero, a little girl who deals with every problem with fearless aplomb — she's not afraid to kick a dragon in the butt if she has to. But in the end, she always finds her way to the compassionate solution to conflicts. She's just perfect for a picture book.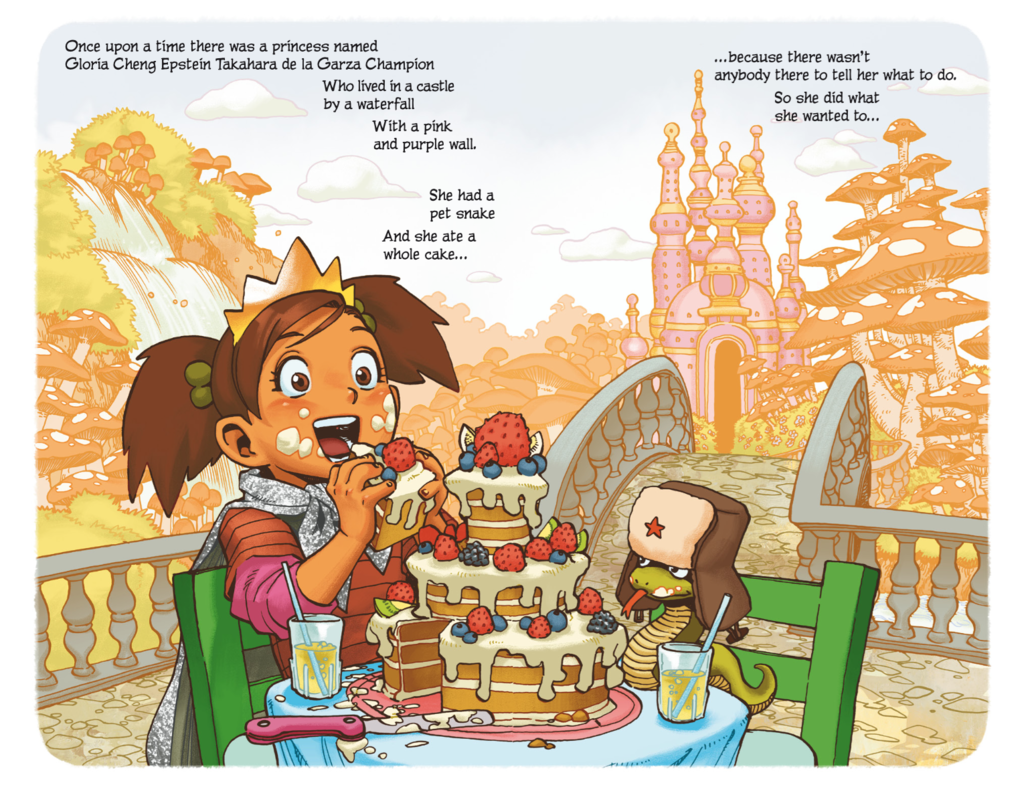 They also discussed the message they hope kids will take away from The Princess Who Saved Herself:
Coulton: Obviously I'm excited that there's a book with a fantastic female character at the center — really two, counting the witch, who is also pretty awesome. When you have a daughter, you suddenly realize how many stories are about boys, so it's nice to work against that a little. But my favorite thing about Greg's adaptation of the story is how he expanded on the princess's method of solving problems. She faces things head-on, and she solves problems mostly by being a good person with a positive attitude. We could all stand to get better at that.
Pak: I also love the idea of parents reading this book to their little boys as well. Fiction is one of the best ways for people of different backgrounds to learn how to identify with and empathize with each other. The idea of boys looking up to the princess as an awesome hero makes me very happy. Heck, I want to be like the princess when I grow up.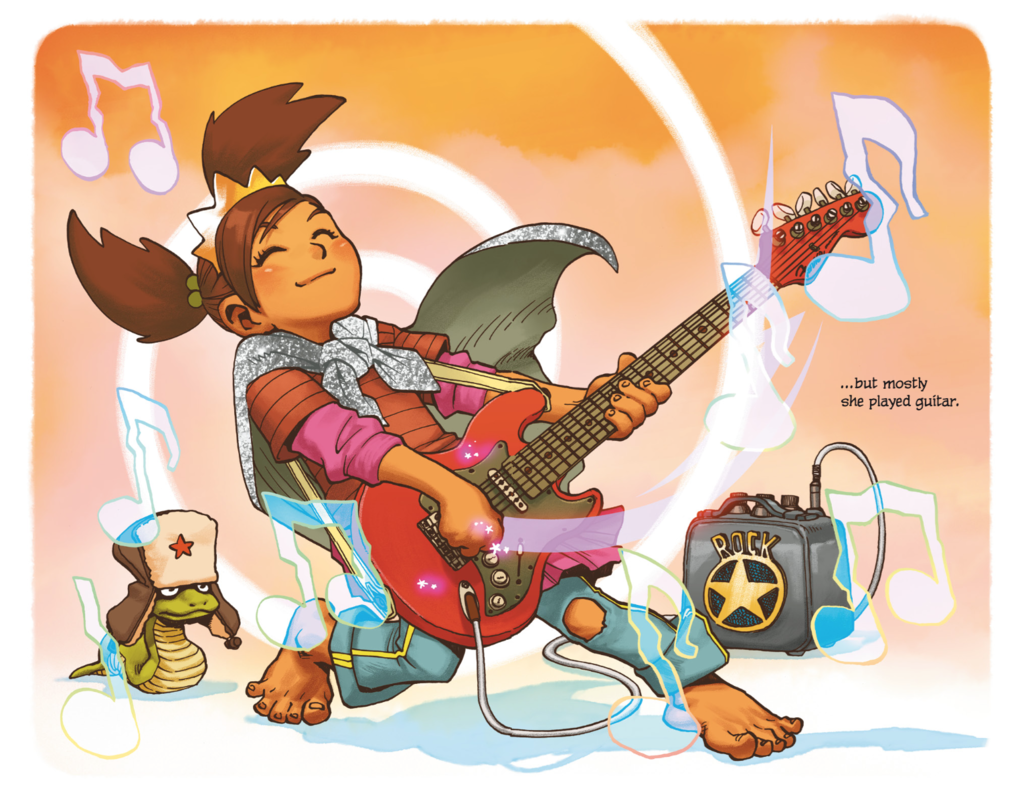 The Princess Who Saved Herself was fully funded on Kickstarter in March 2015, raising $111,759 — over $90,000 more than Coulton and Pak's initial goal.