Exclusive: Here's The Cover Of Bill Nye's New Book
An exclusive look at the cover of Everything All at Once: How to Unleash Your Inner Nerd, Tap into Radical Curiosity and Solve Any Problem, which will hit shelves July 2017.
Bill Nye, popularly known as Bill Nye the Science Guy, has a book coming out on July 11, 2017 titled Everything All at Once: How to Unleash Your Inner Nerd, Tap into Radical Curiosity and Solve Any Problem.
The new book teaches readers Nye's techniques of thinking, creativity, and problem solving that can be used to change the world.
In Everything All At Once, the New York Times bestselling author issues a call to arms meant to rouse everyone to become the change they want to see in the world. Whether addressing global warming, social change, or personal success, there are certain strategies that always get results: looking at the world with radical curiosity, being driven by a desire for a better future, and being willing to take the actions needed to make change a reality.

With his signature humor and storytelling, Bill shares how he has developed specific techniques for what he calls the "everything all at once" lifestyle, from his childhood scouting adventures and his career at aerospace companies to the development of his famous Science Guy television show. This approach requires the nerd mindset: a way of thinking that leaves no stone unturned. It's about learning to solve problems through exploration, trial and error, and sheer creativity. Problem solving is a skill that anyone can harness to create change, and Bill Nye is here to show us how to sort out problems, recognize solutions, and join him in changing the world.
And here's the cover!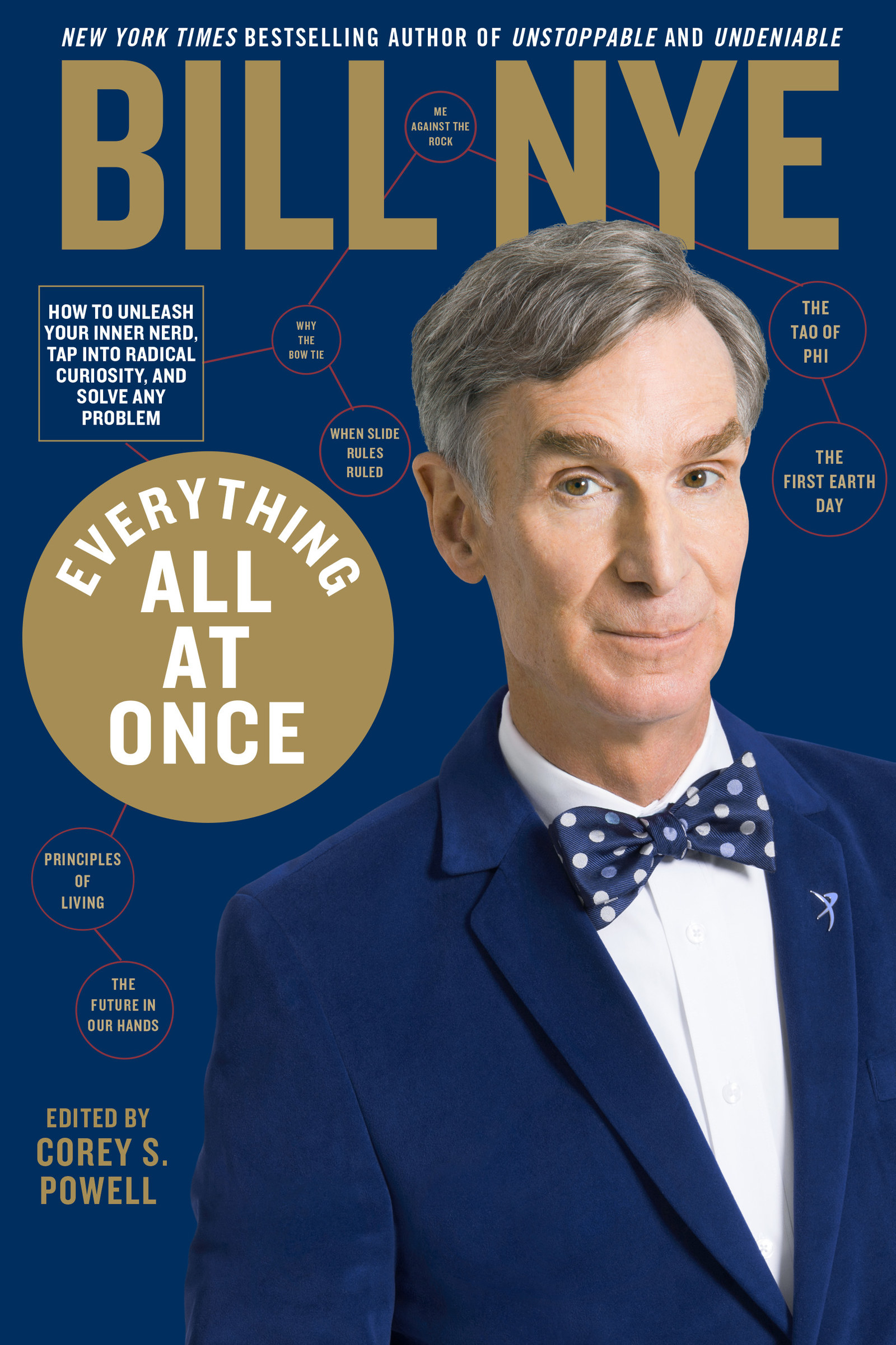 Nye's publisher, Rodale Books, provided BuzzFeed with the book's cover and Nye's thoughts about the book.
The process of science has enabled humankind to sail the trackless seas, fly the open skies, and feed our billions. Today, we face enormous challenges — supplying clean water, renewably produced electricity, and access to global information to all of us. We need to do Everything All at Once. Here are some ideas to help us accomplish these mighty things.