In Search Of The Next "Battlestar Galactica"
As Syfy prepares to launch its most aggressive slate of programming ever, the futuristic network looks to the past.
For five years, Battlestar Galactica was the most talked about, beloved, and critically acclaimed science fiction show on television. Ronald D. Moore's reimagining of Glen Larson's 1978 series — about a civilization learning to live aboard a fleet of spaceships following the decimation of their home planet by a race of advanced robots known as Cylons — debuted as a two-night miniseries in December 2003. After its breakout success, the show was picked up and went on to run from 2004 to 2009 on Sci-Fi (rebranded Syfy in 2009).
Along the way, Battlestar Galactica won a Peabody Award, contributed to the pop culture lexicon (Frak!), turned its cast of fresh faces — led by Edward James Olmos and Mary McDonell — into science fiction icons, and earned a high-ranking spot on every "Best of Sci-Fi" list for the rest of eternity.
For Syfy, which originally launched in 1992, Battlestar Galactica was an absolute game changer. Save for a handful of middling successes (original scripted shows like Andromeda, Farscape, and First Wave that mostly appealed to the super passionate sci-fi fan), the network had struggled to cement itself as the premiere destination for elite genre programming. But the arrival of Moore's space saga was unlike anything the network had ever experienced.
"I think what we established with Battlestar Galactica is a benchmark in terms of the capability when it comes to smart, provocative, thought-provoking storytelling that was entertaining as well," Dave Howe, Syfy president, told BuzzFeed News in a recent phone interview. "It was one of those four quadrant TV shows that had the potential to attract a broad audience. Doing that is tough because you do have to balance a bunch of different ingredients and make them work together, but the goal for us is to come up with shows which are very entertaining, can be driven as much by action or character or story, but at their heart, they just make you think a little."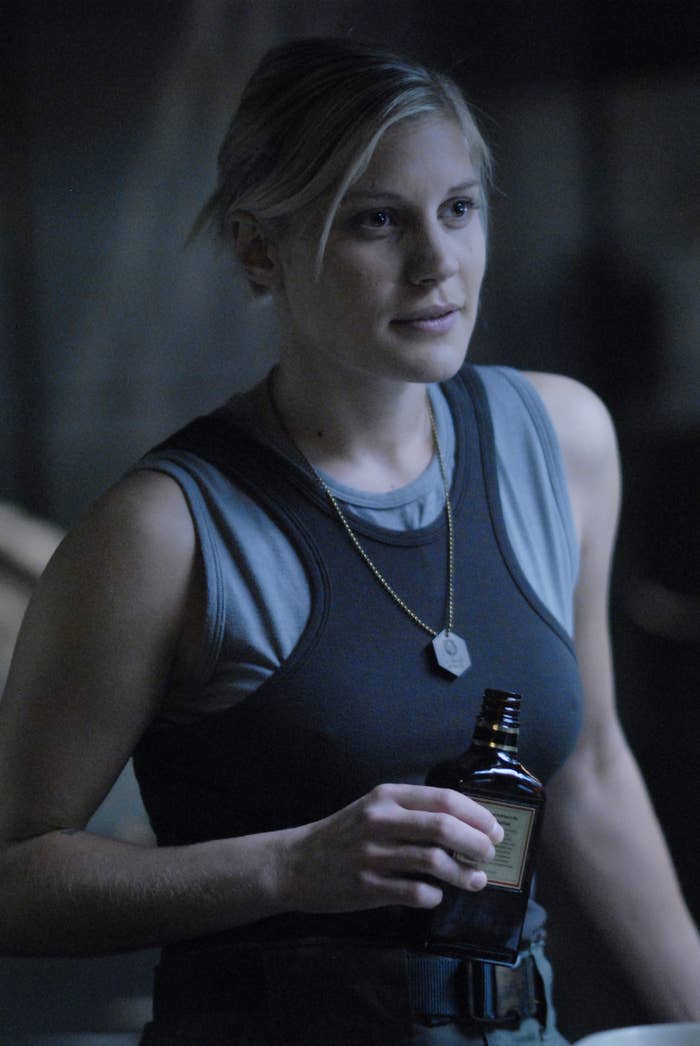 In the six years since BSG signed off, Syfy has found moderate success with cult hits (like Haven and Being Human), ambitious shows (like Defiance), and reality competitions (like Face-Off), but nothing has truly replicated the "four quadrant" success of Battlestar Galactica.

"Battlestar was ahead of the curve in a lot of respects," said Howe, who's been with the network since 2002. "At its heart, Battlestar was an amazing character drama that just happened to be set in space. It wasn't driven by tech or aliens or phasers or transporters — it had none of the traditional trappings of cliche science fiction. That's the ambition that we set for ourselves with our new shows. We really do want to re-create what Battlestar did."
And that's exactly what Howe believes Syfy has the opportunity to do as he rolls out the most ambitious slate of programs in the network's 23-year history. It's what Howe calls a "return to the core principles of science fiction, which is to tackle the human condition." "Let's take a look at the universal truths that make us who we are, and then let's basically apply that to great science fiction projects we invest a considerable amount of money in to make the best possible premium content that we can," he explained. The first offerings created under Syfy's new approach are Childhood's End and The Expanse, premiering back to back on Dec. 14. That's followed by The Magicians in January, the return of 12 Monkeys in April and the debuts of Hunters, Van Helsing, and Blood Drive later in the year.
"We want to position ourselves as the ultimate destination for smart, provocative, science fiction entertainment," Howe said. "I think that, to us, in one sentence says who we want to be, who we want to be perceived as, how we want to shift perception, how we want to attract an audience, and how we want to be perceived in the industry. In this very competitive world, the only way for us to succeed [is] to bet on quality and premium content and I think you have to be seen as creating content that is worthy of someone's time."
While every network has a different idea of how to create content that is "worthy of someone's time," Howe told BuzzFeed News the six tenets he believes are essential to cultivating Syfy's strongest crop of programming ever.
1. Look for properties that have a built-in audience.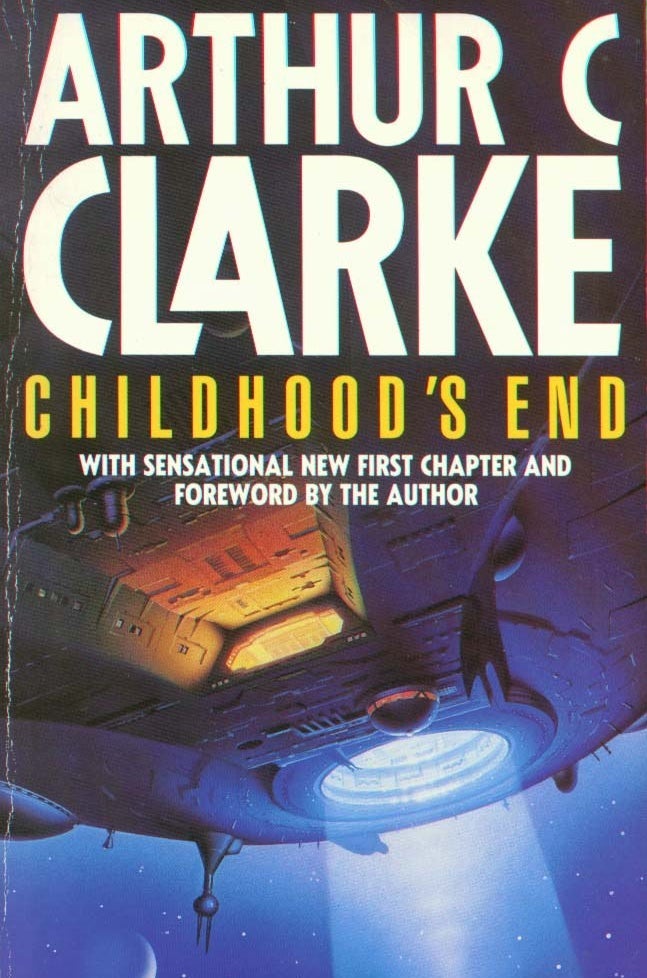 With the quantity of television available on network, cable, premium cable, and streaming services, there's no denying that it's never been harder to cut through the clutter and make a show appointment viewing for audiences. One way Howe has given his programs a leg up is to adapt popular book franchises that come complete with pre-existing fanbases. Childhood's End is based on a book by sci-fi legend Arthur C. Clarke, The Expanse is based on a series of books by James S.A. Corey, and The Magicians is based on a trio of novels by Lev Grossman. "I think you want to have as many launch platforms as you possibly can and bringing an existing audience to a project obviously is helpful," Howe said.
The other advantage of building a contemporary series off classic sci-fi novels is that the ideas they're built on speak to an ideology that Howe feels is sorely missing in today's genre programming. "We want to be seen as the network that is really tackling science fiction in that traditional way that does ask tough questions about what it is to be human and I think if you look at a lot of the shows, specifically on broadcast, they may be superhero shows or they may be futuristic shows but they always get dumbed down to some extent, unfortunately, to being a crime procedural or some kind of investigative procedural," Howe said. "That, to us, is sci-fi lite. We want to still have entertaining shows, but entertaining shows that make you think and smile and get angry and respond emotionally that is a little more sophisticated than just solving a crime."
2. Work with proven talents.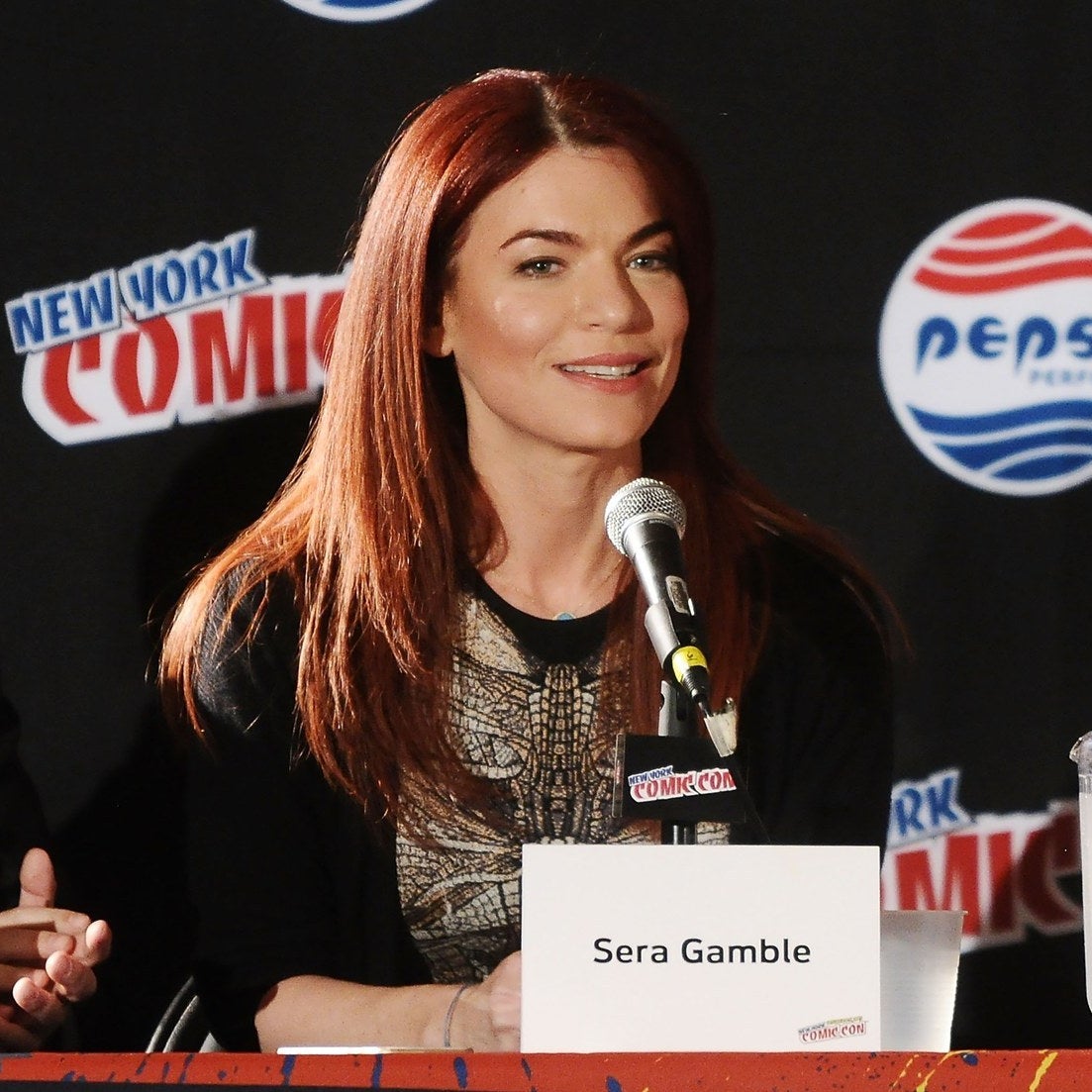 Science fiction fans are an incredibly loyal demographic and likely to watch a new show if it's created by the executive producer responsible for a past show they adored (see: the fact people stuck with Joss Whedon's Dollhouse for so long), so Howe has actively pursued shows where boldfaced names are ushering the product to television.
The Expanse was developed by Mark Fergus and Hawk Ostby, who wrote the Oscar-nominated screenplay for 2006's Children of Men; Childhood's End was developed by Matthew Graham, who created the BBC's acclaimed Life on Mars; The Magicians is executive produced by Supernatural's Sera Gamble; Hunters is executive produced by The Walking Dead's Gale Ann Hurd; David S. Goyer (writer of Dark City, Blade, Batman Begins, and The Dark Knight, to name a few) is developing a drama about Krypton, Superman's doomed home planet; and Steven Spielberg's production company is working on a Brave New World TV adaptation.
"We want to work with the best talent in a way that enables us to tap into experience and creativity and smart writing that creates content that is self propelling," Howe said. "We talk about this a lot, but in the world we live in — which is driven by social media and buzz — you need shows that are going to be buzzy and noisy and self-propelling. I think when you attach David S. Goyer or Steven Spielberg, you have a leg up that is irreplaceable in terms of launching products into a very competitive marketplace."
3. You have to spend money to make money…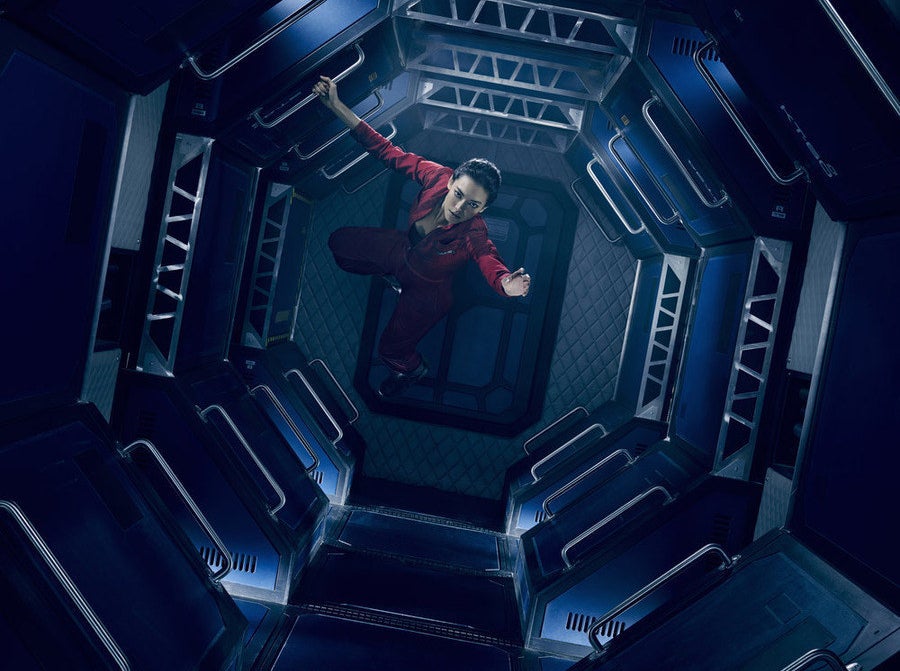 "The Expanse is the most expensive series we've done in our entire history," Howe said. The lavish intergalactic adventure is the network's grandest space drama since Battlestar Galactica, and it will be joined by the effects-heavy miniseries Childhood's End in December and will run alongside the equally expensive The Magicians in January. But in competing against the mega-budgets of premium cable (HBO's Game of Thrones, for example), Syfy knows there can be absolutely no visible difference in quality for their programs to establish themselves as equals.
4. But sometimes you should pool your money.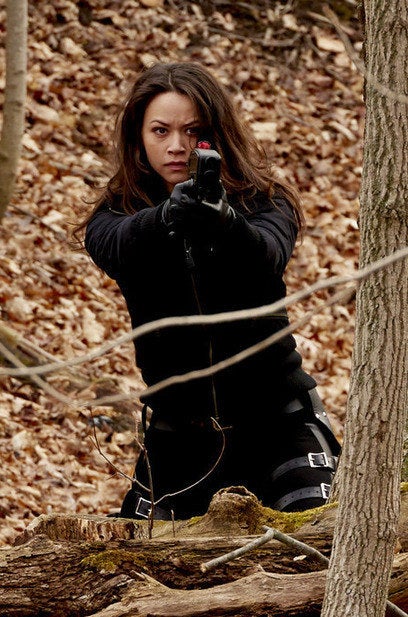 A handful of Syfy shows connected with audiences in the last few years and five of those — Lost Girl, Bitten, Z Nation, Dark Matter, and Killjoys — were international co-productions, meaning production costs were split between Syfy and another network, making the show instantly more profitable if it's successful (and, truthfully, lowering the benchmark for success in the first place). It's a modern business model that not only allows the network to take bigger swings with their wholly owned original shows, but also gives those original shows pre-existing on-air support that can drive additional viewers.
"We are creatively leading these projects," Howe said of not simply being the U.S. outlet for these co-productions, but working with the executive producers to actively shape the shows. "We want to do as many of these as we possibly can because they're obviously less expensive than the higher-end projects and they can be just as good. Killjoys is a fantastic show that works really well for us and we're bringing it back for a second season, as we are Dark Matter, which is the same business model. We have more of those series launching next year — Van Helsing, Blood Drive — and that's part of the programming mix on Syfy. It's great that there's an appetite for that model outside the U.S. because it just means that we can share the costs a little more effectively."
5. Give a show time to find an audience.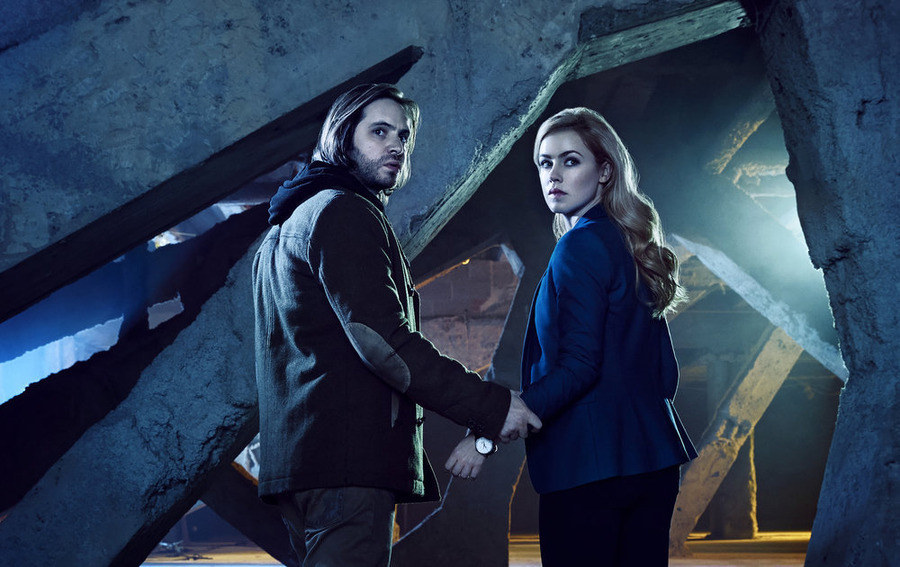 Every single network has recalibrated what it considers to be a success in recent years as the number of programs competing for viewers continues to grow — and that is true of Syfy as well. "None of us can get through what's on our DVR let alone what's potentially going to appear over the next weeks, months, and years," Howe said with a laugh. "So having something that may not succeed ratings-wise in the first week or first four weeks but does attract a bigger audience over time and grows through non-linear viewing and social media and buzz, that's an exciting proposition for us and breaks down some of the barriers that may have prevented viewers from coming to Syfy in the past because they've not considered themselves sci-fi fans."
12 Monkeys — inspired by Terry Gilliam's 1995 hit film — is a perfect example of this new mandate in action. "That was something that, in Season 1, may not have hit the ratings that all of us would like for it to have hit, but had the potential to, over time with the help of VOD," Howe said. And that risk has already yielded rewards. "We have a much more holistic approach to growing series and these days, quite frankly, until you pick up Season 2 of a series, no one is interested in sampling Season 1. … We picked up Season 2 very quickly towards the end of Season 1 and if you look at 12 Monkeys in totality across all the non-linear platforms, it's hit 9 million views at this point. That is a big deal to us."
6. Above all, have something to say.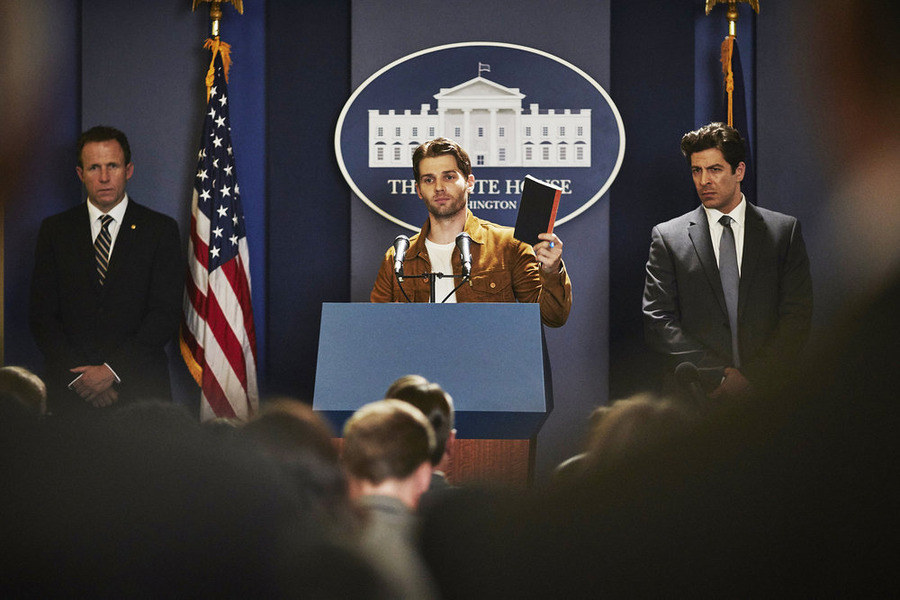 While it's helpful to have a show based on a pre-existing work that also has an acclaimed showrunner that also splits its massive budget with another outlet and that also airs on a network willing to give it time to grow, if that show doesn't have a message that connects with its audience, it's all for naught. That, more than anything else, is why Howe is so optimistic about the shows Syfy is about to unleash upon its audience in the coming months.

"These shows shine a light on the things around us that may not be perfect. They look at the things that are going on in the world today and they ask questions," he said. And the importance of that idea not only stretches back to Battlestar Galactica, but to the very root of all science fiction writing. "Battlestar tackled the human impact of genocide and some of those bigger universal themes and I think that's what you can see in The Expanse, which looks at what we can become in 200 years, or Childhood's End, which I really think is as relevant now as it was 50 years ago when it was written," Howe added. "It just throws out all the things we still need to fix in the world and talks about all of the things that make us human."