CANVEY ISLAND – Nigel Farage has ruled out joining a coalition government with either Labour or the Conservatives after May's general election.
Speaking at UKIP's campaign launch in the Castle Point constituency, Farage said the only possible arrangement after the election was a "confidence and supply" agreement with the Conservatives.
The UKIP leader also unveiled a string of policies that will form the basis of the anti-EU party's election campaign in the months to come, including scrapping hospital car park fees, getting rid of tuition fees on certain university courses, and the introduction of a "national service medal" for every member of the armed forces.
The campaign launch took place in the seaside town of Canvey Island at the local cinema, which was decked out in UKIP film posters. UKIP popcorn was also available.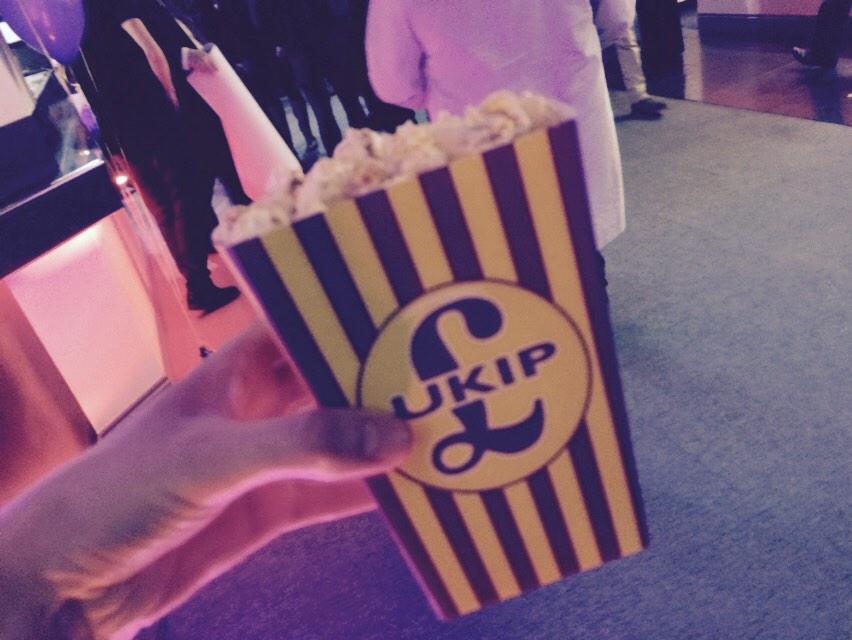 Farage told an audience of party members and journalists that he wanted to make it clear there would be no formal coalition between UKIP and another party after May, but he would consider a vote-by-vote arrangement.
"Can I say now, very clearly, that we will not be going into coalition government with anyone – there will be no short-term sellouts," said Farage. "As appealing as the thought of ministerial cars may be to some in life, we will only consider something along the lines of confidence and supply."
He said there are "currently no circumstances" under which this arrangement could be made with Labour due to its opposition to an in-out referendum on the EU, leaving a Conservative/UKIP agreement as the only option.
"Our primary goal is we want this country to be independent from the European Union," he said. "It would be impossible for UKIP to help any of the parties without a full programme for a referendum, conducted fairly, within an acceptable timetable."
Farage went on to outline some of the key policies with which UKIP will fight the election campaign over the next three months, although a full manifesto will not be available until an unspecified later date.
He said UKIP would continue to campaign for "independence from the EU" and work to "re-establish Britain across the world", and, more specifically, will campaign against both the bedroom tax and the mansion tax as "they divide a country which is already not at ease with itself".
He also pledged that UKIP would get rid of tuition fees for science, technology, engineering, and medicine courses, and introduce a national service medal for people in the armed forces to "recognise the sacrifices they've made".
Farage said he was confident about UKIP's prospects in the general election, despite most pundits predicting it will win no more than three seats and that Farage himself may struggle to get elected in South Thanet.
"I am bullish about our prospects on May the 7th," he said. "UKIP have changed politics in England and Wales – you now find constituencies which are suddenly three-way marginals, some are even four-seat marginals.
"I won't make any silly suggestions, but we'll get a good number of people into Westminster."
However, Farage refused to be drawn on a what "a good number" would be for UKIP to win in the general election, saying: "Predicting the number of seats we or anyone else will get is a bit like pin the tail on the donkey at the moment."
He added: "But, if you believe in Britain, are unashamedly patriotic, if you feel you've been let down, come with UKIP on this journey. We can put some honesty, integrity, and real people, who look and sound like you, back into British politics."