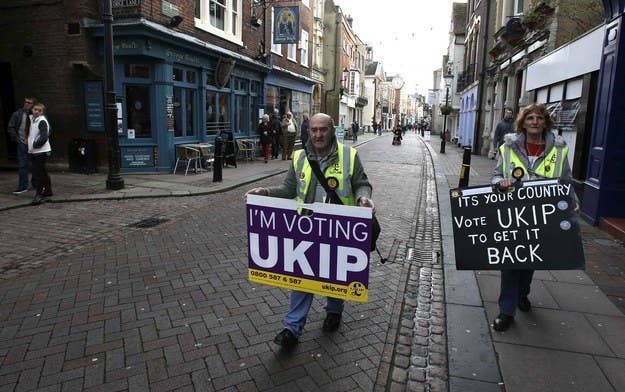 ROCHESTER – UKIP campaigners at the Rochester & Strood by-election have been banned from speaking to journalists to prevent them embarrassing themselves, a party spokesman has admitted.
Activists are prohibited from speaking to the media until after tomorrow's by-election because the central UKIP operation fears they are too radical and "too UKIP-y".
"We've asked, just for today, that our canvassers do not speak to the media. Sometimes they're just a bit too 'UKIP-y'," said the spokesman.
"We love our activists, but we know journalists will stitch them up and we've asked them not to speak to the media until after the vote. Even then, I know I'll see something in the papers tomorrow."
Several activists refused to speak to BuzzFeed News in Rochester today.
One said he was "dragged back into the office" this morning when he was leaving and told not to speak to the media.
The anonymous canvasser, who was wearing a UKIP sandwich board, said: "I've been told not to talk to press, I won't give you my name. They said you [the media] keep tricking us into contradicting party policy."
On that note, the man went on to support immigrant repatriation, which the party has attempted to distance itself from today.
"The British people are sick of immigration," he said. "There's no space to breathe in parts of England. David Cameron is a traitor."
He also criticised Conservative members of parliament for taking parliamentary candidacy places away from "the real kippers", as he left to canvass for Conservative defector Mark Reckless.
Another UKIP canvasser ran to the other side of the street when approached by BuzzFeed News.