This Tory MP Is Missing The Universal Credit Debate To Referee The Champions League
The chair of Douglas Ross's local food bank told BuzzFeed News she felt "let down" after the MP chose to referee Barcelona v Olympiakos rather than attend the universal credit debate.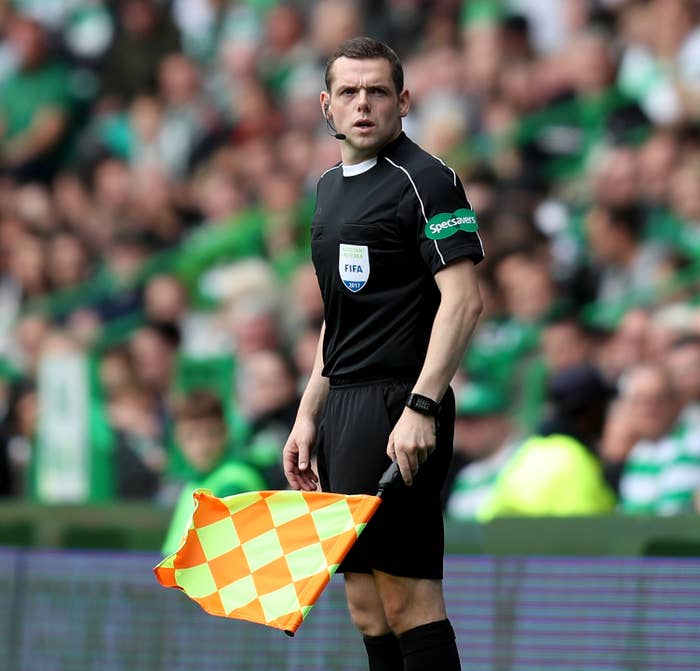 A food bank has criticised its local MP for deciding to referee a Champions League game instead of attending a debate on benefit changes in parliament.
On Wednesday, the Commons will debate halting the rollout of the controversial universal credit scheme, which combines six benefits into one and has caused delays in people receiving the money that they're entitled to.
However, the Scottish Conservative MP for Moray, Douglas Ross, will not be able to attend the debate because he will be carrying out his second job as an assistant referee as Barcelona take on Olympiakos in the Champions League.
The chair of Moray Food Bank, Kathy Ross, told BuzzFeed News she felt "let down" when she heard the Moray MP had chosen his refereeing duties over the debate, especially as he had recently stated his interest in helping.
"Douglas recently expressed an interest in discussing our work at the food bank, and when arranging to meet I took the opportunity to pass on research and information about the effects of universal credit collated in other areas where full rollout has been implemented," said the food bank chair.
"I mentioned we wouldn't see full rollout here until April 18 but we are already seeing effects, and that support and advice services locally are already stretched, so I'd given a clear message that this was an issue of grave concern to us.
"Having been clear about the impact on constituents, and having received the message that Douglas was interested and willing to hear more, I really felt quite let down [when I heard he was not going to be at the debate].
"Both for us as an organisation trying to influence change, but in particular for the people in Moray we are trying to help and support, who will not have representation in Westminster, or clarity about where their MP stands on the issue."
Douglas Ross did not reply to a request for comment, but told BuzzFeed News ahead of his election as an MSP in 2016 that his role as a referee in Scotland and Europe can be a "nice break from politics" despite abuse he receives from the stands.
"My wife's a police officer as well so we don't have many friends, we don't get invited out often. I think we have some of the most unpopular jobs any couple could ever have," he said in April 2016.
"But, away from the heat of the 90 minutes, people are often more interested in talking about the Old Firm match than any policies Ruth [Davidson] is trying to promote – it can be a nice break from politics."
A spokesperson for the Scottish Conservatives said: "There will be many Scottish Conservative representatives in this debate. Douglas has held more than 50 surgeries since becoming an MP and has met personally with David Gauke to discuss local cases which have arisen from those.
"Despite what the SNP thinks, the people of Moray are right behind Douglas and his refereeing, as they showed decisively when they elected him as their MP just a few months ago."