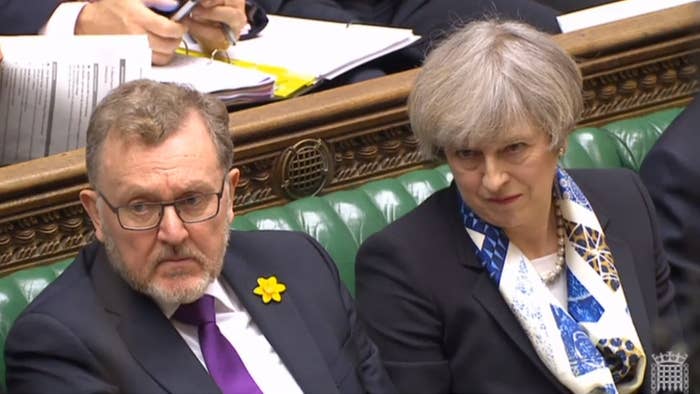 The prime minister believes the case for another referendum on independence is "dead" and her government will refuse to discuss the matter with Nicola Sturgeon for the duration of this parliament, BuzzFeed News has learned.
The SNP lost 22 seats in last week's election – including those of former first minster Alex Salmond and deputy leader Angus Robertson – and the prime minister believes the result has killed any possible case for another referendum until there's another general election, according to one of her ministers.
May, who also suffered a humbling election night where she lost her majority and saw her authority significantly diminished, spent the election campaign saying "now is not the time" to accept Sturgeon's request to open discussions about holding another referendum on independence.
According to the reappointed Scotland secretary, David Mundell, the prime minister has now ruled out any possibility of opening those discussions for the entire duration of this parliament, which is scheduled to last until 2022.
Asked if the prime minister agreed with Ruth Davidson that the case for another independence referendum was "dead", Mundell told BuzzFeed News: "IndyRef2 is dead because that's the verdict of the people of Scotland.
"The only person who seems to be in denial about that is Nicola Sturgeon. She continues to treat the people of Scotland with contempt on that issue if she fails to listen to the verdict given last week. People sent a very clear message, they don't want another independence referendum in the foreseeable future, and Nicola Sturgeon should respect that view."
Mundell added: "This UK government will be doing nothing to facilitate that referendum or indeed enter into discussions. My door is open to discuss anything and to work closely with the Scottish government on Brexit but the one thing I will not engage on is a second independence referendum."
Asked if that would remain the case for the entire duration of the parliament, Mundell said: "We were very clear in our manifesto that it wasn't possible to have a referendum fairly until the Brexit process has played out and I certainly don't see that having played out within the five years of this parliament."
Sturgeon told journalists on Friday after the election result that she would take time to "reflect" on what it meant for the case for independence and she accepted a referendum was "clearly a factor" in the party losing support and seats.
Speaking at Bute House in Edinburgh, Sturgeon said: "We will reflect on these results, we will listen to voters, and we will consider very carefully the best way forward to Scotland – a way forward in the interests of all Scotland."