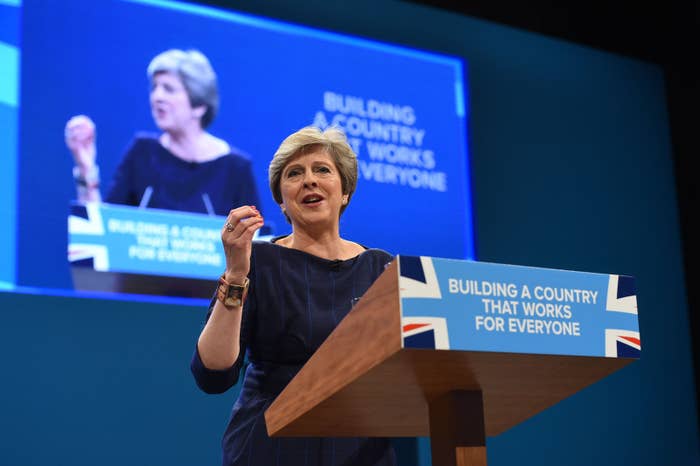 Organ donation in England is going to be changed to an opt-out system of presumed consent, the prime minister has announced.
During an eventful conference speech in which Theresa May was interrupted by a protester and struggled with a cough, she managed to announce that the system will change to "presume in favour" of organ donation.
The system, which is already in place in Wales and is due to be introduced by the Scottish government, will replace the current process in England, which requires people to register as organ donors or give their verbal consent.
May said that the move was particularly important in black and minority ethnic communities, who are more at risk of particular illnesses, and claimed it would help the "most vulnerable" in society.
"We already know, for example, that members of black minority ethnic communities have a higher risk of illnesses such as high blood pressure that may lead to the need for an organ transplants.
"But our ability to help people who need transplants is limited by the number of organ donors that come forward. That is why last year 500 people died because a suitable organ was not available. And there are 6,500 on the transplant list today.
"So to address this challenge that affects all communities in our country, we will change that system – shifting the balance of presumption in favour of organ donation, working on behalf of the most vulnerable."
Orin Lewis, the co-founder and CEO of the African Caribbean Leukaemia Trust (ACLT), told BuzzFeed News in a statement: "We're overjoyed and welcome such a change in the law where individuals would be required to opt-out of the system. The UK needs more people across all races, but particularly from individuals of African, Caribbean, and Asian heritage to step forward as organ donors, so the lives of those in need and who require an organ transplant can be saved."
Lewis pointed to a 36-year-old woman called Natasha Tiwari who he said has been waiting for over two years for a donor. "Natasha now has a better chance of finding a suitable organ donor for her dual transplant and getting on with her life," he continued.
Lewis added: "While the new system provides individuals with the choice to opt-out, we strongly believe if someone is prepared to receive an organ to potentially save their life, they should also be prepared to leave it for someone in urgent need, in the sad event of their death."
May's announcement was also welcomed by the NHS Organ Donation Register.
Labour deputy leader Tom Watson welcomed the announcement but said that it was copied from Labour leader Jeremy Corbyn's speech at his party's conference in Brighton last week.
The Liberal Democrats also welcomed the announcement, saying that their leader, Vince Cable, previously gave his backing to a campaign for this change.
Charity Kidney Care UK also praised May for the move.