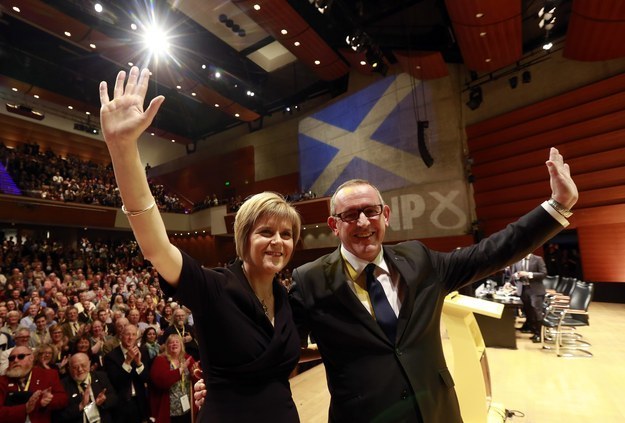 PERTH – The newly-elected deputy leader of the SNP wants non-SNP members to stand for the party.
Stewart Hosie MP, who was elected deputy leader with a narrow victory at the SNP conference on Friday, told BuzzFeed News a "Yes Alliance" would allow his party to capitalise on the wider Yes movement which campaigned during the independence referendum.
The move, which was backed by Nicola Sturgeon today, would see non-SNP members standing for the SNP, but the details of how it will work are still to be ironed out.
"We'll need to work out precisely how it will work in practice," said Hosie. "But the SNP today have taken a really sensible decision that we will allow people who are not in the SNP to stand for the SNP."
It's unclear if non-members would have to conform to SNP policies they don't agree with, or how the party will react to the selection of a non-SNP member at the expense of someone from within the party.
"What we've done today is allow it to happen and, if any one of these fantastic people from the Yes movement says 'I want to stand' and we think they can win, let's find a way of making that happen," he said.
Hosie suggested there could be a "Yes Alliance" option on the ballot paper, or a joint manifesto with the Scottish Green Party and the Scottish Socialist Party, who both supported independence, but he will work out the details in the future.
The "Yes Alliance" is "about winning, delivering the largest number of SNP MPs, and giving Scotland the leverage and power it needs to deliver the powers the Scottish government needs," said Hosie.
Such a move could be interpreted as the SNP setting up a second independence referendum, and Hosie said it is "inconceivable" that there won't be another one should the three main UK parties not honour their 'Vow' on devolution.