The SNP Has Just Reintroduced Tail Docking For Puppies In Scotland
"Tail docking involves severing through bone, nerve, muscle, and connective tissue when pups are less than 5 days old," said the Dogs Trust.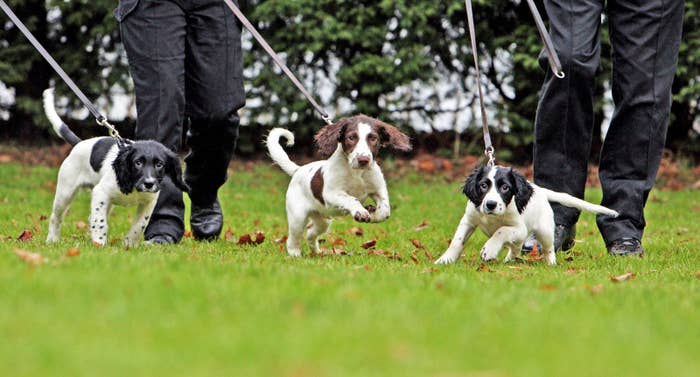 Animal welfare charities have expressed "extreme disappointment" with the SNP government after it voted to reintroduce an "outdated and unnecessary" tail-shortening procedure for puppies in Scotland.
On Wednesday, SNP and Conservative MSPs voted in favour of an amendment that will see tail docking, which was outlawed in Scotland in 2007, reintroduced for some breeds of puppy if vets believe they will become working dogs.

The practice involves removing part of a puppy's tail without anaesthetic. It's been described as "acutely painful" by Scottish animal charity OneKind and as a "step backwards" for animal welfare north of the border.
Wednesday's vote will see spaniel and hunt point retriever puppies who are no more than 5 days old have a maximum of a third of their tails removed by vets if there's sufficient evidence the dogs will be used for working purposes.
Those in favour of reintroducing the procedure say it prevents working dogs from serious injury in later life and having to have their tails amputated as adults, but no animal welfare or vet organisations supported its reintroduction.
Runa Hanaghan from the Dogs Trust said: "Tail docking involves severing through bone, nerve, muscle, and connective tissue when pups are less than 5 days old, at which point it is very difficult to guarantee they'll go on to be working dogs.

"Dogs Trust is deeply saddened that the Scottish government is reintroducing this outdated and unnecessary practice. Sadly today we've seen a significant step backwards for animal welfare from a country who once led the way."
OneKind director Harry Huyton said: "This is a sad day for animal welfare. Scotland has gone from a world-leading ban on all tail-docking to a law that offers puppies weaker protection than in England.
"This was done in the absence of evidence, with no support from the animal welfare and veterinary communities, and against the wishes of the vast majority of the Scottish public who wanted to see the ban remain as it was."
Scottish Labour's animal welfare spokesperson David Stewart MSP said: "This horrific process has no place in a civilised society and was banned by the last Labour government. This is a very disappointing backwards step and Scottish Labour will always fight to protect dogs from this brutal treatment."
One SNP MSP who supported the amendment, Emma Harper, defended herself on Twitter from people who had criticised her for supporting the reintroduction of tail-docking in puppies, saying it was an "evidence-based decision".
"This is a preventive measure to shorten tails in a very small number of working hunting dogs in order to avoid very damaging injuries and amputation in adult life," tweeted Harper. "I will continue to push for alternatives."