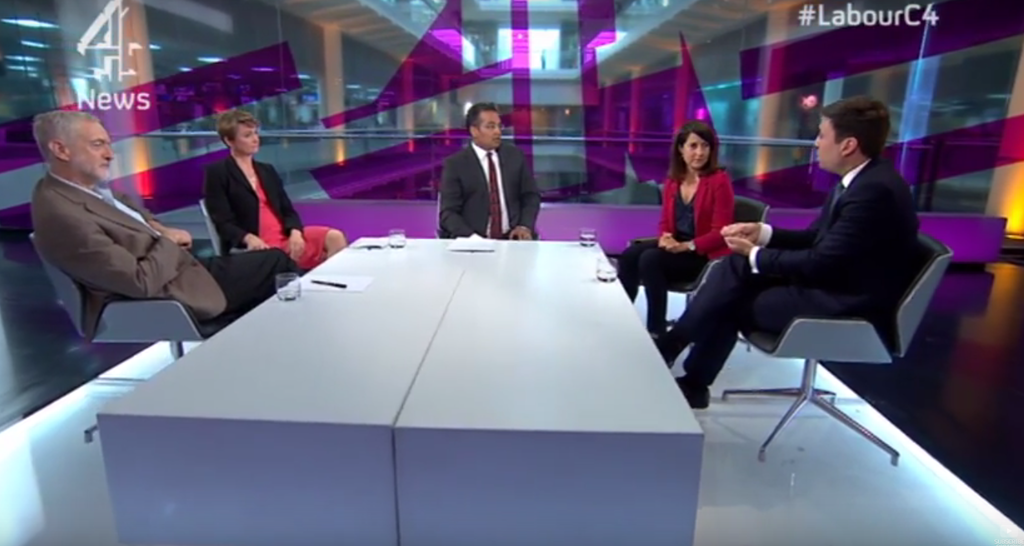 They've tried ignoring him, and they've tried following him, but now the Labour leadership candidates are just turning on Jeremy Corbyn.
The three other candidates – Yvette Cooper, Liz Kendall, and Andy Burnham – have appeared uncertain of how to deal with the phenomenon which has been dubbed "Corbynmania" but, as voting comes to a close with Corbyn still ahead, they chose to give him a hard time.
In a heated Channel 4 leadership hustings, Corbyn faced sustained attack with just over a week to go in the contest, which has seen him go from the rank outsider to the frontrunner.
Corbyn's rivals particularly focused on his foreign policy, with Andy Burnham saying it sounded as if Corbyn was "making excuses for Putin" when he said NATO's "excessive expansion" since the early 2000s was "a problem".
Corbyn replied: "I'm not a supporter of Putin, Russian expansion, or anybody else's expansion, but I do think Russian expansion provokes NATO and so on and so on and you actually end up with something which is quite dangerous."
Cooper told Corbyn using quantitative easing – "printing money," as Cooper put it – to stimulate growth would put up inflation, and would be "ripped apart by economists".
"You cannot print money when the economy is growing to pay for infrastructure. If it's not real, and not credible, it just falls apart through your fingers," said Cooper. "Your proposal is like PFI [private finance initiative] on steroids, to do quantitive easing for infrastructure. It's just not responsible."
At the end of the hustings, Liz Kendall said Corbyn was attempting to take the UK "back to a world where vast swaths of the economy are nationalised and claiming we should be reopening the coal mines. That won't work."
The Labour leadership results will be announced on 12 September.