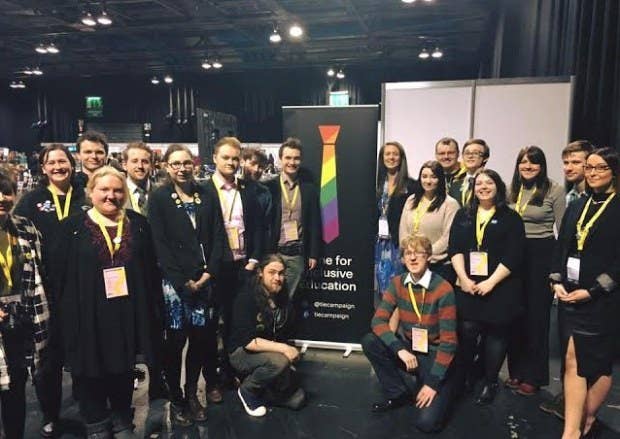 Nicola Sturgeon's pledge to make a "leap forward" on LGBT+ education in schools has been dismissed by leading campaigners.
Ahead of an LGBT+ debate in Edinburgh on Thursday evening, the SNP leader unveiled five key priorities for her party to help improve LGBT+ equality and education should she be re-elected as first minister in May's Holyrood election.
The measures include more training for police officers who deal with hate crime, a pledge to reform gender recognition law to bring it in line with the "best international practice", and more training for teachers to better enable them to deal with prejudice-based bullying in schools.
Before the debate, Sturgeon said: "I'm proud that Scotland has made significant progress on LGBTI equality in recent years; however, the very fact that we are still having debates like this at election time just underlines that there is still much that we need to do.
"In particular I want to see a renewed focus on areas such as education – both for young people themselves, and those responsible for their emotional and educational wellbeing."
SNP sources said they believe the pledges will make theirs the first governing party to commit to the reform of gender equality law, and hope it will encourage UK government to match it.
However, campaigners from TIE – Time for Inclusive Education – have expressed disappointment at the announcement, saying it doesn't match a motion passed at the SNP conference earlier this month.

At the conference, SNP members unanimously backed a motion calling for a "fully inclusive" education system for lesbian, gay, bisexual, transgender and other gender and sexual minorities to create a "safe, equal and accepting environment for all of Scotland's young people".
A spokesperson for the campaign, which has led calls for inclusive education in Scotland in recent years, said: "Only very small steps have been taken here regarding education – Nicola's strategy here does not go far enough in protecting LGBT+ young people and this does not reflect the motion that was passed at conference.
"In order to ensure that our schools are inclusive of LGBT+, teaching staff must receive LGBT+ specific training – what Nicola proposes here is blanket equalities training, which will not do enough.
"Ourselves, SNP Youth and SNP Students expect and hope that the SNP's manifesto will go much further than this and truly reflect the expectations of the membership who unanimously backed our campaign."
The spokesperson added: "If this is the strategy that will be taken into the next parliament, then we still have a very long way to go."
However, Tim Hopkins, director of the Equality Network, was more positive about the pledges, saying: "We welcome these commitments from the SNP, which address some key concerns of LGBTI people, and we hope that the other parties will make strong pledges on LGBTI equality."