Nicola Sturgeon Says Scotland Could Veto Brexit
Asked by the BBC if she would consider asking the Scottish parliament to stop Britain leaving the EU, the first minister replied: "Of course."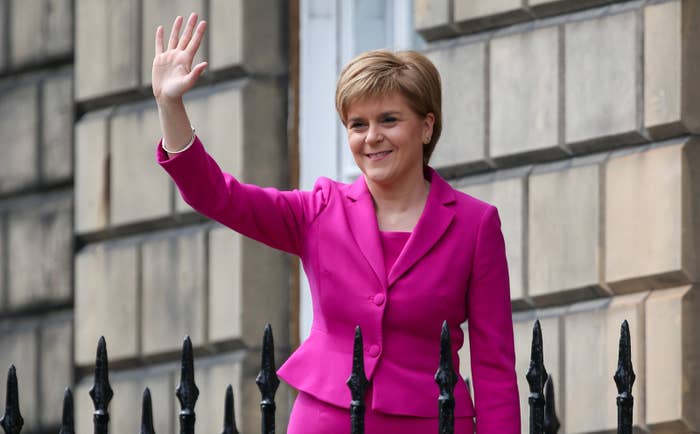 Nicola Sturgeon has said Scotland could prevent Britain from leaving the European Union.

Asked on BBC's Sunday Politics Scotland whether she would consider asking the Scottish parliament to block Brexit, she said: "Of course."
She added: "If the Scottish parliament was judging this on the basis of what's right for Scotland then the option of saying, 'Look, we're not to vote for something that's against Scotland's interest, of course that's got to be on the table."

While 52% of Britain voted to leave the EU, 62% of Scotland voted to remain. Sturgeon's SNP is just short of a majority in the Scottish parliament.
Doubts have already been raised as to whether Holyrood has the power to effectively block the referendum result, however, and BBC Scotland editor Sarah Smith said Scottish government sources had told her Holyrood doesn't have that power.
However, two senior Scottish government sources backed up Sturgeon's comments, one saying: "Sarah has the wrong end of the stick. We think [Brexit] requires LCM [the Scottish government's consent] and we obviously wouldn't vote for something that removed Scotland from the EU – but that would be for Scotland, not to block England.

"It would be up for Westminster how they handle that."
Earlier, Sturgeon said she could seek to keep Scotland inside the EU by inheriting the UK's membership rather than applying as a new independent country.

Speaking on The Andrew Marr Show, the first minister said she wants the country to "seamlessly" stay inside the EU and denied that she would be forced to adopt the euro or set up border controls between England and Scotland.
"We're in uncharted territory right now," said Sturgeon . "For anybody to say right now that Scotland would have to wait to get back in, the whole point here is that our argument is we don't want to leave. We don't want to leave and get back in – we want to stay."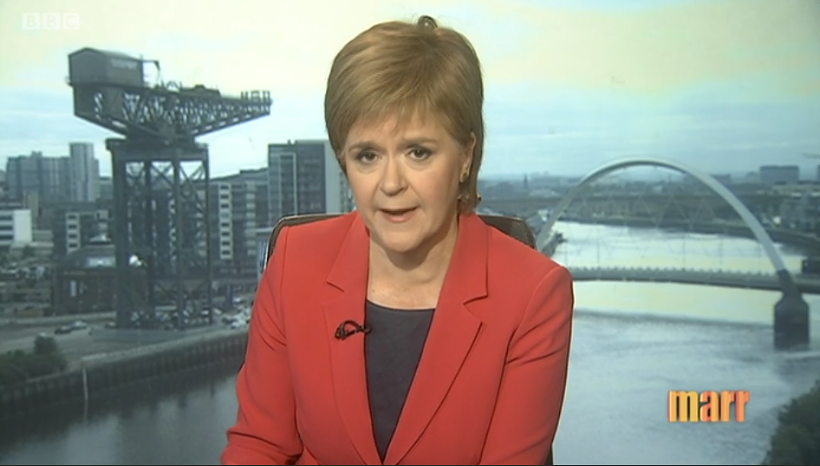 Sturgeon confirmed she would open negotiations with key figures in Brussels over the coming days in an attempt to "protect" Scotland from what she predicted would be the "deeply damaging and painful consequences" of leaving the EU.

On a second independence referendum, Sturgeon warned any future Conservative prime minister against blocking a vote and said the context of any second vote would be "completely different" to the one in 2014.
"If we do find ourselves in the position of looking again at the independence question, this is not going to be a rerun of the 2014 referendum – the context and the circumstances have changed dramatically," she said. "The UK that Scotland voted to stay within in 2014 doesn't exist any more."

Sturgeon added: "One of the important differences is, in a sense,
and I know this might initially sound a bit odd, this wouldn't be a decision
about Scotland leaving anywhere – this would be a decision about Scotland
staying."
Asked if Scotland would be forced to adopt the euro, Sturgeon said she "doesn't think that is the case" but refused to specify what currency an independent Scotland within the EU would use, reiterating that Scotland staying inside the EU would be "uncharted territory" for which no rules have been drawn up.
Sturgeon also said she would "under no circumstances" like to see border controls between England and Scotland should the country stay in the EU, saying: "Whatever happens here, England is our nearest neighbour and will always be, I hope, our best friend.
"We're in uncharted territory, not because of choices Scotland has made, and I'm not prepared at this stage to accept that some things are inevitable."