North Sea oil revenues could be £30 billion lower than the SNP forecast when making its case for independence, according to official figures released on Wednesday after George Osborne's Autumn Statement.
The Office of Budget Responsibility predicts that offshore oil and gas revenues will amount to £2.6bn between 2014 to 2019. However, last year, the Scottish government made its case for independence on oil revenues reaching £34.3 billion in those same five years.
Ahead of last year's independence referendum, the SNP based its projections for Scotland's economy on "scenario four" in this table.

That scenario worked on the assumption that oil would remain at around $110 a barrel, therefore bringing in at least £5.8 billion of revenue a year and reaching highs of £8.3 billion in 2015-16.
In a paper released in May 2014, four months before September's referendum, the Scottish government said: "Scenario four is used in all forecasts contained in this report. It is based on the assumption that prices remain fixed at $110 in cash terms in future years (this represents a real terms drop in prices of 10% by 2018-19)."
Since the referendum last September, however, the price of a barrel of oil has fallen to around $45 which has forced the OBR to dramatically scale back its projections for oil revenues.
The new figures from the OBR, released alongside the Autumn Statement, predict that just £2.6bn will be raised before 2019.

Those figures predict oil revenue will bring in £100 million each year from now until 2019, which means oil revenue raised could be £31.7 billion less than the projections the Scottish government used in its case for independence.
In fact, even if the Scottish government had used its most conservative "scenario one" of £15.8 billion between 2014-19, there would still be a gap of £13.2 billion which is the more than the entire annual Scottish health budget.
This is the difference between the scenario the Scottish government used (in dark blue) and the new figures (in light blue).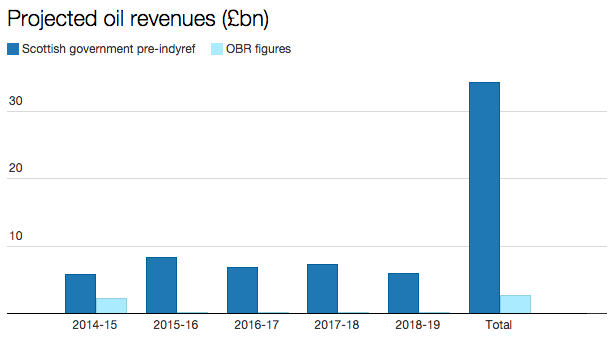 Like BuzzFeed UK Politics on Facebook