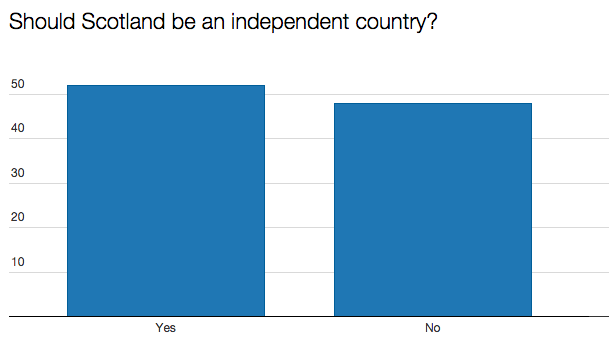 Scotland would vote Yes to independence if there was a referendum today, according to the latest poll from YouGov.
A weighted sample of over a thousand voters in Scotland showed that 52% would vote Yes to independence and 48% would vote No – excluding people who are undecided or wouldn't vote. Scotland rejected independence by 45% Yes to 55% No in September of last year.
The poll also suggested that nearly half of Scottish voters (48%) will vote for the SNP in May's general election, and over half (51%) intend to vote for them in next year's Scottish election. Labour trailed on just 27% in Westminster voting intentions, with the Conservatives on 15%, and the Liberal Democrats on 4%.
The poll makes grim reading for Scottish Labour, whose leader, Jim Murphy, told BuzzFeed News that he intends to keep all 41 seats the party currently holds, plus one gain from the Liberal Democrats.
The results also showed that only 33% of Scottish voters think Murphy is doing a good job, whereas 64% think the same of SNP leader and first minister Nicola Sturgeon.