The gap between Scotland's public spending and the amount of tax it raises has fallen to just over £13 billion, new figures have shown.
The latest Government Expenditure and Revenue Scotland (GERS) figures, released on Wednesday morning, showed a deficit of £13.3 billion when a geographic share of North Sea oil revenues was included, down from £15 billion in 2016.
That represents 8.3% of Scotland's annual gross domestic product (GDP), three times larger than the UK's deficit, which stands at £46.2 billion and 2.4% of GDP.
The total expenditure on Scotland has been calculated at £71.2 billion, which is £13,175 per person, whereas the public sector revenue raised in Scotland is £58 billion – equivalent to just £10,722 per person.
That means that, while Scotland raises around 8% of UK revenue, it receives 9.2% of UK public expenditure – and public spending per person stands at £1,437 more than the average throughout the UK.

The leading group of Scottish economists, the Fraser of Allander Institute, said in its analysis that the gap between the Scottish and UK deficits is at its largest since the GERS figures started being published in 1998.
"The key reason for this shift to a weaker relative performance [is] the fall in oil revenues. Scottish oil revenues were as high as nearly £8 billion in 2011–12 but are now just £200 million according to today's publication," said the institute.
"For a variety of reasons, oil revenues have turned out to be much lower than most anticipated. Given the importance of such revenues to the GERS figures, this has a major bearing on the Scottish relative position."

First minister Nicola Sturgeon pointed out that the deficit had shrunk by around £1.7 billion since the GERS figures were released last year, and said it was "encouraging" that Scotland's onshore revenues were growing.
"Scotland's economy remains strong," said Sturgeon. "In the last quarter, our economy grew nearly four times faster than the UK and the number of people in employment is at a record high. These figures reflect Scotland's finances under current constitutional arrangements.
"However, they show that our investment in key industries – such as the life-science sector – is providing a real boost to our onshore economy.
"By continuing to invest in key sectors, we will ensure Scotland remains a productive and competitive country. The lower oil price had an impact on North Sea revenues and the wider economy last year.
"However, it is encouraging to see an improvement in the overall fiscal balance and that onshore revenues grew at their fastest rate in nearly 20 years."
The first minister added: "Our long-term economic success is now threatened by Brexit, which risks reducing household incomes, employment, and funding for public services. That is why we continue to press for the Scottish government to have a direct role in Brexit negotiations."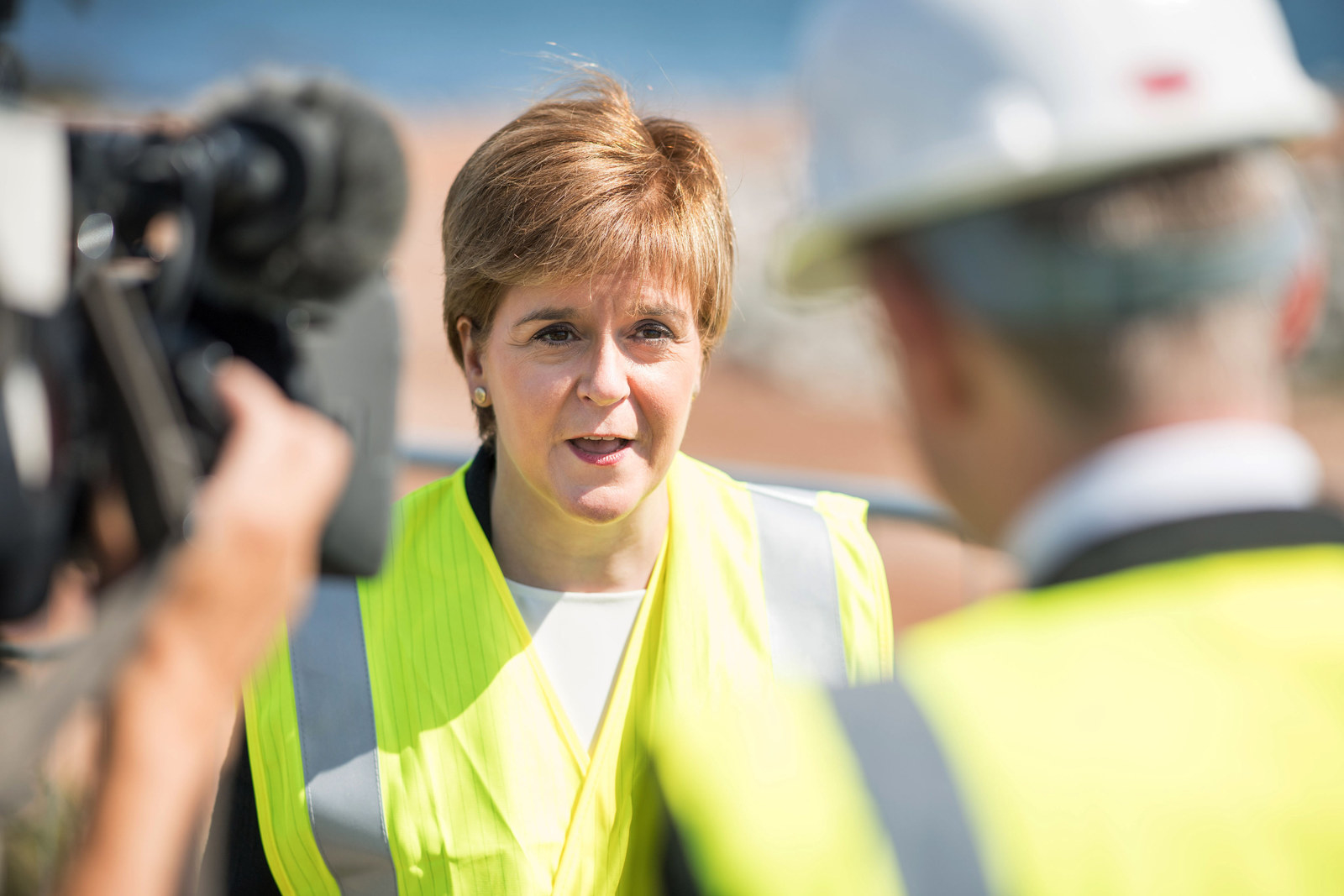 Scottish Labour leader Kezia Dugdale said that the figures showed that, if Scotland had voted to become independent in 2014, it would have faced "unprecedented levels of austerity" based on the SNP's "falsehoods".
"Nicola Sturgeon knew the sums didn't add up," said Dugdale. "But she offered false hope, especially to the poorest people in Scotland. Thousands of Scots voted Yes on the basis of a falsehood the SNP knowingly sold them.
"A fairer Scotland is with a Labour government – willing to tax the richest, stand up to vested interests, and redistribute wealth and power across the UK."
The UK government's Scotland secretary, David Mundell MP, said the figures showed Scotland's deficit is falling at a slower rate than the UK as a whole and economic growth is "lagging behind" that in the rest of the UK.
"These figures from the Scottish government are a cause for concern, and show clearly there is still much to be done to improve Scotland's economy," said Mundell. "They also highlight the value of pooling and sharing resources around the UK.
"Being part of a strong UK has protected our living standards, and that's one reason the people of Scotland clearly rejected Nicola Sturgeon's plan for a second independence referendum at the election."
Scottish Conservative shadow finance secretary Murdo Fraser MSP said the figures were evidence of a "union dividend" for people in Scotland, pointing towards the higher public spending per head and lower taxes raised per head.
"Today's figures confirm the facts – Scotland is better off as part of the United Kingdom," said Fraser. "All of us last year received a union dividend of £1,750 per head. The truth is that when times are tough – as they have been in Scotland over the last few years – we can rely on the weight of the whole UK to ensure schools, hospitals, and public services remain decently funded.
"These figures also confirm just how wrong the SNP got it during the referendum campaign. In 2014, Alex Salmond and Nicola Sturgeon looked Scottish families in the eye and insisted we'd be better off.
"In fact, in the first year of independence, Scotland would have been staring at the biggest deficit in Europe."