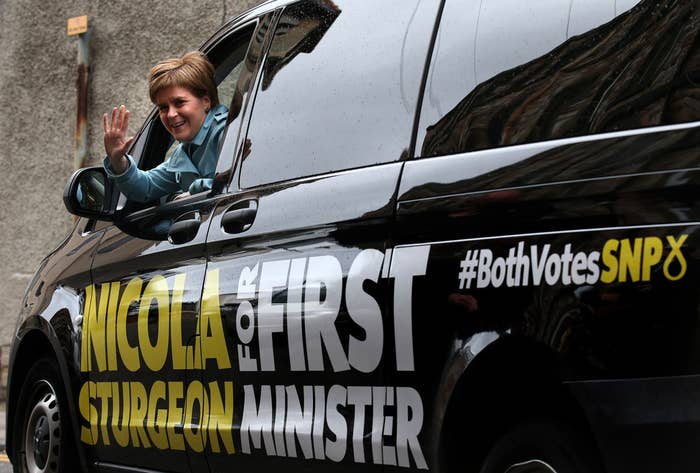 Scotland could become independent and negotiate its own entry to the European Union by 2018, Nicola Sturgeon has told BuzzFeed News.
The first minister said that if the UK as a whole votes to leave the EU in June's referendum but Scottish voters want to stay, Scotland could hold another independence vote and become a member within the two years it would take for the rest of the UK to negotiate its exit.
Polling suggests Scottish voters are far more likely to vote to stay than those in the rest of the UK, and Sturgeon has repeatedly said there would renewed calls for another independence referendum should Scotland face being taken out of the EU against its will.
The first minister's latest statement raises the prospect of a second independence referendum taking place before June 2018 – the date the UK would be expected to leave under article 50 of the Lisbon Treaty, which states EU members have two years to negotiate an exit.
"I always thought on the basis of some very solid arguments that Scotland, if we'd voted Yes in 2014, would have remained within the European Union while we transitioned from being a member as part of the UK to being an independent member," said Sturgeon.
"I think that same route would be possible if the UK votes to come out – and we're talking ifs along the way here – if the UK votes to come out and if Scotland then opted to be independent then, yes, I think that's entirely possible.
"I also think there would be a significant body of opinion across Europe which would want Scotland to stay in, in those circumstances."
Sturgeon's statement mirrors one from former first minister Alex Salmond in February when he said "effectively Scotland would just stay in" by negotiating its entry in the two-year window.
Experts in European constitutional law have also said such a move is feasible, although prime minister David Cameron has ruled out legislating for another independence referendum.
Even though an exit vote could bring Scottish independence closer, Sturgeon said she did not want to see the UK take the "disastrous" decision to leave the EU, warning that it would be "really damaging".
"Although I passionately believe Scotland should be independent, I wouldn't choose for that to come about in the circumstances where the UK comes out of the EU," said Sturgeon.
"I think that would be a disastrous route for the UK to take and I don't want to see the rest of the UK do something I think would be really damaging for them."