Ruth Davidson Pulls Off Shock Victory In Edinburgh Central Constituency
No one saw this coming.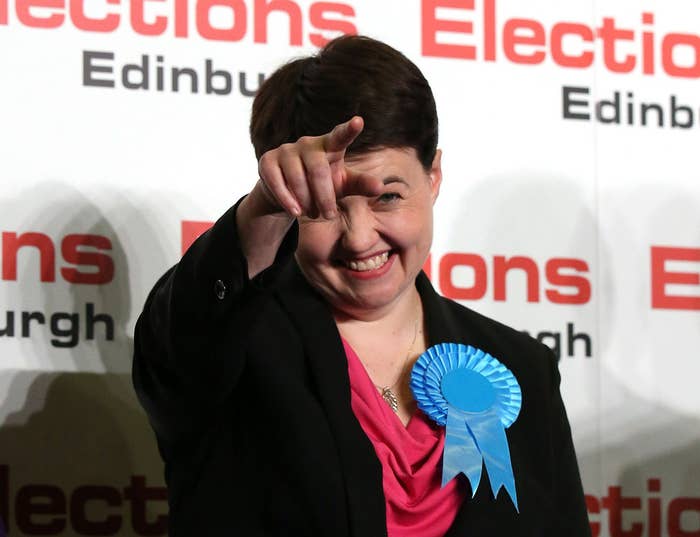 Ruth Davidson, the leader of the Scottish Conservative party, has pulled off a shock victory in the Edinburgh Central constituency.
In an extraordinary night of Holyrood election results, the Scottish Conservatives have seen their vote go up across the country and BuzzFeed News understands they will overtake Labour as Scotland's second-biggest party.
By far the most high-profile victory came just after 4:20am when Davidson unexpectedly beat the SNP to win Edinburgh Central – a shock result given the Tories finished in fourth place there at the last elections in 2011.
"One thing we're learning as tonight goes on is that there are people right across Scotland who are sending the SNP a message," said Davidson in her victory speech.
"The voices and the decision we made as a country will not be ignored; nowhere is that more evident than Edinburgh Central, where we were coming from fourth position."
She added: "If I am by any small measure elected to be the leader of the opposition party I promise I will serve to the best of my abilities, and it is a role I will take seriously."
Davidson gained 15.4 percentage points on the Conservative vote in the same constituency in 2011, beating her SNP opponent, Alison Dickie, by around 600 votes. The result was greeted by chants of "Ruth! Ruth! Ruth!" from Tory activists.
Meanwhile, Oliver Mundell – son of the secretary of state for Scotland, David Mundell – took Dumfriesshire from Labour. The Tories also took Aberdeenshire West from the SNP and Eastwood from Labour, while holding Ayr in a race the nationalists were hoping to win.
Compared with the last Holyrood election in 2011, the Tories' vote share is up over eight percentage points across the 50 constituencies that have declared so far – mainly at the expense of Labour, which has seen its vote share drop more than nine percentage points.
Even in seats the Tories haven't won, the pattern across the country has been for large swings to them from Labour.
Some of the party's largest increases in vote share came in Angus, where its vote share increased 15.3 points to 35.4%; Cunninghame North, where it won 24.6% of the vote, a 10.9 percentage point increase on 2011; and Perthshire North, where it's vote share increased 12.5 percentage points to 38.8%.
This suggests Davidson has had considerable success with her strategy of focusing her attacks on Labour and positioning herself as the only opposition leader who can be trusted to stand up for the union against the dominant SNP.