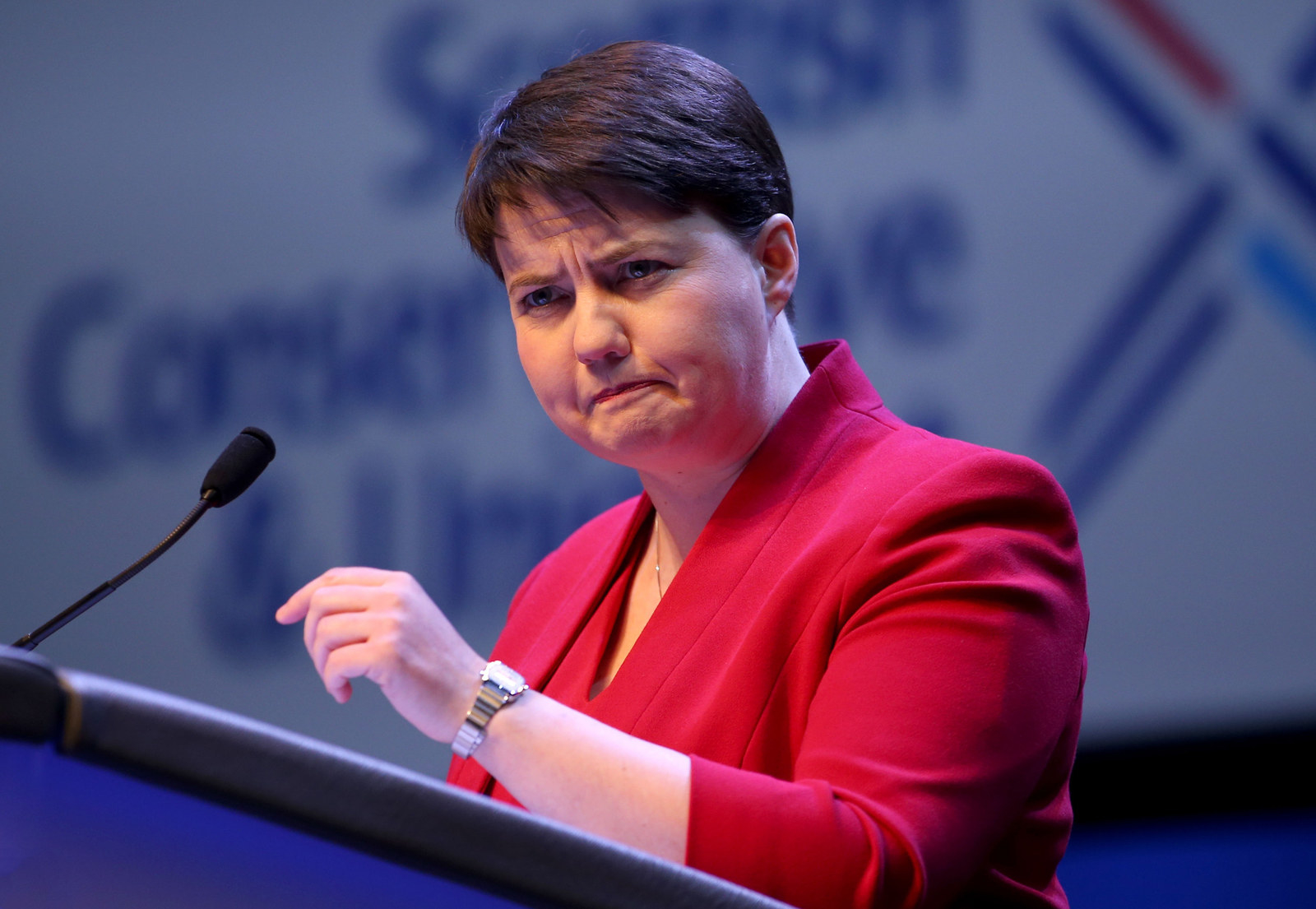 Ruth Davidson has urged Nicola Sturgeon to "stop talking Scotland down" and abandon the prospect of another independence referendum in the wake of the UK's vote to leave the EU.

Speaking at her party's conference on Saturday afternoon, the Scottish Conservative leader told the first minister she will "fight [her] every step of the way" if the SNP continues to agitate for another independence vote.
Davidson told a crowd of around 600 delegates in Glasgow that Sturgeon is attempting to "bounce Scotland into another referendum" and the first minister's "obsession" with independence is causing neglect of Scotland's public services.
The Scottish Conservative leader admitted the UK government's upcoming Brexit negotiations will be "tough" but said that while she wants the UK to succeed outside of the EU, Sturgeon wants it to "fail".
Davidson, who campaigned for a Remain vote in last June's referendum on EU membership, told the conference: "Irrespective of how I voted, I have to respect the result. [Sturgeon] has never met a referendum she hasnae tried to overturn.
"I say this here today – as we leave the EU, whether individually we were Remain or Leave, we deserve a Scottish government that is focused on helping Team UK get the best Brexit deal for all of us, not using it to revive its independence obsession."
The Scottish Conservative leader criticised what she referred to as the SNP's "grievance-hunting agenda" and asked Sturgeon to "stop talking Scotland down, and go out to the world and talk our prospects up for once".
"We want you to do the job you were elected to do," said Davidson. "To address the issues that really matter. To make our schools better, our hospitals, our economy, and the lives of all our people.
"Scotland said no to independence. Scotland is saying, 'Stop trying to bounce us into another referendum,' and I can promise you this: This party – the Scottish Conservative and Unionist Party – will never waver in our determination to stand up for the decision we made as a country.
"We said no. We meant it. Are you listening, Nicola? No. Second. Referendum."
Commenting on Davidson's speech, SNP MSP Derek MacKay, the Scottish government's finance secretary, accused the Scottish Conservatives of treating Scotland's vote to remain in the EU as "an irrelevance".
"The hypocrisy of the Tories' position is lost on no one," said Mackay. "Their constitutional obsession with a hard Brexit will cause untold damage to Scotland's economy.
"They're determined to lead Scotland off a cliff edge without giving Scotland a choice of a different future. Ruth Davidson doesn't even think we should be offered a choice, never mind make it. So much for respect for democracy."