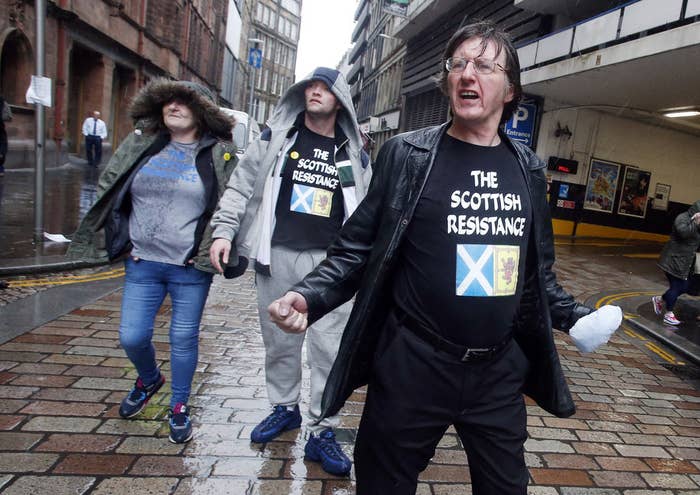 A pro-independence campaign group that calls itself the Scottish Resistance has reported David Cameron to the police for bombing Syria, citing an obscure piece of international law from the 1920s.
The Scottish Resistance, led by James Scott, believes the UK's airstrikes in Syria contravene an international peace treaty signed after World War I, and three of the group handed an official criminal complaint against Cameron to an officer at a local police station in Rutherglen near Glasgow on Friday.
In a video posted to YouTube on Sunday, the group explains that it believes military intervention in Syria goes against the Kellogg-Briand Pact, which was a renunciation of war signed by 32 countries, including the UK, in 1928.
Scott, alongside his fellow Resistance members Piers Doughty-Brown and Sean Clerkin, alleges that "by authorising the bombing of Syria, David Cameron, the prime minister, has breached international law".
"We're here to make a criminal complaint against the prime minister of the UK, David Cameron," Scott told the local police officer. "He's gone to war in breach of international law – in 1928, a treaty was made called the Kellogg-Briand Pact. It was a treaty to end all war, a renunciation of war, this is the truth."
He continued: "Any country which has gone to war is in breach of that. We're here to get a police incident number for a crime that we are reporting against David Cameron, and all the details are there." He then handed over a copy of the Kellogg-Briand Pact.
After handing over the complaint, Scott proudly declared: "We have reported the prime minister, David Cameron, as a war criminal."
"Hopefully the matter will be properly investigated," said Scott outside the police station. "We will wait and see what happens, and whether it is investigated fairly and thoroughly."
The Scottish Resistance is becoming increasingly renowned for bizarre pro-independence stunts. For example, at Halloween, members hunted for the ghost of Scottish patriot William Wallace.
Clerkin originally gained fame for protesting against members of the Scottish Labour party and once chased its former leader leader into a Subway sandwich shop at Glasgow Central station.
UPDATE: A Police Scotland spokesperson told BuzzFeed News: "We can confirm that a complaint was made in person at Rutherglen Police Office on Friday 4 Dec. No criminality was established and advice and guidance was given."