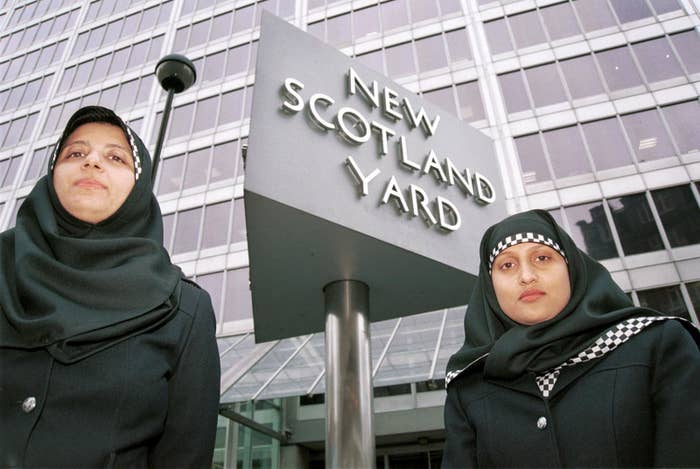 Scottish police will have the option of wearing a hijab as part of their uniform after it was formally introduced in the hope of encouraging more Muslim women to join the force.
Police Scotland's chief constable said that although officers have always had the option of adding religious headwear to their uniform, he hopes the formal introduction of the hijab will make the force more representative.
Chief Constable Phil Gormley said: "I am delighted to make this announcement and welcome the support from both the Muslim community, and the wider community, as well as police officers and staff.
"Like many other employers, especially in the public sector, we are working towards ensuring our service is representative of the communities we serve.
"I hope that this addition to our uniform options will contribute to making our staff mix more diverse and adds to the life skills, experiences, and personal qualities that our officers and staff bring to policing the communities of Scotland."
Fahad Bashir, the chair of the Scottish Police Muslim Association, said: "This is a positive step in the right direction, and I am delighted that Police Scotland is taking productive steps in order to ensure that our organisation is seen to be inclusive and represents the diverse communities that we serve across Scotland.
"No doubt this will encourage more women from Muslim and minority ethnic backgrounds to join Police Scotland."
The Metropolitan police introduced the hijab as an optional part of its uniform a decade ago, but SNP MP Tasmina Sheikh said this week's move by Police Scotland serves as a "welcome contrast" to events in France.
In the past few weeks, some mayors in the south of France have banned the "burkini" – a type of swimwear worn by some Muslim women. On Tuesday, a video was posted of French police apparently fining a woman wearing a hijab.
Sheikh, the MP for Ochil and South Perthshire, said: "The images we have seen from France – of a woman sleeping on a beach being approached by armed police and then humiliatingly forced to remove her birkini – are disturbing.

"The ban on burkinis by the authorities in several French towns is deplorable – the police should not be in a position to tell women what to wear in any circumstances, whether this is related to their faith or not. In contrast, Police Scotland have announced they are adding the hijab to their uniform options."

The SNP MP added: "Just as the police acted to ensure fair treatment of Sikh men whose faith requires them to wear turbans, this is a welcome move which will hopefully help create a more diverse and representative police force for all our communities."