This Car Has Been Painted In UKIP Colours And Has "BELIEVE IN BRITAIN" Written All Over It
"It had to be a British make," said UKIP candidate Rob Burberry.
UKIP candidate Rob Burberry has been showing off a bright purple "BELIEVE IN BRITAIN" car at the UKIP manifesto launch in Thurrock.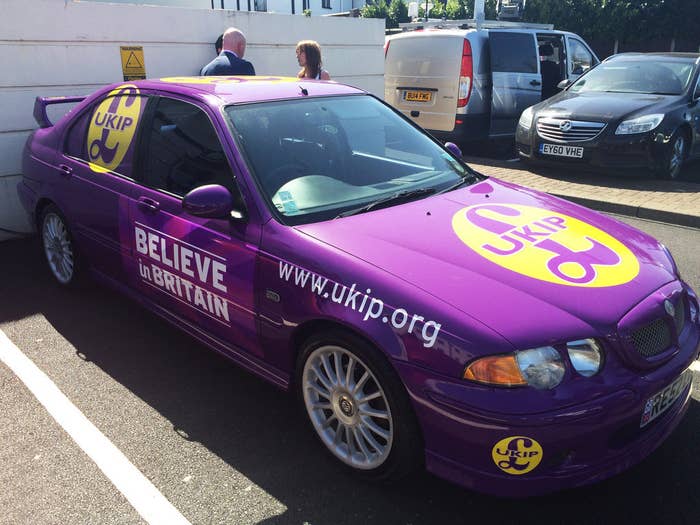 UKIP controls "a fleet" of purple vehicles with the party logo on them, Burberry told BuzzFeed News, including an MG ZS180, a transit van, and an enormous purple "Common Sense" double decker bus which are all used for campaign events and photo opportunities.
Burberry, the UKIP candidate in Woking, is the current keeper of the MG ZS180 and he told us about what a lovely motor it is, alongside fellow candidate Chris Adams.
"It really purrs," said Adams. "The engine is 1.8 litres and it really growls, she's a fantastic car," added Burberry, before growling at BuzzFeed News.
The 13-year-old car was painted a dazzlingly bright purple last month for the election period and has been driven all over the UK. The doors and back window have "Believe in Britain" plastered across them, and the back seats are full of A3 posters of Nigel Farage.
"It's a British car, of course," said the UKIP candidate, who took possession of the car in his role of constituency manager in the south east.
"It had to be a British make."
MG Rover went bust in 2005 and was subsequently bought by overseas companies.
Burberry claimed the reaction to the car has been largely positive, although admits he occasionally gets a bad reaction and dirty looks.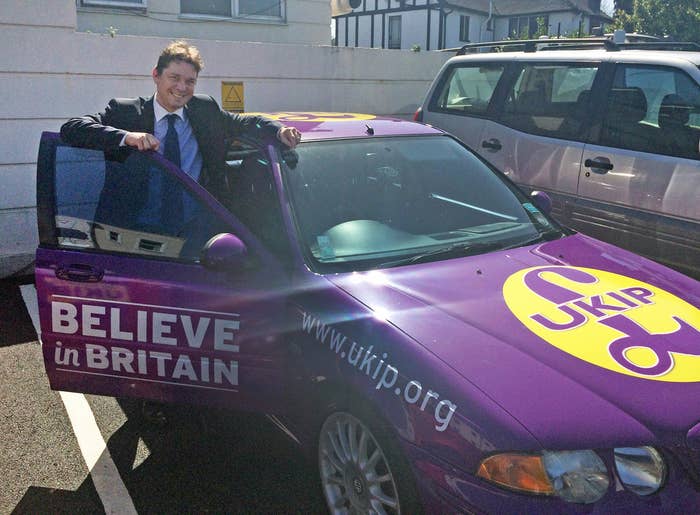 "That's very rare," he said, when asked if he ever gets abused on the streets.
"Generally everyone is very positive, we certainly turn heads when we're going up the motorway – in fact people take pictures of the car when they're driving, which I don't condone."
The car, and the rest of the UKIP convoy, are going to be a recurring image of the UKIP campaign and Burberry has already driven all over the England in his MG.
"We have a real fleet of UKIP vehicles now," said Burberry, proudly standing beside his car. "There was one time up in the north we had the bus, my car, and the transit van all going driving in a row – it was really cool," added Adams.
Expect to see the "here comes common sense" UKIP convoy somewhere near you soon.