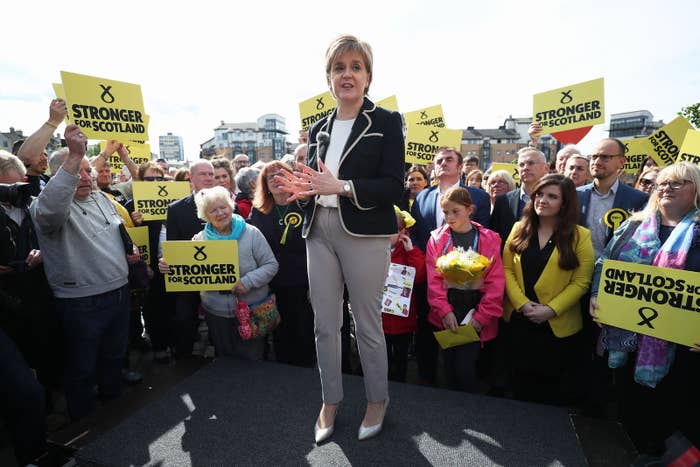 Nicola Sturgeon insisted the SNP is the true pro-Jeremy Corbyn choice for voters across Scotland on Thursday, claiming her party has more in common with the Labour leader than Kezia Dugdale and the Scottish Labour party.
The SNP leader spoke to a rally of several hundred people in Leith, to the north of Scotland's capital of Edinburgh, on the final day of campaigning ahead of a general election where her party is expected to lose a handful of seats.
To the cheering crowd, Sturgeon said the SNP were the only party in Scotland which can help to prevent Theresa May from increasing her majority at the election, insisting a vote for Labour and the Lib Dems would be wasted.
Sturgeon dedicated most of her speech to attacking May, Ruth Davidson, and the Scottish Conservatives, particularly over their support of the so-called "rape clause" on child tax credits, which the first minister called "despicable".
But the most interesting section of her speech was a direct appeal to people who may have been won over by Labour leader Corbyn during his party's recent surge in the polls both across the whole UK, including Scotland.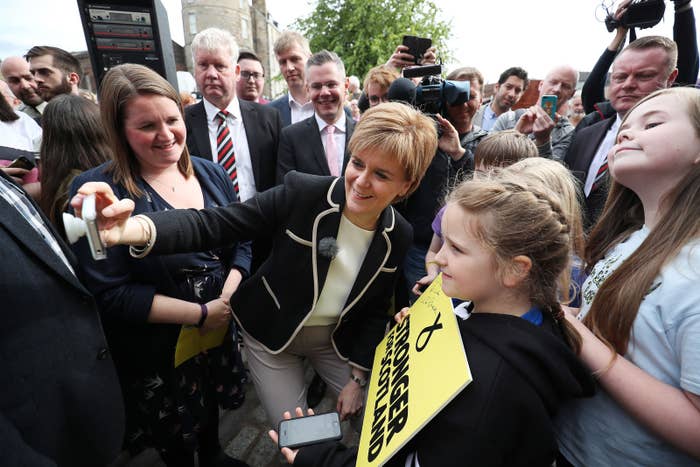 "I've got a message today for people across our country who usually vote Labour or Liberal Democrat," said the first minister. "I understand your loyalty to your party and I understand you do no agree with the SNP on anything. You may disagree very strongly with us on some things – but I ask you to think of this.
"A vote tomorrow for Labour or the Lib Dems, the parties in third and fourth position in Scotland, risks doing one thing and one thing only; splitting the anti-Tory vote and allowing a Tory MP in the back door. Let us not take that risk tomorrow."
Turning her attention specifically to Labour, the first minister insisted she has more in common with Corbyn than his counterpart in Scotland, Dugdale, who has previously been critical of Corbyn and supported his rival, Owen Smith, in last year's leadership election.
"If [Labour voters] lend the SNP your vote tomorrow to keep the Tories out then you can be assured that you will be electing SNP MPs who might not agree with him on everything, but agree with Jeremy Corbyn on more than Kezia Dugdale or Scottish Labour ever will," said the first minister.
Only a few months ago, Sturgeon ridiculed Corbyn, saying his party was in "meltdown" and that the Labour leader was not getting within "a million miles" of Downing Street. However, Sturgeon's language has changed as Labour's poll ratings have improved.
Corbyn has been strongly anti-SNP in his speeches in Scotland since he became Labour leader, doubting that they are a "genuine" progressive party and ruling out any form of "deal, pact, or coalition" with Sturgeon's MPs.
Earlier on Wednesday, at his own rally in Glasgow, Corbyn said: "Our party is not doing deals, we're not offering anything other than us, our manifesto, our principles, and our programme."
Despite that, the Tories have repeatedly warned a Labour minority government would lead to a "coalition of chaos" with the SNP, with May saying in Edinburgh earlier in the week that Sturgeon would be "pulling the strings from [her official residence] Bute House".
At the end of her speech, Sturgeon urged people in Scotland not to split the "anti-Tory vote" and insisted the only way to oust May from Downing Street was by voting for her party at the general election on Thursday.
"If you don't want to wake up on Friday morning with a Tory government with a bigger majority able to do more damage to Scotland the only way to stop that happening is to vote SNP," said Sturgeon.