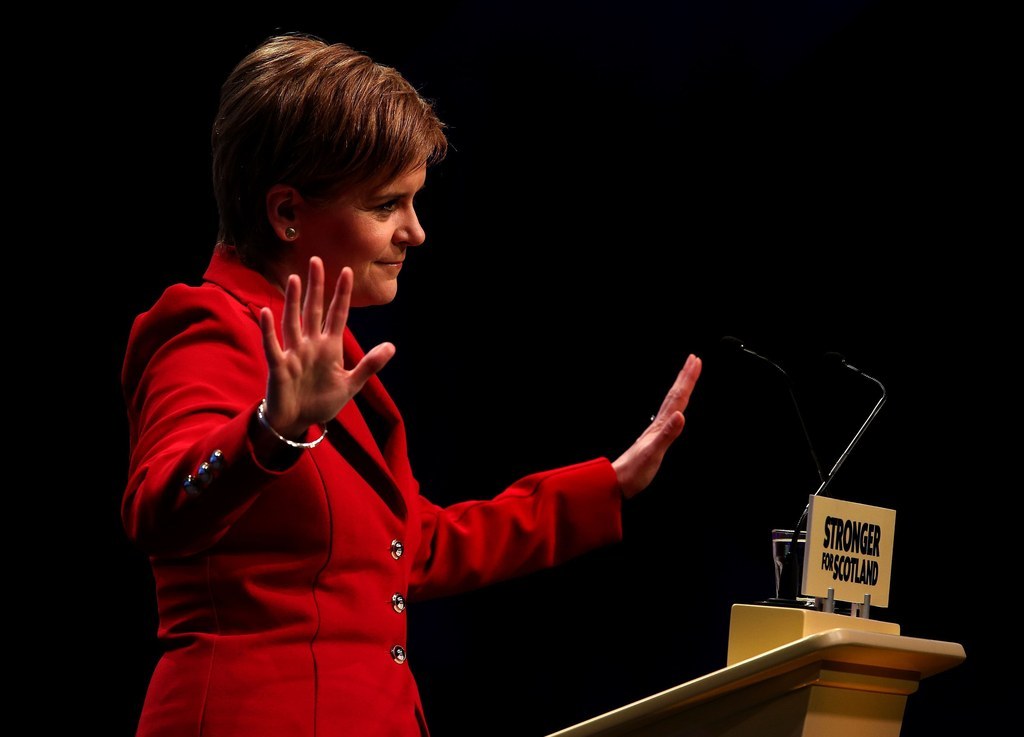 Nicola Sturgeon has pledged to start a new drive to persuade Scots to back independence following the Holyrood election this summer.
Speaking at the SNP's pre-election conference at Glasgow's SECC venue on Saturday, the first minister told a crowd of over two thousand delegates that she will lead "a new initiative" to persuade Scottish voters they would be better off as an independent country.
The announcement gained by far the most enthusiastic reaction from the crowd in a speech which also set out how the SNP, if re-elected as the Scottish government in May, would use the new tax powers due to be handed to the Scottish parliament next year.
"We will achieve independence only when we persuade a majority of our fellow citizens that it is the best future for our country," said the first minister. "Our success will depend on the strength of our arguments and the clarity of our vision.
"It will mean convincing the people of this country that independence is right – not for yesterday's world – but for the complex, challenging and increasingly interdependent world that we live in today. And right also for the world that our children will inherit and live in tomorrow. Making and winning that case is our challenge – and our opportunity."
"That is why I can tell you today that this summer the SNP will embark on a new initiative to build support for independence."
Sturgeon has repeatedly raised the prospect of calling a second referendum on independence should people in Scotland vote to stay in the European Union but are made to leave on the back of Leave votes from the rest of the UK.
In Saturday's speech, the first minister did not outline circumstances in which she would instigate another vote on independence, but rather focussed on persuading those who voted No in 2014 to change their minds.
"It will not be an attempt to browbeat anyone," she said. "I know that many across Scotland support the Union as strongly as we do independence – I respect that. But I also know that many wanted to be persuaded in 2014 – but ultimately didn't find our arguments compelling enough.
"So we will listen to what you have to say. We will hear your concerns and address your questions – and in the process, we will be prepared to challenge some of our own answers.
"And, patiently and respectfully, we will seek to convince you that independence really does offer the best future for Scotland."
Scottish Conservative leader, Ruth Davidson, was quick to criticise the pledge, saying: "It's clear the SNP – from top to bottom – just isn't prepared to let this go. People voted decisively to remain part of the UK and it's time Nicola Sturgeon respected it.
"This shows again why having a strong, pro-UK opposition in Holyrood is so critical to Scotland's constitutional future. Only the Scottish Conservatives continue to stand 100% for Scotland's place in the UK."