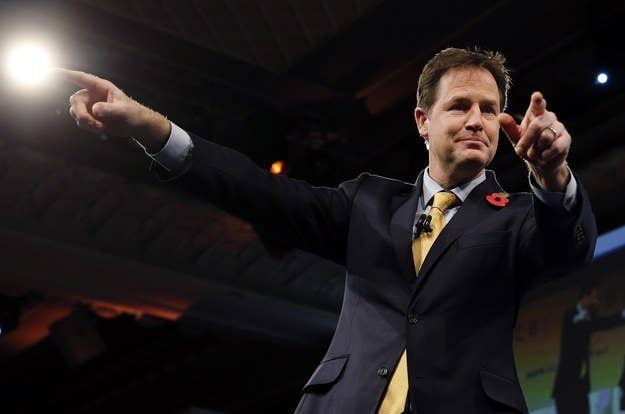 Nick Clegg will personally campaign against Alex Salmond in the Gordon constituency in a bid to prevent a "ragtag mob of nationalists" from holding the balance of power after May's general election.
At his monthly press conference, the Liberal Democrat leader told BuzzFeed News that Salmond, the former first minister of Scotland, is displaying "breathtaking arrogance" in assuming the people of Gordon in Aberdeenshire will elect him to Westminster.
Last month, Salmond announced he would stand for election as an MP in the Lib Dem-held constituency.
"I very much hope to campaign against Salmond in Gordon," said Clegg. "The arrogance with which he regards what the people of Gordon might do as nothing more than an elevated coronation, so he can waft down here and strut his stuff in the House of Commons, is absolutely breathtaking."
Clegg said the referendum had "gone to Salmond's head", and compared the SNP to other "factionalist" parties on the rise across Europe because of economic difficulty.
"All [the SNP] have is a narrow, sectional interest which they place well above the national interest," said Clegg. "Either [Labour or the Conservatives] going into coalition with a ragtag mob of nationalists would be absolute mayhem."
Salmond is up against Lib Dem candidate Christine Jardine in Gordon, and Clegg has full confidence that she, with his help on the campaign trail, will see off the former first minister.
"The good people of Gordon will say, 'Wait a minute Alex Salmond, fix our roads, sort our hospitals, do what you were supposed to do while you were in power, and don't just trample on our heads so you can strut your stuff in Westminster,'" said Clegg.
"Whoever you are, however self-important you are, even if you're as self-important as Alex Salmond, you have to get elected.
"Fighting a vigorous, local campaign, we will cause an upset."
SNP MSP for North East Scotland Christian Allard welcomed the news that Clegg will campaign against Salmond.
He said: "We would relish visits from Nick Clegg to Gordon and anywhere else in Scotland – the more the merrier, and we would happily pay his bus fare.
"The latest poll shows that an extraordinary 74% of people in Scotland don't trust Nick Clegg – only 10% do – and no wonder after so many broken promises. By contrast, polling also shows that most people who voted Lib Dem in 2010 back Alex Salmond standing for Westminster – as do a majority across Scotland as a whole – so Nick Clegg isn't even backed by the dwindling number of Lib Dem voters."