The Youngest MP In Parliament Just Completely Rinsed Jeremy Corbyn At The SNP Conference
"I am so disappointed with Jeremy Corbyn," Mhairi Black said in a piercing attack on the Labour leader.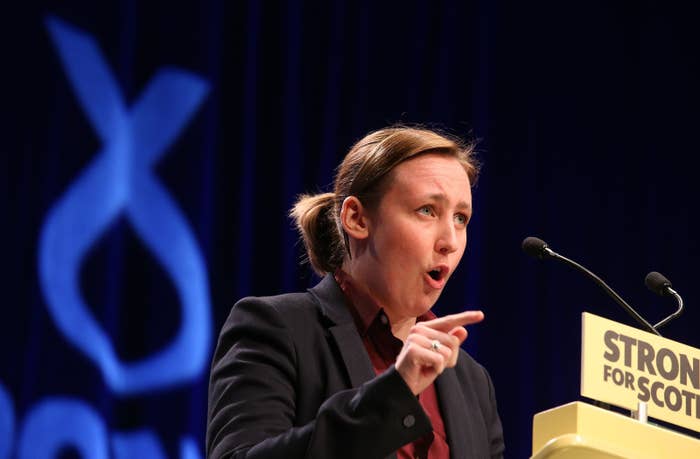 Mhairi Black has used her speech to the SNP conference in Glasgow to deliver a blistering attack on Jeremy Corbyn, saying his leadership of the Labour party has bitterly disappointed her despite her initial high hopes.
Black, the 23-year-old SNP MP for Paisley and Renfrewshire, said she was pleased to see Corbyn elected as Labour leader in 2015 as she believed he would be a "normal and sensible" person for the SNP to work with in Westminster.
However, in a pointed section of her speech, Black reeled off a list of ways in which Corbyn has let her down since he became leader in 2015, including his party's support for the renewal of Trident nuclear weapons.
Black was re-elected in June's general election but lost a substantial number of votes to her Labour rival, leaving her with a fragile majority of just over 2,000 votes and vulnerable to losing her seat to Labour in the next election.
"Jeremy Corbyn and I actively agree on quite a lot of things, which is why I hope what I'm about to say is taken with the sincerity with which it's intended," said Black to the conference. "I am so disappointed with Jeremy Corbyn, so disappointed.

"He may be an opponent but I was heartened to see Jeremy Corbyn elected as leader of the Labour party because I thought, Finally, someone normal and sensible to work with in London. But instead we've got more of the same London spin and nothing more than talking a good game.
"If you're going to call for an end to austerity, don't release a manifesto scrapping only £2 billion out of a total £9 billion's worth of planned Tory cuts. Don't tell the vulnerable that you're fighting for them while you choose to keep 78% of Tory cuts.
"Don't tell young people you'll scrap tuition fees but turn a blind eye to Labour who hike them up in Wales. Don't tell us you're different and then still sign up to waste billions of pounds on nuclear weapons."
The MP went on to say that Corbyn comes to Scotland to spread "fear and utter drivel" about the prospect of an independent Scotland, taking particular exception to his claim that independence would lead to "turbo-charged austerity".
She went on: "Don't come to Scotland like so many before you and condescend [to] us by claiming the Scottish government with 15% of welfare powers can somehow undo Tory austerity when your party voted against devolving the real powers that matter.
"But most of all … don't dare spread fear and utter drivel about an independent Scotland meaning we would suffer turbo austerity, because while you're doing that, our Scottish government is saddled with paying £453.8 million mitigating and protecting people from the very worst of the Tory policies that we never voted for in the first place, and they have a cheek to say it's our fault.
"Why can I say that? Because I'm sick to the back teeth of British nationalists perpetuating the myth that Scotland could not afford to thrive in the world as an independent nation."
Pro-Corbyn Scottish Labour MP Danielle Rowley said: "Mhairi Black's anti-austerity posturing would be a bit more credible if she once had spoken out about the £1.5 billion the SNP government had cut from local services across Scotland, or effectively stood up to plans to downgrade the Children's Ward at the Royal Alexandra Hospital in her own constituency.
"What this embarrassing rant reveals is that the SNP has no response to the growing number of people who see that radical change is possible within the UK with a Labour government led by Jeremy Corbyn."