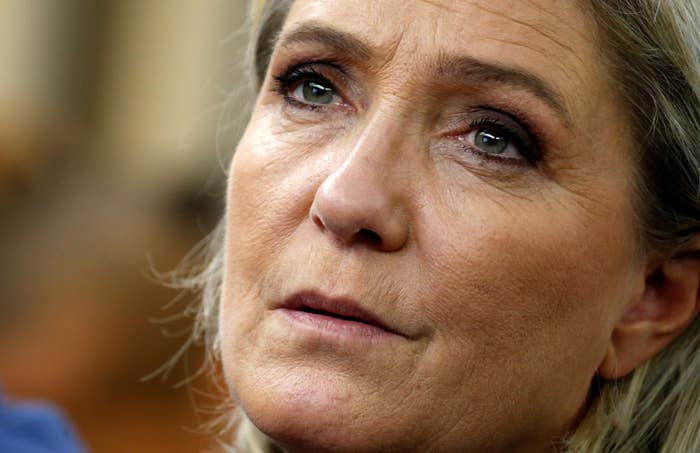 The far-right leader of the French National Front, Marine Le Pen, has hailed Donald Trump's victory in the US election and claimed they are both part of a "new world" being built in the wake of Brexit.
Le Pen was interviewed on The Andrew Marr Show on Remembrance Sunday – a move that angered critics of Le Pen's right-wing nationalist politics and provoked protests outside the BBC studio.
The National Front leader said June's Brexit vote and Trump's victory had boosted her chances of winning the French election next year, saying the votes had "made possible what had previously been presented as impossible".

Le Pen frequently echoed Trump by criticising worldwide "elites" and went on to predict that the European Union would disintegrate if each member state were to hold a referendum on membership.
"Clearly, Donald Trump's victory is an additional stone in the building of a new world destined to replace the old one," said Le Pen.
"Obviously, we have to compare this victory with the rejection of the European constitution by the French people – of course, with the Brexit vote, but also with the emergence of movements devoted to the nation.
"All these elections are essentially referendums against the unfettered globalisation that has been imposed upon us ... and which has today clearly shown its limits."
Le Pen strongly denied that she leads a racist party when challenged by Marr over her father's remarks that the Holocaust was a "detail of history".
"Listen, I cannot let you say something so insulting," replied Le Pen. "As it happens, the National Front has never been guilty of racism, and in fact, I would like you to tell me exactly what sentence, what proposal in our programme, is a racist proposal.
"Unless you consider, as I know the elites wish to do and have done for a long time, that all those opposed to mass immigration are racist.

"I disagree, I don't think it's racist to say we cannot take in all the poverty of the world, we cannot take care of hundreds of thousands of people arriving here, because our first obligation is to protect the French people and establish solidarity among the French people. I don't see how that's racist."
Several MPs, including Labour's Tristram Hunt, tweeted their anger that the BBC had broadcast an interview with the far-right leader on Remembrance Sunday.
Labour's Angela Rayner said the decision was "so wrong" and that the BBC should interview veterans in Le Pen's place.
Some Twitter users began tweeting #BoycottMarr when it was announced Le Pen would appear on the show earlier in the week.
Marr was forced to defend the decision to interview Le Pen, saying: "I don't think the best way to honour the fallen is to fail to report on the next big challenge to Western security."
Labour leader Jeremy Corbyn appeared on the programme before Le Pen and criticised her "nasty" politics and her rhetoric against Muslims in France.
"She uses awful and absurd language in France against Muslims," said Corbyn. "I was talking to a group of demonstrators outside this morning who are here and very angry at the language she's used against Muslims and others in France.
"She uses this populism against minorities in order to get herself elected, but the reality is she doesn't have an economic answer to the problems faced by left-behind communities in France any more than UKIP has an economic answer to the left-behind communities in Britain.
"It's only communities coming together, public investment, that can actually deal with the economic injustices that are getting worse, not better, in Europe."