Labour Is Blaming The SNP For The Low Turnout In Scotland
Remain is winning decisively in Scotland, but the number of voters is lower than expected, which is bad news for the pro-EU campaign.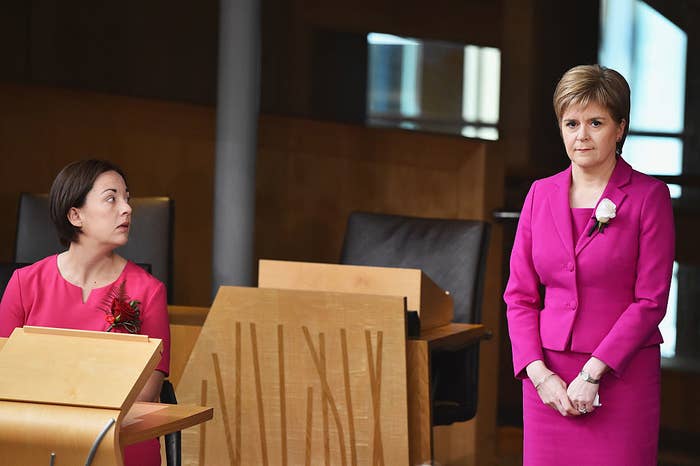 A row has broken out between Labour and the SNP after lower-than-expected turnout in Scotland led to accusations that Nicola Sturgeon's party failed to do enough to encourage people to vote.
When polls were still open, sources from both parties had expected a turnout of between 70% and 80% in Scotland, which was thought to be a boost to the Remain side as Scottish voters are much more likely to back staying in the EU.
However, after a series of relatively low turnout announcements, including just 56.2% in the SNP heartland of Glasgow, Labour accused the SNP of failing to mobilise its voters.
"I didn't see a single SNP activist the entire day today," a senior Labour source told BuzzFeed News. "Turnout in Glasgow shows they just didn't have a ground operation happening to turn out their voters."

So far, every single result in Scotland has backed Remain but in smaller numbers than the pro-EU campaign expected at the beginning of the evening. Glasgow backed staying in the EU by nearly two votes to one, with 168,335 Remain votes to 84,474 Leave.
SNP sources admitted that it has been difficult to encourage activists to get out to support Remain so soon after last month's Scottish parliament election, but first minister Nicola Sturgeon said Labour had "lost it" in attempting to blame the SNP for Leave's early successes.
Speaking to the BBC, the former SNP leader Alex Salmond also defended his party and said that Labour was attempting to place the blame on the SNP for their failing to persuade people in England to back Remain.

"Our campaign in Scotland has yielded a very positive result. In industrial areas where we represent, Remain is winning 60/40," said Salmond. "In the industrial areas that Labour represent in England, they're getting absolutely hammered.
"I think the Labour party are casting about for responsibility – they should look to themselves. If they had fought the campaign we have fought in Scotland, perhaps they'd be in a happier position this evening."
Scottish Labour leader Kezia Dugdale told BuzzFeed News it was "too early to draw a conclusion" about whether the SNP failed to get its voters out.
She said: "Ultimately it comes down to leadership and I think you've seen all five party leaders in Scotland make a strong and positive case for Remain."