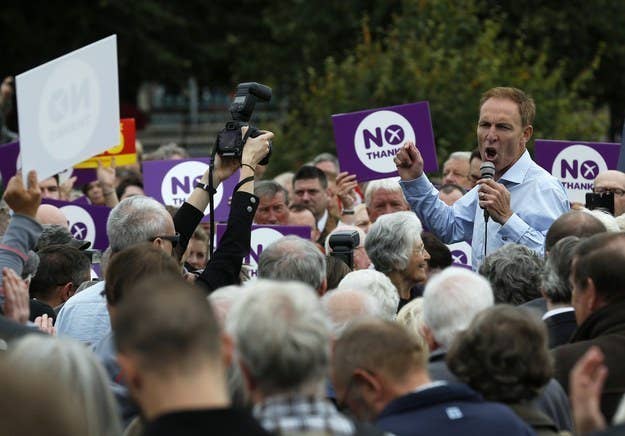 The campaign director of Better Together has been confirmed as an advisor to Jim Murphy MP as he campaigns for Scottish Labour leadership, BuzzFeed News has learned.
Blair McDougall, who led the ultimately successful campaign for Scotland to remain in the UK, will take up an advisory role, Murphy's team has confirmed. Meanwhile, Rob Shorthouse, Better Together director of communications, helped set up Murphy's campaign this week but will not be formally involved in the campaign in the weeks to come.
Day-to-day running of the campaign is to be led by James Kelly MSP and Jenny Marra MSP.
The involvement of the Better Together team could prove to be controversial. Some in Scottish Labour have said the pro-union campaign damaged the party. Labour support in Scotland has collapsed according to recent polls, and some within the party believe campaigning alongside the Conservatives as part of Better Together is responsible.
Fellow leadership candidate, Neil Findlay MSP, told BuzzFeed News he was "no huge enthusiast" for Better Together and it gave the Yes side "an easy opportunity ... to fire bullets at us and say we were allied with certain political parties."
More formal appointments to the team will made over the weekend as the Murphy leadership campaign officially launches with a rally in Edinburgh on Saturday. Murphy has also registered a jimmurphy.scot domain name.
Murphy will battle against Findlay and Sarah Boyack MSP for leadership.