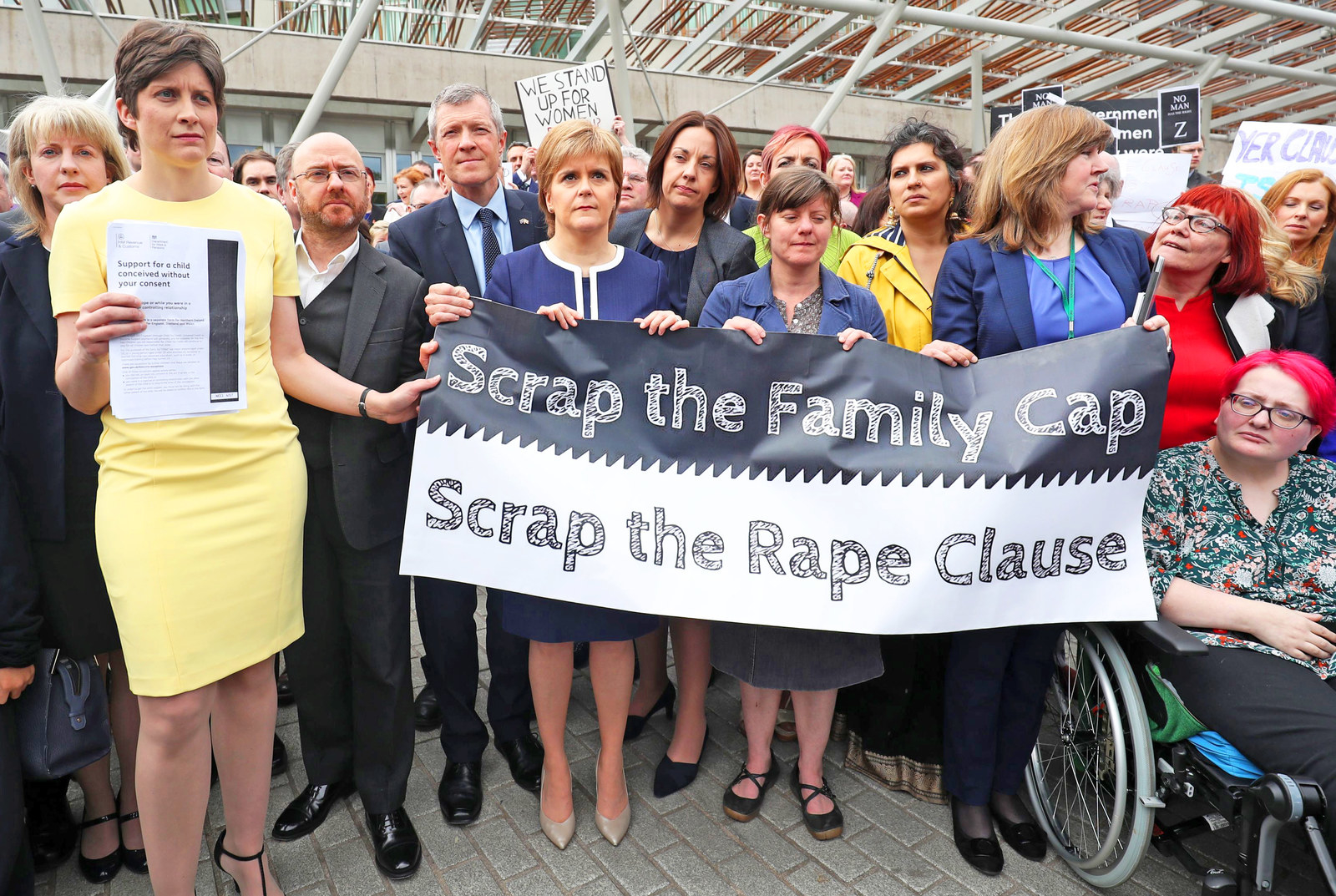 Jeremy Corbyn will scrap the "rape clause" for child tax credits if he becomes prime minister next month, he has confirmed.
The Labour leader unveiled his party's manifesto this morning. It contained a commitment to scrap the clause that means that a woman who has a third child as a result of rape has to prove it in order to receive tax credits.
The measure, dubbed the "rape clause" by campaigners, has been strongly criticised by rape charities and some politicians, particularly in Scotland where a campaign against it has been led by the SNP and Scottish Labour.
Last month Scottish Labour leader Kezia Dugdale read out a powerful letter criticising the clause in the Scottish parliament. It was written by a woman who became pregnant after being raped.
Shortly ahead of the Labour manifesto launch on Tuesday morning, Corbyn confirmed that he'd abolish the clause and "redesign" the policy that restricts child tax credits to the first two children in a family.
"Labour will end the abhorrent rape clause across the UK," said Corbyn. "Kezia Dugdale's powerful speech in the Scottish parliament demonstrated the heartbreaking reality of the rape clause.

"Theresa May and [Scottish Conservative leader] Ruth Davidson should be ashamed of this policy. Only a Labour government that works for the many, not the few, can bring this policy to an end."
The manifesto condemns the two-child tax credit policy as "an attack on low-income families" and claims that it will "increase child poverty". The document commits to "reforming" the policy and "ending" the clause.
A Scottish Labour source told BuzzFeed News a Labour government would look to abolish the two-child tax credit policy in the long term, but that bringing an end to the "rape clause" would be an immediate priority.
The clause has been a recurrent topic in the election campaign in Scotland, with the SNP and Scottish Labour condemning Ruth Davidson for failing to criticise the policy introduced by the UK government.
Alison Thewliss, the SNP MP who led the campaign against the clause, welcomed Corbyn's pledge to scrap it but blamed Labour for the policy going through parliament in the first place.

She said: "Labour's support now is welcome but the truth is the two-child policy and the rape clause need not have gone ahead at all if Labour had opposed it in the Welfare Reform Bill. Interim Leader Harriet Harman supported the policy at the time. Labour just can't be trusted to take the Tories on.
"The SNP has led the campaign against the Tories two child-policy and the abhorrent rape clause right from the moment it was announced in George Osborne's July Budget in 2015 – Labour completely failed to oppose it then – showing once again it is only the SNP that can be an effective opposition to the Tories. It was the SNP who questioned it time and time again, led debates against it and gathered opposition across civil society."