Nicola Sturgeon "Heartened" After Meeting Senior EU Officials In Brussels
The first minister travelled to the European Parliament to begin discussions to keep Scotland inside the EU.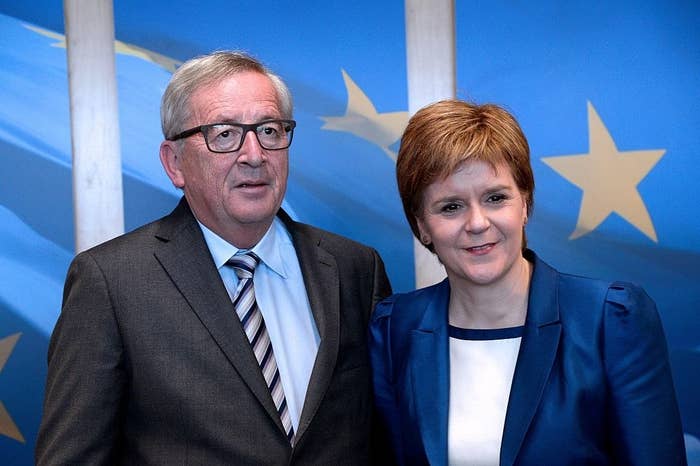 Nicola Sturgeon says she has been left "heartened" after traveling to Brussels to open up discussions with senior officials in an attempt to keep Scotland inside the European Union, saying "doors are open".
The first minister flew to Brussels on Wednesday morning seeking to make it clear to the 27 other EU member states that 62% of Scottish voters backed Remain, and that she is determined to explore options to maintain Scotland's membership.
The most senior official Sturgeon met was European Commission president Jean-Claude Juncker, who she said was "very sympathetic" to her cause, and she also met European Parliament president Martin Schulz and a number of leaders of EU parliament groups.
Ahead of his meeting with the first minister, Juncker said Scottish voters had "won their right" to be heard in the European parliament after voting in large numbers to remain inside the EU.
However, according to the chief EC spokesperson, Juncker also said he and European Council president Donald Tusk would "not interfere in the national British debate" and it had been made clear they were not opening up formal negotiations with Sturgeon at this stage.
Following the meeting, Sturgeon said: "Since I've been here today I've found enormous interest in the referendum result as you would expect, and I've also had a sympathetic response to the situation that Scotland now finds itself in – facing the prospect of being taken out of the EU against out will, a position not of our making and not one that I wanted."
She added: "If there is a way for Scotland to stay, I am determined to try and find that way. We are right now in uncharted territory and none of this is easy. But my task is to try and bring some principle, purpose, and some clarity to the situation and to speak for the people I am elected to represent – the people of Scotland."
The first minister has been warmly received in Brussels with several officials commenting that she has a clear post-Brexit plan, unlike her counterparts in the UK government, and has said positive things about the EU and immigration.
Sturgeon said she didn't travel to Brussels with the intention of striking deals at this stage, but added: "We are very early in this process. The referendum is not yet a full week behind us and indeed it's been a long week for all of us.
"My concern at this stage is to ensure that once the UK's negotiation with the EU starts, then all of the options are on the table. I don't underestimate the challenges of that but I've been heartened today that I've found a willingness to listen."
However, it is understood Donald Tusk, president of the European Council, turned down a meeting with Sturgeon, although a Scottish government source insisted they had "never expected" to hold a meeting with him.

In a blow for Sturgeon's ambitions, Spanish prime minister Mariano Rajoy said he was "extremely against" any form of negotiations between the EU and Scotland. In the past, Spain has been reluctant to consider Scottish EU membership over fears it would encourage the cause of Catalan independence.
"I want to be very clear … Scotland does not have the competence to negotiate with the European Union. Spain opposes any negotiation by anyone other than the government of United Kingdom," said Rajoy during a press conference on Wednesday.
"I am extremely against it, the treaties are extremely against it and I believe everyone is extremely against it. If the United Kingdom leaves... Scotland leaves," he added.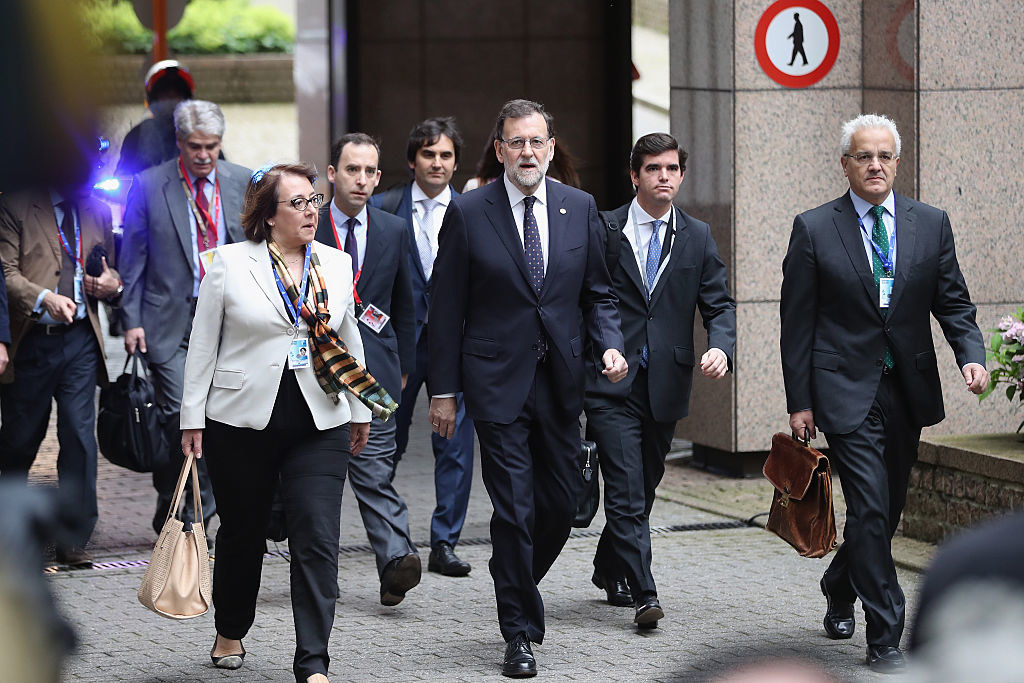 If Spain cannot be persuaded to consider Scottish EU membership, it would become impossible as each member state of the EU has a veto on decisions over new members.

However, when asked about Rajoy's comments, Sturgeon said: "I don't think it's particularly surprising, at this early stage, to hear starting positions from a country like Spain being expressed like in the way they are today."
She added: "We are at an early stage in this process, and the substance of what I've read from the acting prime minister of Spain today is relating to the fact that this is a UK, as a member state, negotiation with the EU.
"I absolutely respect that, but what I'm seeking to do, once the UK's negotiation with the EU gets underway, ... is to make sure all of the options are considered and that Scotland's interests are represented."