Jim Murphy: I'm Astonished By How Easy It's Been To Outwit The SNP
The leader of Scottish Labour told BuzzFeed News how he's leading the fightback against Nicola Sturgeon's SNP.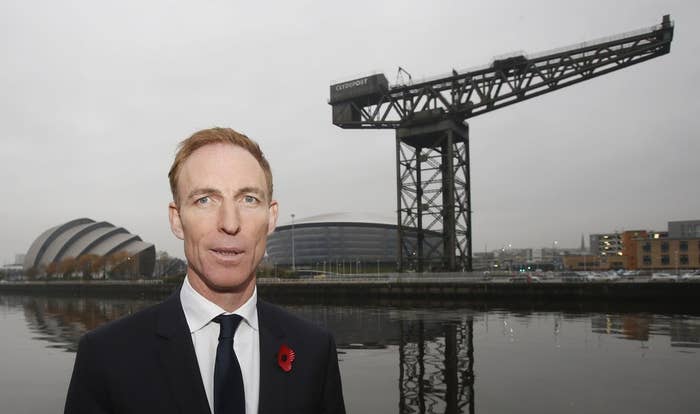 Jim Murphy has been "astonished" by how easy he's found it to take on the SNP since he was elected leader of the Scottish Labour party, he told BuzzFeed News.
In an interview on how he's organising the fightback against the SNP in the run-up to May's general election, Murphy, who was elected Scottish Labour leader in December, said he's found his opponents to be "sluggish, lethargic, and off the pace", and much less formidable than he was warned before he became leader.
"I've been so surprised by their lack of energy, and genuinely taken aback by the degree to which they're just a normal government," said Murphy. "I'm surprised by their lack of response, or belated response, to a lot of the things we've been doing, and we've only just begun.
"There's definitely a passion about their politics, but they're empty in the tank when it comes to policy, and I'm surprised. They've had two terms. I'm just astonished by how quickly they've run out of ideas."
Murphy believes his party has set the political agenda in Scotland on policies such as the scrapping of a women's prison in Inverclyde, blocking fracking, and pledging to raise taxes for people earning over £150,000 a year. He revealed that his strategy in the run-up to May is to target "clear SNP weaknesses" and to prevent them from acting like an opposition party.
"My first priority has been to make them into a government," said Murphy. "They've managed to have this kind of dual identity, of being the government and the opposition, but in the public's mind I want to put the SNP where they've rarely been, which is responsible for their own mistakes."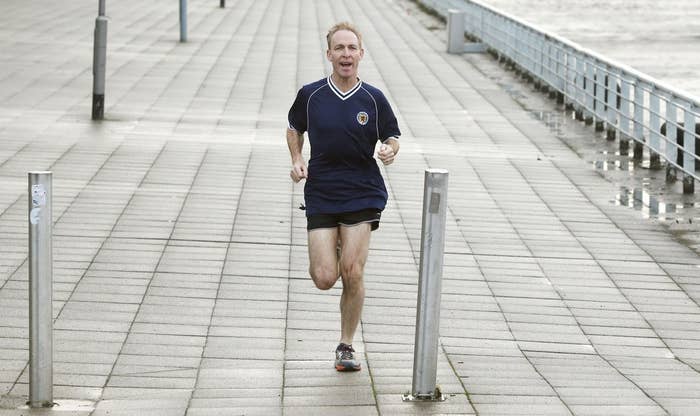 However, Murphy still has a significant way to go if Scottish Labour are to catch up with the SNP in opinion polls by May. The latest polls suggest the SNP could get upwards of 50% of the votes in Scotland, which would leave Scottish Labour with a fraction of the 41 out of 59 constituencies they currently hold. Moreover, Murphy's party has just a fifth of the number of members the SNP has – he estimates "around 20,000", compared to the 100,000 of the SNP.
But Murphy was chosen by Scottish Labour as the man to narrow the opinion polls, and he thinks he's making significant progress. He said that under his leadership, Scottish Labour is already "avowedly more confident", and that the priority, for the moment, is winning back nearly 200,000 people who backed Labour at the 2010 Westminster election but then voted Yes in the independence referendum.
"It's 190,381 voters to be exact," said Murphy. "A lot of the people who voted Yes just wanted change – they weren't ideologically nationalists, they were scunnered with the Tories. I think those people are looking again at the Scottish Labour party – they're saying, if you keep improving, we're interested.
"I won't say en masse that these people have moved back to us, the polls show they haven't, but I'm confident we'll get there by the general election."
Regaining the favour of Yes voters has been the running theme of Murphy's leadership so far. Following former leader Johann Lamont's complaint that Scottish Labour was treated as a "branch office" by the UK party, Murphy vowed to make Scottish Labour "more Scottish", argued with the UK party over policy, and went as far to say he "isn't a unionist" two weeks ago.
Since becoming leader, he's found the relationship between Scottish and UK Labour to be "not too complicated" and speaks to Ed Miliband "most weeks". "You just have to stand up in what you believe in," said Murphy. "In devolved policy I'm in charge, on reserved policy Ed Miliband's in charge. I'm puzzled by the difficulty of the recent past – the rules are clear, I'm in charge of devolved policy."
Murphy is due to make an announcement on hiring Yes voters as his policy advisers, and, out of the 25 people he's hired so far, he assumes there is already at least one Yes voter in his staff "by the law of averages", although he said he hasn't specifically asked them which way they voted.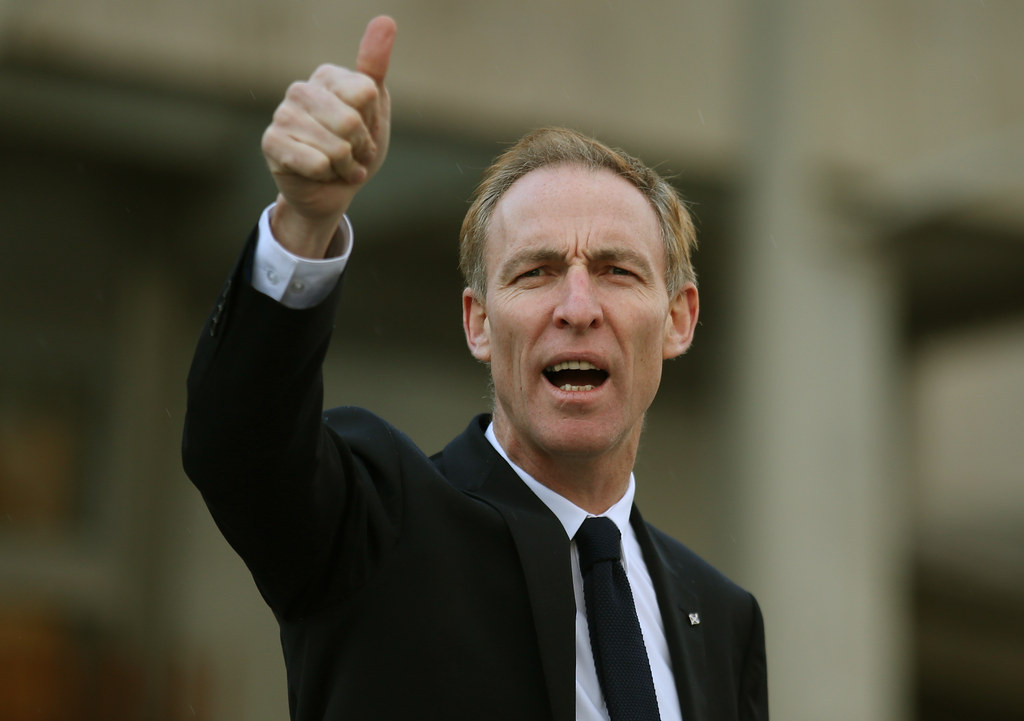 The broad strategy to win over Yes voters, however, is straightforward: vote Labour if you want to get rid of the Tories. "What you have to do is stand for something, and you say to those people who voted Yes that that was last year's disagreement, and whether you keep Cameron in power in May is this year's decision," said Murphy.
"The SNP aren't going to be the biggest party, and the biggest party gets to decide who's in government. You also say to the Yes voters, if ever there is another referendum, we may be on different sides again, but that's for another decade, another time."
Whether he can win over Yes supporters remains to be seen. Former SNP leader Alex Salmond has criticised Murphy for hiring the "divisive" figure of Blair McDougall, the head of Better Together, the pro-union campaign, as his chief of policy.
"The former first minister has an opinion on who I employ? Wow," said Murphy. "I decide who I employ – I don't even know who Alex Salmond's staff are, except that one who got himself in trouble. My view is it's the politician and their arguments that are important, and who they employ is up to them. Alex Salmond clearly has too much time on his hands."
McDougall aside, Murphy faces frequent abuse from a small but persistent minority of Yes voters who see him as a key figurehead among pro-union campaigners. In Dundee last week, his canvassing was repeatedly interrupted by protesters who had made placards calling him, somewhat mystifyingly, a "pension terrorist".
"That was amateurish and embarrassing," said Murphy. "I'm not sure what's served when I knock on an old lady's door and there's a group of protestors calling me a terrorist. It's a democracy, and people have a right to protest, but people have a right to canvass as well. That might be a better use of their time. But I'm relaxed about it – it doesn't put me off."
In terms of election targets, Murphy has an ambitious plan to not lose a single seat to the SNP, and he wants to gain the Liberal Democrat seat of East Dunbartonshire. On his personal role in the campaign, he said he will revive something similar to the infamous 100 Towns in 100 Days tour he did atop two Irn-Bru crates in the run up to the referendum.
"I don't know if I'll bring the Irn-Bru crates out of retirement, although the Irn-Bru is always out of retirement," he said. "But certainly we'll do something similar. If you put the abuse aside, I loved the 100 Towns tour. Whether it's on Irn-Bru crates or not, I'll certainly be on street corners speaking to people."
Longer term, Murphy, who remains in the Westminster parliament rather than Holyrood, is yet to reveal how he will fulfill his promise to switch parliaments. Confused reports last week seemed to suggest he had confirmed he was standing for Westminster again in May, but this isn't the case.
"I'll tell my constituents first if I'm standing again for Westminster or not, but it's still my plan to be in Holyrood by 2016 at the latest," he said.
Murphy even pointed out that he could remain Scottish Labour leader without being either an MP or and MSP. He said, cryptically: "At the time you stand for leadership, yes. Don't read anything into this – I'm just telling you the rules, I know where this answer gets you to. But it's just at the point you stand you have to be a parliamentarian."
Murphy ultimately aims to be the next first minister of Scotland, but, before he can achieve this, it's down to him to save the Labour party in May's general election and ensure Ed Miliband becomes prime minister.
"I'd like to see Scotland lead the UK rather than leave it, and in May we have the chance to lead the UK away from a Tory government," said Murphy. "We've done it before, and we can do it again."