Green Party Leader: We'll Beat The Lib Dems At The General Election
"We can break British politics wide open in this election," Natalie Bennett told BuzzFeed News. Just don't compare her to Nigel Farage.
Natalie Bennett, the leader of the Green party, told BuzzFeed News she believes her party will overtake the Liberal Democrats in time for next year's general election, and "blow British politics wide open".
"There's a trend," she explained in the very Green party setting of an organic juice and smoothie bar. "The Lib Dems are going down and we're going up. Before the election, we will take over."
These are bold words, coming from the leader of a party the BBC and Sky News haven't bothered to invite to the general election TV debates, but as Bennett happily explained, the Greens are enjoying a bit of a surge at the moment.
In only the last five days, 1,000 new members have joined. So far this year, membership has risen by 64%. On top of that, a recent poll put their support at a new high of 8% – above the Lib Dems.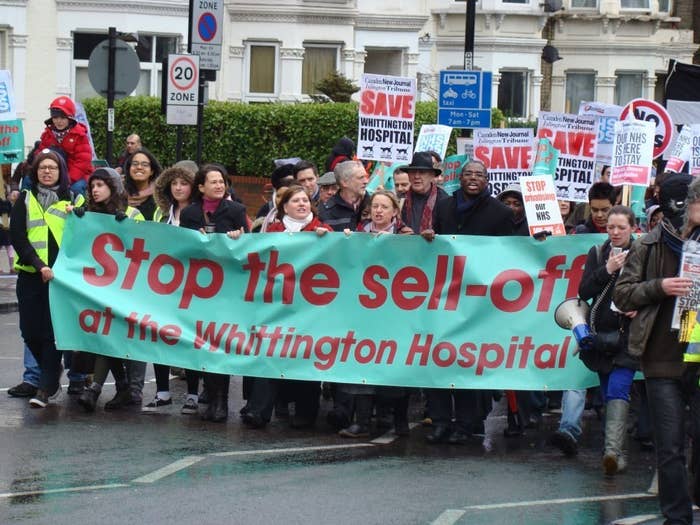 Like Nigel Farage's UKIP, the Greens appear to be reaping the benefits of what Bennett called the "utter failure" of the three main parties. She railed against a "political class" who have never had a real job, and criticised "an old, clearly failed framework of ideas" that she wants to shake up.
This kind of "we're not like those *other* bloody politicians" message might sound familiar to those following the other party on the rise. Are the Greens basically a left-wing version of UKIP?
"I wouldn't say that," Bennett said. "We're the Green party, and we offer a new model of society which works for the common good."
As for UKIP being anti-establishment, she asks: "Have you seen UKIP down at Parliament Square supporting the Occupy movement like us? I don't think so."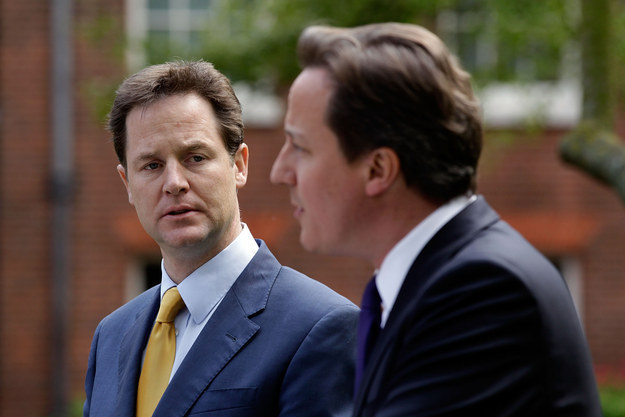 But some would say it's very easy to be anti-establishment when there's no serious risk of your party becoming the government. Five years ago, Nick Clegg pointed to Labour and the Conservatives as "old parties" which have let us all down.
The Greens, meanwhile, have identified 12 seats they believe they could win at next year's election. Given their plans, surely the aim is to become the establishment and form a coalition government?
"I rule out any kind of arrangement to prop up a Tory government in any circumstances which could happen" she said, a little insulted by the suggestion. "We'd be looking for some kind of progressive mix, and rather than a coalition, we'd look for a confidence and supply agreement.
"That means we wouldn't get the ministerial cars, but we'd still keep our consciences. So we could still vote for no tuition fees, for example, whilst still providing stable government and ensuring the Budget can go through and so on."
But what if the election results ended up giving the Conservatives a choice of a coalition with UKIP or the Greens? It's better for Green supporters to have a left-wing party in power rather than a UKIP/Conservative coalition, surely?
"That's a tough one," she said. "I don't know what we'd do. That's so different from where we are now – you'd have to look at the circumstances of the time."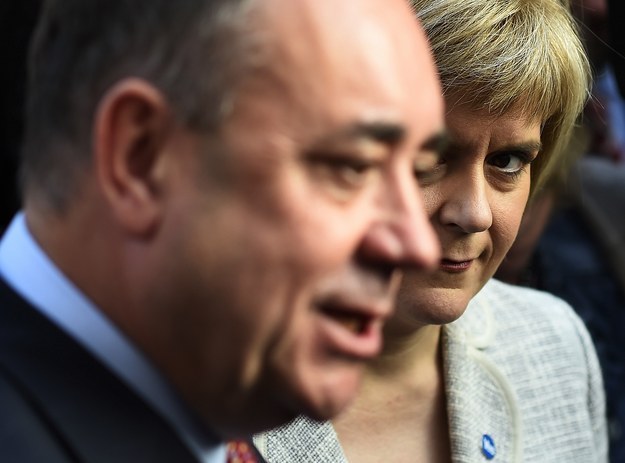 But Bennett may be getting ahead of herself. She most recently made the news for not being invited by broadcasters to take part in the TV leader debates, even though Farage was included. If the BBC thinks you're not relevant to the general election debate, it's hard to talk of taking up government with any real authority.
The Greens are currently "in talks" with both broadcasters and lawyers. If the broadcasters fail to change their plans, a legal challenge will go forward. However, she said, being banned from the debates "might be good" for the Green party: "It reinforces our outsider thing, whereas UKIP would be on the inside."
She also believes the SNP, despite being the UK's third largest party, should not be offered a place in the debate: "They should have their voice heard, but we must acknowledge most people can't vote for them."
Staying on the issue of Scotland, she appears to be in favour of independence – "it would be exciting" – and her party would not stand in the way of another independence referendum if there was a good case for it, such as if "the vow" on further devolution isn't honoured. Which, by the way, she thinks is likely: "I don't think the main parties have it in them to deliver."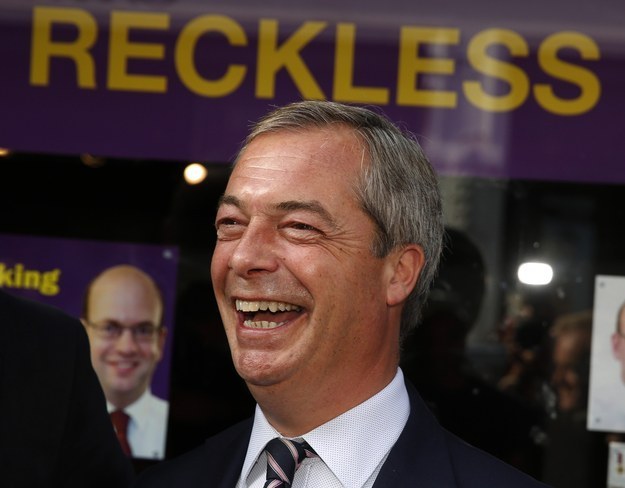 During the interview, we keep coming back to one theme: UKIP. Bennett says she doesn't like being compared with them, but spends a lot of time talking about them. It's inescapable that it's UKIP who are getting the press attention, the high-profile defections, the invites to the TV debates. Why not the Greens?
"They have very simple messages, but with UKIP, there's nothing behind the simple message," she said. "They claim if you stop immigration and leave the EU everything will be fine and dandy. We'll never say anything like that.
"We need to get our more complex message across very simply. We've done that with the £10 minimum wage and the wealth tax. We've started to get better at identifying a policy which we can get into a five-second soundbite, and we've certainly learned that from UKIP."
On defections, she said they aren't expecting any, but have been speaking to Russell Brand about getting his backing.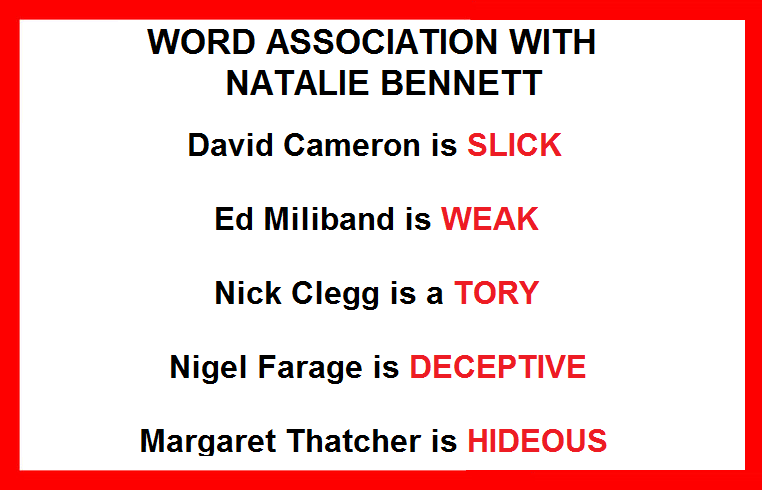 Bennett is undeniably ambitious. She said the Greens are rapidly stealing voters from Labour and the Lib Dems, and "doing pretty damn well" in Conservative areas.
The other parties are starting to take them seriously as well. Labour recently revealed that it has set up a task force to stop voters deserting it for the Greens, which Bennett sees as "a considerable compliment".
Although a huge electoral breakthrough still looks unlikely, Bennett takes heart from the recent Scottish referendum: "There was a huge shift of people voting with their heart. Sure, Yes didn't win, but 45% of people voted against the entire massed ranks of the establishment. We can do the same again. We can break British politics wide open in this election."
If they do, maybe people will finally stop asking her about Nigel Farage.