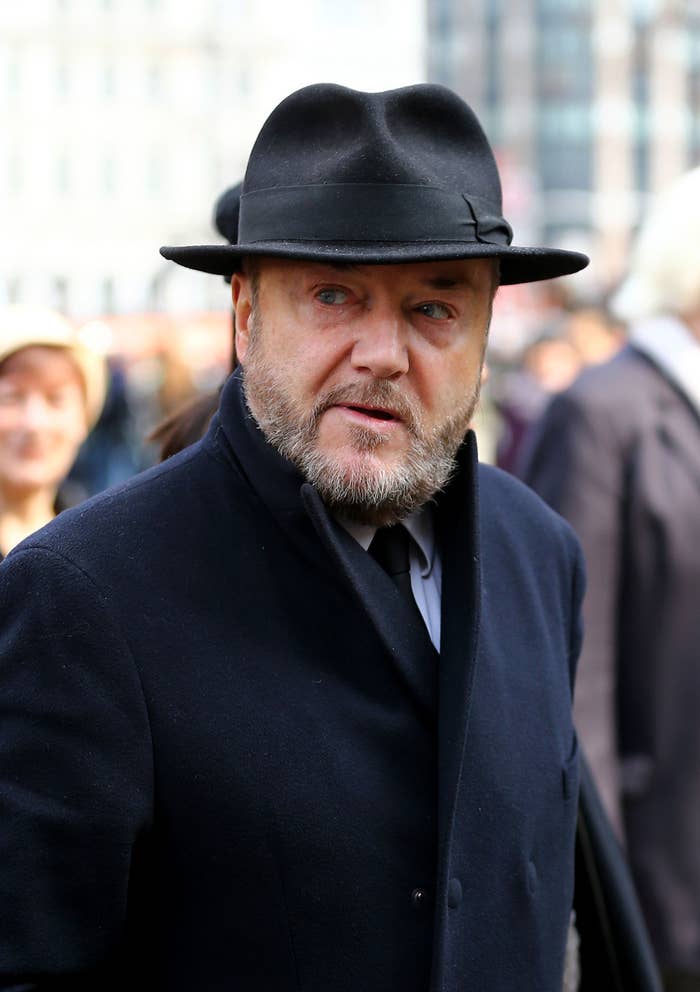 "I've always liked hats," said George Galloway, peeking out from under his big black fedora. "My one has rapidly become a kind of emblem – I wear it in bed sometimes."
He's right about his famous hat. Galloway's silhouette is recognisable even before he enters a small Portobello Road coffee shop – or "coffee restaurant", as he calls it – in his hat, dark glasses, long black coat, and a fat cigar between his fingers.
But Galloway – currently the only MP for the Respect party after being expelled from Labour in the early 2000s – is soon to part ways with his trademark fedora. He's auctioning it in an attempt to raise money for a documentary he's been working on for over a year called The Killing of Tony Blair, and he's very excited about it.
"The title is a triple entendre," explained Galloway, holding up three fingers to reinforce his point. "Blair killed the Labour party as we knew it, killed a million Iraqis, and then made a financial killing as a result of the other two killings.
"He's made well over £100 million in the seven years since he was appointed Middle East peace envoy. Which, by the way, was the most inappropriate appointment since Caligula appointed his horse as a consul of Rome."
Galloway has spent the past 12 months of his life gathering "evidence" for the documentary, including testimonials from former New Labour cabinet ministers and Stephen Fry, and insists it will lead to the final downfall of the former prime minister.
"I think 2015 will be a very bad year for poor Tony Blair," said Galloway, unable to stop himself from smiling. "Ultimately, after the documentary and the publication of the Chilcot inquiry, we'll see him stand trial in the Hague for war crimes.
"If he was in this coffee restaurant, I'd arrest him myself."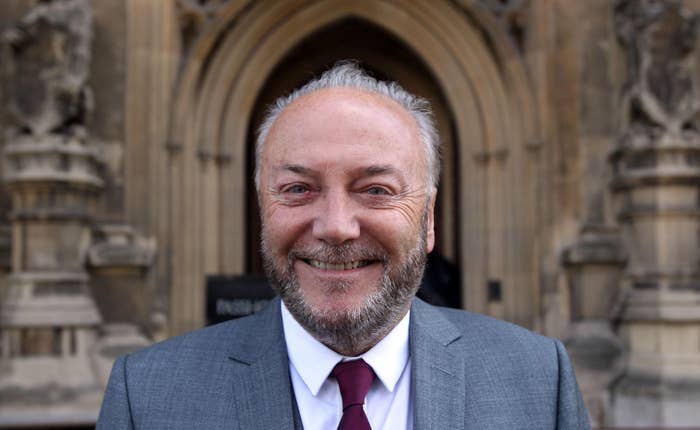 Galloway was expelled from the Labour party – or, as he called it just before he was expelled, "Tony Blair's lie machine" – in 2003, after his persistent and vocal opposition to the Iraq War. Soon afterwards he made his name in the US after launching an attack on senators over the war, and won a massive libel payout from the Daily Telegraph over claims that he was in the pay of former Iraqi dictator Saddam Hussein.
Since then he has been in and out of parliament (and the Celebrity Big Brother house) and now leads the Respect party. He was last elected at the 2012 by-election in Bradford West after overcoming initial odds of 300-1.
He's now turning his attention to the general election in May, and despite his antipathy for Blair, he hopes and expects Labour to be the governing party, even though Miliband is doing "a less than fantastic job". The Labour leader is, he told us, merely "adequate".
"Ed Miliband was a young office boy back when I was in the Labour party," said Galloway. "But after my win in Bradford a few years ago, he wasn't even aware I'd been expelled from the Labour party – he thought I'd left.
"He sent so many emails asking me to come and see him in his private office to win me over, and when I did, during the course of the conversation he said, 'What did you leave us over again?' It was quite, quite incredible."
He is certain he will be re-elected in Bradford West, recommending that BuzzFeed News puts some money on him at 3-1, but is pessimistic about the chances of the Respect party gaining any MPs other than him. This is despite convincing one David Lofts, who Galloway claims was "a founding member of Pink Floyd", to stand in Hastings & Rye. BuzzFeed News has been unable to verify that Lofts was ever a member of the psychedelic group.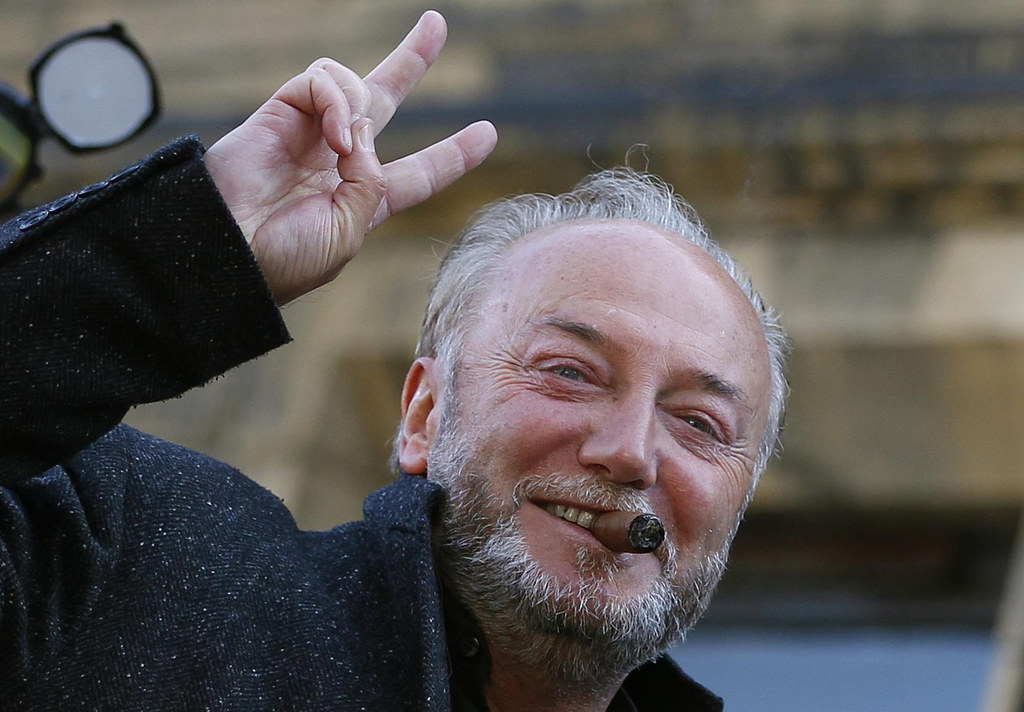 If Respect remains a one-man party, especially in an age when fringe parties like UKIP and the Greens are soaring, then it's fair to ask why it exists. What influence can Galloway and Respect actually have, and what do his constituents think about him spending a year working on a documentary about how much he hates Tony Blair?
"I do what I can in parliament, but the opportunities are limited," he told us. "My politics isn't all about parliament though – it's just one of the stages on which I conduct my work and campaigns – but the point of me being there is that when I speak in parliament, people listen."
"My last speech on Palestine was seen by a million viewers on YouTube – there are not many speeches in parliament that get seen by a million people," he said on one of many occasions during the interview when he brought up traffic statistics for something he'd posted online.
Galloway is obsessed with the internet and social media. He spends "at least an hour and half" of every day going through his various newsfeeds and enjoys blocking Scottish nationalists who abuse him – and his wife has taken the step of banning him from posting anything on social media after midnight so he has time to relax.
"I have the biggest social media following of any politician," boasted Galloway. "The prime minister and Ed Miliband have more, but neither of them actually do their own tweeting. I do it all myself, nobody else has access to my accounts, so I am way out in front."
It hasn't always been straightforward, however: One video posted to his YouTube channel in which he suggested that the claim of rape against WikiLeaks' Julian Assange was simply "bad sexual etiquette" was criticised by rape charities.
He has nearly half a million "likes" on Facebook, and although most come from London, the second highest concentration is from Tunis, in Tunisia. "I can't explain that," he said. "It's a mystery."
Due to frequent appearances on Question Time and an infamous series of Celebrity Big Brother, Galloway's public profile is comparable to that of Nigel Farage, and Galloway believes he's "on the same level" as the UKIP leader. (As a side note, when we asked Galloway if he's watching the latest Big Brother, he said: "Christ, is that still on?")
But whereas UKIP is polling on upwards of 15%, Respect is nowhere to be seen in the national polls. Why isn't Galloway having a "Farage effect" on his party, especially in this strange period when support is melting away from the traditional parties?
"It's easier to sell the kind of ideas that [Farage] is projecting to the simple-minded than it is to sell the message I'm selling, which is an altogether more elevated one," he said. "I know [Farage] quite well – he's actually not a knuckle-dragging, racist, xenophobe – but he's beginning to play with fire, and some of the things he's being saying, which he doesn't actually believe in, are profoundly dangerous.
"Farage is riding a tiger, which he knows to be a dangerous beast, in the grubby pursuit of votes."
Galloway does believe, however, that Respect is on an equal footing with parties such as the Greens and UKIP, and should be included in the TV leader debates if they take place – he claimed Respect would get "over a million" votes if he was to take to the podium.
Galloway may never transform his Respect party into a major force in British politics, but he will remain one of the most recognisable individuals in Westminster for as long as people keep voting for him. Even if he isn't re-elected in May, it won't be the last you'll see of Galloway, even though he "probably" won't have another spell on reality television.
"I'd run again somewhere for parliament if I wasn't re-elected in May," he said. "Additionally I'll continue to make my films, my programmes, and I'll give public speeches. Parliament is only a tiny, tiny part of politics."
But what will he do without his famous hat? Will he be like Samson without his locks? Galloway assured BuzzFeed News that an identical replacement has already been procured from a market in Portugal.
"When you see me out on the campaign trail, there'll be a new addition," he said. "A new hat."