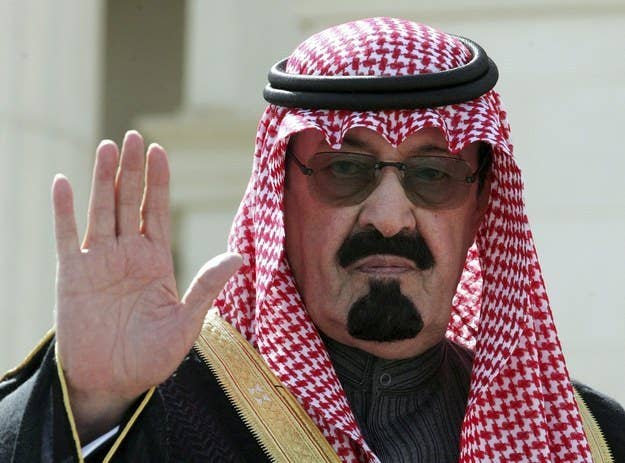 The UK government has been heavily criticised by human rights campaigners for requesting that all flags on government buildings be flown at half-mast in tribute to King Abdullah bin Abdulaziz of Saudi Arabia, who died on Thursday.
The decision – which was made by the Department for Culture, Media, and Sport – has attracted criticism from Amnesty International, which says Abdullah's regime was responsible for human rights abuses such as public beheadings, the lashing of blogger Raif Badawi, and arresting women for attempting to drive.
A UK government spokesman said it was a routine honour given to foreign monarchs, but the Scottish government told BuzzFeed News it would not be flying its flags at half-mast in tribute to Abdullah.
Abdullah reigned for 10 years. His half-brother, Salman, has been confirmed as the new Saudi Arabian king.
It is with great regret that we learn of the death of the King Abdullah bin Abdulaziz, King of Saudi Arabia. It is requested that all flags be half-masted from 8am today until 8pm this evening.

Any other UK national flags flown alongside the Union Flag when it is at half-mast should also be at half-mast. If a flag of a foreign nation is normally flown on the same stand as the Union Flag, it should be removed.

Local authorities are not bound by this request but may wish to follow it for guidance. Devolved administrations are responsible for issuing instructions for the flying of the Union Flag on buildings in their estate and others as necessary.
Landmarks such as Westminster Abbey, Westminster Palace, and the Foreign Office followed the instruction.
The director of Amnesty International UK, Kate Allen, said the gesture ignores the human rights abuses of Abdullah's regime:
No one is flying flags for the scores of people Saudi Arabia executes each year after unfair trials, and we should focus on the human rights reality in Saudi Arabia not the emblems of diplomacy.

When the flags are run back up their flagpoles the UK government needs to move on from the tributes and put on public record their desire to see sweeping human rights reform under King Salman.
Journalists and commentators have also heavily criticised the honour.
Ruth Davidson, the leader of the Scottish Conservative party, said the half-masting of flags for Abdullah was a "steaming pile of nonsense".
In a statement, the Scottish government told BuzzFeed News it would not be half-masting its flags.
We offer the people of Saudi Arabia our condolences following the passing of King Abdullah. Flags are not routinely flown at half-mast from Scottish Government buildings to mark the deaths of foreign heads of government or state.
But a spokesperson for the UK government's Department of Culture, Media, and Sport said it was following longstanding protocol.
In line with long-standing arrangements, the Union Flag is flown at half-mast on Government Buildings following the death of a foreign monarch.
Westminster Abbey has also defended itself. A spokesman said not flying the flag at half-mast would have been "noticeably aggressive".
We always fly a flag. It is at half-mast because the government has decided to fly their flags at half-mast today. For us not to fly at half-mast would be to make a noticeably aggressive comment on the death of the king of a country to which the UK is allied in the fight against Islamic terrorism. Nor would it have done anything to support the desperately oppressed Christian communities of the Middle East for whom we pray constantly and publicly.