An entirely pro-Europe BBC panel will have free rein to discuss the EU referendum just eight weeks before voters across the UK go to the polls, despite impartiality guidelines that require balanced coverage.
BBC Scotland is due to host two leaders debates ahead of May's Scottish election, including one on 1 May in which all five panellists will be campaigning for the UK to stay within the EU. The only Scottish party leader backing a Leave vote, UKIP's David Coburn, has not been invited.
The debate falls within the official 10-week campaign period for June's referendum on EU membership – which begins on 14 April and runs all the way through to voting day on 23 June – during which time the BBC is required to produce impartial coverage between the Leave and Remain sides of the argument.
The BBC Trust's guidelines for the Holyrood election state: "If the election period overlaps with the referendum period on EU membership, content producers must also take account of the referendum guidelines and ensure due impartiality is achieved with regard to both votes."
However, BBC Scotland has confirmed that the five pro-EU leaders in Scotland – SNP leader Nicola Sturgeon, the Conservatives' Ruth Davidson, Labour's Kezia Dugdale, Lib Dem Willie Rennie, and Green co-convener Patrick Harvie – will be free to discuss Europe when they meet on 1 May.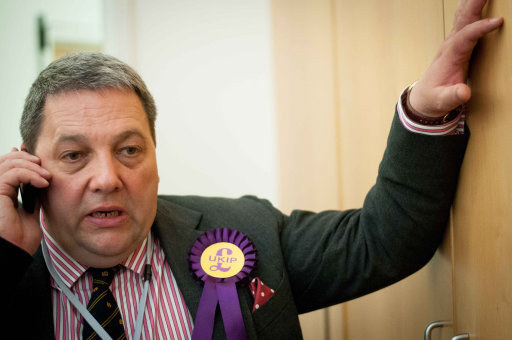 Sources from within BBC Scotland told BuzzFeed News they are concerned about how to deal with the simultaneous campaigns given that UKIP is a small party in Scotland and there are relatively few other public figures arguing for a Leave vote in the country when compared with the rest of the UK.
Coburn is invited to another BBC debate, on 24 March, alongside the other five leaders, before the EU referendum campaign officially begins, but has voiced his anger about not being invited to the debate in May eight weeks ahead of the EU referendum.
The BBC's general guidelines for covering referendums and elections state that balance can be achieved over "the course of a campaign as a whole", but that "content producers must take responsibility for achieving ... impartiality in their own output" rather than relying on other BBC services.
A spokesperson for BBC Scotland confirmed that the subject of Europe will not be off-limits despite the entirely pro-EU makeup of the panel in May. "This is a debate about the forthcoming Holyrood election. There will be other opportunities on our output to discuss the EU referendum," said the spokesperson.
"We will not be avoiding any issues in any part of coverage and are confident that our overall obligations on due impartiality for both votes will be met across the range and breadth of our output."