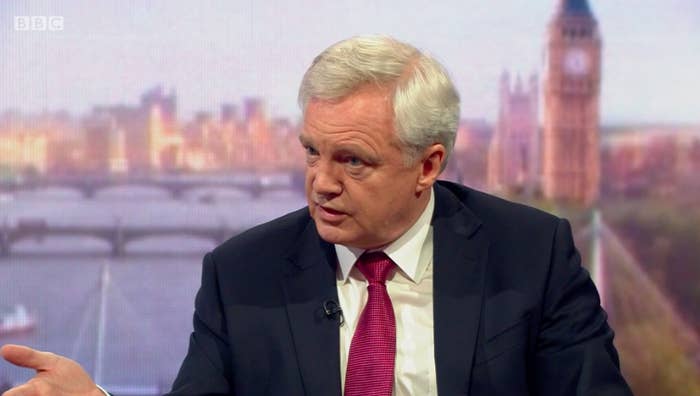 Brexit secretary David Davis, who's leading the UK side of negotiations as the country leaves the European Union, has admitted he's "not 100% sure" the UK will be able to strike a deal with the other members.
Speaking on The Andrew Marr Show on Sunday morning, Davis could only say he was "pretty sure" there would be a deal at the end of the Brexit negotiations which got underway this week.
Davis also rebuked Conservative MPs who are agitating for a leadership challenge against the prime minister, including those who are backing him, as being "self-indulgent". However, he failed to rule out leading a challenge against May.
Asked if he was sure he would be able to strike a deal with the EU and its chief negotiator Michel Barnier – whom Davis described as "very French" – the UK government's Brexit secretary was unable to give a definite answer.
"I'm pretty sure, I'm not 100% sure – it's a negotiation," said Davis. "You can be sure there'll be a deal but whether it's the deal I want, which is a free trade agreement, the customs agreement and so it, I'm pretty sure but I'm not certain."

Davis was pressed on the offer, announced by Theresa May on Friday, that EU nationals resident in the UK for five years will be able to stay after the country exits the EU.
Davis said the priority was to end "anxiety" felt by EU nationals about whether they'll be able to stay and, asked if anyone faces deportation, said: "I don't think so unless they've committed a crime or have some sort of security problem, I don't expect that."
Davis was asked about a story in the Mail on Sunday which said he had been urged in a secretive meeting of 40 Tory MPs to challenge May for the leadership, but the Brexit secretary said a challenge would be "catastrophic" for his negotiations.
Davis said May was a "very good prime minister" and that any challenge to her would disrupt the "stable backdrop" to the EU negotiations, which he added was already "very hard work".
Asked what he'd say to MPs agitating for a leadership challenge, Davis said: "Don't be so self-indulgent, is my message to those. Get on with the day job. People put us here to deliver amongst other things a decent economy, to deliver a decent life for them, and to deliver Brexit and deliver all those things.

"The more you do of that, the more self-indulgent nonsense you go in for, the more difficult you make it to do out proper job."
But, asked if he could rule out challenging the prime minister, Davis failed to rule it out, saying: "I'm not going to get into it. It's self-indulgent. Franky the fact we've spent two minutes talking about it is two minutes too long."