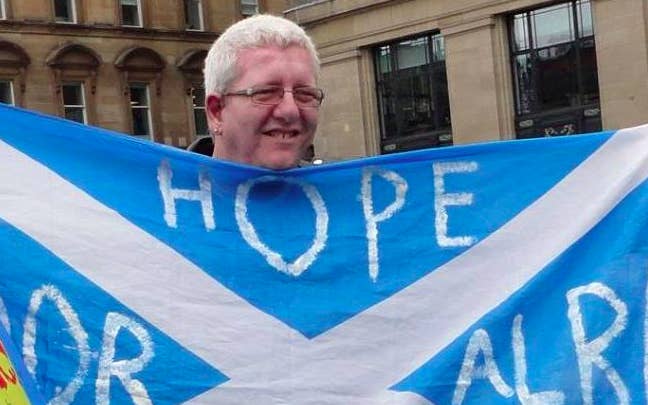 An SNP branch secretary has resigned after being roundly criticised for posting a sexist "Page 3" joke about a female Scottish Labour candidate.
Alan Deans, who was until Wednesday in charge of the Ardrossan branch of the SNP, responded to a Facebook post by the Ardrossan Herald with a comment about Johanna Baxter, who is contesting the Cunninghame North seat in the Scottish elections.
In a meme-style reply, Deans posted an image of Baxter overlaid with the text: "Yaldy I am on page 3 of the Herald with my advert. Still keeping my clothes on as I don't want to scare the remaining Labour voters that still believe my speil. [sic]"
Since Baxter called him out for sexism on Twitter, Deans has deleted his Twitter account and resigned from his position.
Baxter told BuzzFeed News the message was flagged to her by her husband and that she was initially concerned her wider family might see it.
"I felt embarrassed and worried that my mum would read it and be upset, but I quickly became very frustrated and angry," said Baxter. "Angry because now these questions are about him rather than all issues I've been talking about in my campaign. Issues that are of vital importance to the voters here in Cunninghame North like the possible privatisation of our ferry service, the lack of investment in our towns, and high levels of unemployment.
"I am angry because it feels like [I am] being denied a voice on all of those."
Baxter called on the SNP candidate, Kenny Gibson, to sack Deans: "This man is an officer of the Ardrossan SNP branch and as such is in a position of leadership and responsibility. If Kenny Gibson and the SNP are concerned at all about women's rights and women's equality they will call this out and remove him from his position."
She added: "This is not a one-off – there are far too many instances of women being shouted down in political life. But if Kenny Gibson thinks this will stop me talking about the threats to our ferry service he should think again. I will not be silenced by people like this."
SNP members have thrown their support behind Baxter, rather than their own party official.
Members of the Ayrshire Campaign for Nuclear Disarmament, of which Deans is a chairperson according to his own Facebook page, have also criticised him.
An SNP spokesperson confirmed that, since Baxter complained about the comment, Deans has resigned from his position: "This comment is clearly unacceptable and this has been made absolutely clear to Mr Deans, who has since resigned as secretary of the branch."
Deans did not respond to a request for a comment.