Hull city council has been forced to take down these posters after they attracted criticism from homelessness campaigners.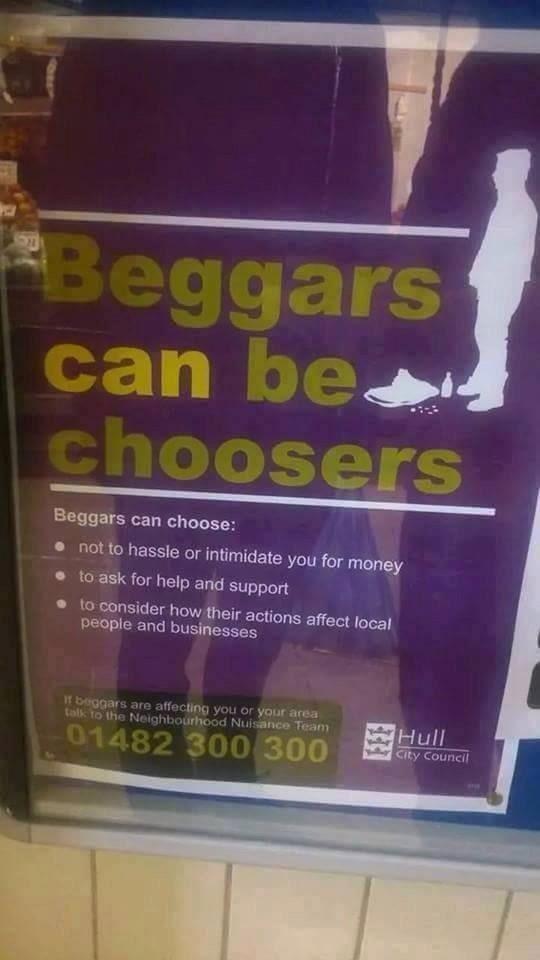 The posters, which were put up in areas of Hull with high levels of homelessness, asked homeless people to stop "hassling" people for money and to "consider how their actions affect local businesses".
Matt Downie, the director of policy at charity Crisis, told BuzzFeed News the posters displayed an ignorance of the issues surrounding homelessness.
"Whether or not people give money to beggars is a personal decision, but people in desperate circumstances deserve better than to be treated as a nuisance," said Downie. "They may have suffered a relationship breakdown, a bereavement, or domestic abuse.
"Instead of posters like this, we need politicians to review the help that single homeless people get under the law."
A spokesperson for the Labour-controlled council said a decision had been taken to remove the posters after complaints, and that they were "not intended to cause offence or harm".
"Having listened to the feedback we've received from some members of the public, we have taken the decision to remove them," said the spokesperson. "The posters were developed three years ago as a response to a specific issue that had been raised by communities themselves through the Community Priority Setting process."
He added: "During the past three years no issues or comments have been raised by any members of the public."